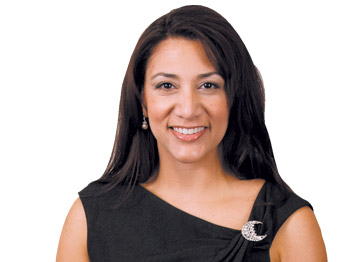 Kiamesha Colom is a promising young leader who has dedicated countless hours to developing her real estate and commercial lending practice while supporting diverse community endeavors. She has played an integral role in Benesch's Women's Initiative Program, motivating women at all stages in their careers. She's an active member of IndyCREW, a professional organization for women in the commercial real estate industry, and volunteers as a "Big Sister" for Big Brothers Big Sisters of Central Indiana. In law school, she was recognized for donating more than 200 hours of pro bono work and received the John Paul Berlon Pro Bono Award in 2007.
What was the worst or most memorable job you had prior to becoming an attorney?
My most memorable job would have to be my first year of teaching. I taught third grade in New York City, within the borough of the Bronx. I learned something very important – if you were not prepared for them, the students would be more than prepared for you. Bring your game each and every day, or you get run over.
Why practice in the area of law that you do?
I practice real estate and commercial finance law because I like the process and end result. I am able to help facilitate deals and work with clients on a recurring basis. I am able to help foster economic development in communities and love to see how a project comes to life, such as the construction of a new building, the opening of a restaurant or the transformation of a dilapidated area of a city into a vibrant and useful community addition.
Who is your favorite fictional lawyer?
My favorite fictional lawyer would have to be Jake Brigance (Matthew McConaughey), the attorney in "A Time To Kill." I still remember his closing argument. It was a monologue that spoke to some of the most disturbing facets of our society, and I found it profoundly impactful.
How did you find the time to donate so many pro bono hours while going to school and beginning your legal career?
The trick is to forgo sleep.
What are some tips for achieving a work/life balance?
I think this is individualized for each person's situation. However, in mine, I have tried to integrate the two, by bringing my family with me to networking events, having my family travel with me on business trips, and using creativity to foster business relationships. Additionally, my support system (my husband, Joe Delamater, and my mom, Arlene Rivera) rocks!
What civic cause is the most important to you?
The most important civic cause would have to be children's health, safety and education. I am a board member for Indiana Mother's Milk Bank, a Big Sister for Big Brothers Big Sisters of Indianapolis and my past experiences have dictated a love for children. There are many other civic causes that I find important. Overall, I am a big believer in the Golden Rule and try (at times, I fail miserably) to abide by it daily.
What's something about you not many people know?
 I was on my college's equestrian team.
What's your guilty pleasure?
Teenage dramas on the CW network and period pieces
If you could meet and spend the day with one lawyer from history, who would it be and why?
I would like to meet Chief Justice Warren. His consensus building in the first year of his appointment to the U.S. Supreme Court to deliver a unanimous decision in Brown v. Board of Education is remarkably impressive. I believe an afternoon to delve into his mind would be a great gift. The words in the opinion he delivered on behalf of the court are POWERFUL.  
If you couldn't be a lawyer, what would you do for a living?
Hmm, this is a tough question. I love dessert so perhaps I would be the owner of a café that focused on fantastic desserts. However, I also enjoyed teaching, so perhaps I would go back to that.
Why do you think people often have negative stereotypes about lawyers?
I think this exists because every profession has a few "bad apples." Additionally, our profession bears the responsibility to advocate for positions that may not be "popular" at a certain time in our society. Attorneys are the defenders of our Constitution and are the bedrock of a civilized society. We argue and negotiate every day, which is something that many people shy away from, inherently making our profession "uncomfortable" for some. At the end of the day, I believe that attorneys have accomplished far more good than bad.
Is there a moment in your career you wish you could do over?
I have the fear that the moment I feel comfortable is when I may become complacent and stop having the drive to do better. I always try and remember that mistakes are the foundation for future success.
What class do you wish you could have skipped in law school?
Civil procedure.
 
Please enable JavaScript to view this content.