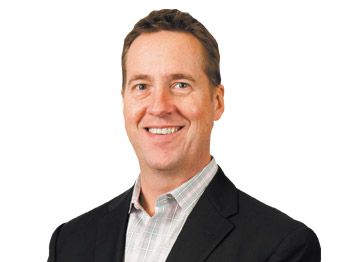 Scott Enright has earned a reputation as a leading media lawyer and legal strategist in Indiana and throughout the country. He is involved in all merger and acquisition activity at Emmis and played a central role in restructuring the company following the economic downturn in 2008. Scott has testified before Indiana legislative committees about the state's corporate laws and been a steadfast defender of Indiana law as appropriate for Emmis when it may have been easier to "join the crowd" and reincorporate in Delaware. His commitment to Indiana, its laws and the community has remained both visible and consistent throughout his career.
You are the founder of the United States Knarling Association. What is knarling?
Knarling is a sport some friends and I invented in high school. It is similar to the Irish national sport of hurling. I started putting it on my resume in college and found it to be a great icebreaker at the start of job interviews. I've been putting it on my resume ever since.
What was the worst or most memorable job you had prior to becoming an attorney?
Easily my most memorable job was scheduler for Lt. Governor John Mutz. I had just graduated from college and learned first-hand that government (done right) is a service industry. It was the best preparation I could have had for life as an attorney.
What are some tips for achieving a work/life balance?
Find a great spouse. My wife's support, counsel and understanding have made all the difference in the world. It also doesn't hurt to exercise regularly and turn off the email alert on your smartphone.
Why do you practice in the area of law that you do?
I love to solve problems and put deals together because of the creativity they require. As a public company with an entrepreneurial leader in Jeff Smulyan, there's never a dull day at Emmis.
How has media law changed since you started?
It has become a lot more complex. One of the biggest complexities is reconciling laws designed around traditional media with the new realities of the Internet and social media. There are a lot of square pegs to be fit into round holes.
What's been the biggest change in the practice of law you've seen since you began?
Speed! What used to take weeks/months, now takes hours/days – and that means clients expect results immediately. The enhancement of commerce and efficiency are really positive, but I still remember the days when you could plan to be home shortly after the FedEx deadline at the Indianapolis International Airport.
What's something about you not many people know?
I guess I can't say, "I invented the sport of knarling," anymore … .
Why do you think people often have negative stereotypes about lawyers?
Because sometimes they're true? Seriously, I think most professions have some form of negative stereotype. If lawyers have more negatives than other professions, it's probably because our job is to be our clients' advocate. We often take very public, very polarizing stances.
What civic cause is the most important to you?
I am involved with a number of civic causes. One related to law is the Legal Aid Centre of Eldoret (Kenya). With the help of some Indiana lawyers, they're putting together a truly innovative project to train paralegals to help educate HIV/AIDS patients and their families about their legal rights. It's absolutely amazing what they're doing.
We hear a lot about civility. Have you noticed a change in how attorneys treat each other since you began practicing?
Not really. Some lawyers are jerks, just as some people are jerks, but that's a small minority. I'm more often struck by the civility between lawyers – particularly in the face of clients who violently disagree with each other.
What's something you've learned over the years that you wish you could go back in time and tell your younger self?
Trust your instincts. That little voice in the back of your head (or sometimes in the pit of your stomach) is usually right.
If you couldn't be a lawyer, what would you do for a living?
Probably run a business, maybe a nonprofit.
Who is your favorite fictional lawyer?
Alan Shore and Denny Crane from "Boston Legal." They were hilarious.
Is there a moment in your career you wish you could do over?
There are probably too many to share. The thing is, I've learned more from those than from the moments that went well. I'm a better lawyer today because of them.
Please enable JavaScript to view this content.