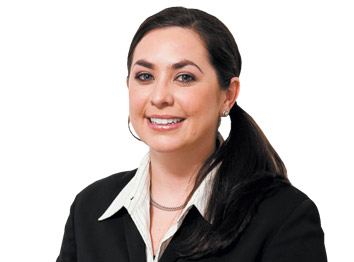 Jessica Benson Cox is building a thriving litigation practice defending pharmaceutical companies, medical device manufacturers and other industry leaders, and has become a go-to attorney on matters involving medical and science issues. Jessica's commitment to civic leadership has earned her a reputation as a community leader. Jessica is described as having "boundless energy," an asset – to be sure – in balancing the demands of a thriving career, volunteer work and a young family.
Both your parents are doctors. Did you ever consider a career in medicine?
From a very early age, I was absolutely certain I would follow in my parents' footsteps and pursue a career in medicine … that was until I had my blood drawn my sophomore year of college and fainted.
Why practice in the area of law that you do?
Although I faint at the actual sight of blood, I absolutely love science and medicine on paper. While working on mass torts for pharmaceutical and medical device manufacturers, I have developed a niche for working with experts and concentrating on building the "science" defense. I see myself as the translator who helps to explain the science and medicine to my fellow lawyers, and to the jury. If I can learn it, then I can translate it.
What civic cause is the most important to you?
I am fortunate to work with clients who make drugs and devices with the power to save lives and change lives, and I feel compelled to do my part to support nonprofits that work to find solutions for people in need of these miracle drugs and devices. Through my work on the board for the Juvenile Diabetes Research Foundation, I have seen how a small group of parents with children with diabetes (which was at one time a death sentence) can start an organization to support research that is well on its way to turning "type-1 into type none." These organizations also give me hope that with science, anything is possible, and that one day I might be able to do what those JDRF parents did before me – help find a cure for Prader-Willi Syndrome, the rare genetic disorder that affects my own son.
Who is your favorite fictional lawyer?
Olivia Pope. She is creative, passionate and delivers incredible results to her clients. (And her wardrobe isn't half bad either!)
What's something about you not many people know?
I am a world and national champion equestrian.
What is the most important lesson you learned from your mentor?
My father always told me life is better when you make your avocation your vocation. I feel truly blessed to have the career that I have, and am often amazed that I get paid to do what I love.
You became a mom in 2013. What's one tip you would give to other first-time parents?
Accept help when it's offered. Easy to say, harder to do, and definitely necessary to keep yourself sane.
What was the worst or most memorable job you had prior to becoming an attorney?
I taught horseback riding in high school, but was pretty low on the totem pole at the barn. Most of my students were the people that no one else wanted to teach (i.e. terrified of horses in general and even more terrified to actually ride them).  
What class do you wish you could have skipped in law school?
I think in law school, the professor really could make or break the class. There were certainly classes that I took solely because of the professor (rather than subject area), and classes that I avoided for this reason, too.
What's your guilty pleasure?
Online shopping.
 
Please enable JavaScript to view this content.