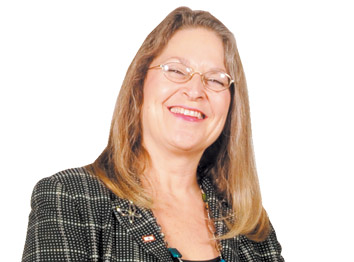 Hon. Frances C. Gull is recognized as an exemplary judge by her colleagues on the Allen County bench and her peers throughout the state. She is known to be diligent, fair and thoughtful in her decisions. A Superior Court judge since 1997 and currently the administrative judge of its criminal division, Fran has served on numerous committees addressing judicial administration, juries, and technology. She is routinely asked to participate in the orientation of new judges in the state, which shows how highly she is regarded by her fellow judges. Fran has supported SCAN – Stop Child Abuse and Neglect – for more than 20 years. As supervising judge of the jury office and staff, she oversaw the update of the jury software system and statutory jury plan.
Why did the court update its jury software system and move to Web-based jury questionnaires and text messaging notifications of jury duty?
We updated our software to keep up with the newest technology available. We offered to conduct a beta test for our software vendor to take advantage of that technology. We try to encourage as many of our citizens as possible to serve on juries, so making it easier for them to perform that civic duty is my goal.
What feedback have you heard from people regarding these changes?
They love it! Jurors had been asking if they could fill out an online questionnaire for some time, so having the ability to do so via the Internet, or by telephone, or the traditional mail has resulted in better yield of folks showing up to serve. And the text messaging has been quite interesting, giving jurors the ability to communicate with our office 24/7.
You've presided over the Allen County Drug Court since 2001 and are working to establish a Veterans Court in the county. Why is it important for counties to have these various problem-solving courts?
It is critical that courts offer evidence-based programming to offenders to help them change their behavior. Problem-solving courts are the best way to let defendants participate in their own rehabilitation to conquer their addictions and reform their lives. If people really want to change, these courts give them the best chance to do so, all the while holding them accountable for their choices and ensuring community safety. With shrinking budgets and fewer prison beds, it is imperative that offenders have programs in place to motivate them to change.
What's something about you not many people know?
I am an avid gardener and love to cook. I preserve most of the produce and fruit from my garden. … I make the best raspberry vinegar and awesome garlic dill pickles! And I was privileged to skydive with the US Army's elite parachute team, the Golden Knights, the same team that Chuck Norris and President Bush jumped with!
If you couldn't be a lawyer, what would you do for a living?
I would own a farm-to-table restaurant, growing and producing the food to be served at my restaurant.
What are some tips for achieving a work/life balance?
Prioritize your family over your work. While work and careers are important since they do pay the bills, work should not define who you are as a person. You mustn't let your work consume you, always make time to appreciate your family and keep your friends close to you. I define myself as a wife, mother, sister, friend and judge.
What's something you've learned over the years that you wish you could go back in time and tell your younger self?
Pick your battles, and focus your time and attention on the things that are within your control. You are responsible for your own happiness, and you are responsible for the amount of chaos you allow in your life.
What class do you wish you could have skipped in law school?
UCC and tax!
What's been the biggest change in the practice of law you've seen since you began?
The rise of technology in our profession has been dramatic. When I began we used paper calendars and researched in actual books, both of which I still do, but now everything is electronic and web-based.
Why do you think people often have negative stereotypes about lawyers?
As in any profession, the "bad apples" tend to get all the attention and notoriety, which leads to the negative stereotypes. The vast majority of lawyers I know don't fit these negative images. Additionally, it is unfortunate that the media offers over 30 hours per week of television programming focusing on lawyers and the legal system, as most of that programming is unrealistic.
What was the worst or most memorable job you had prior to becoming an attorney?
My most memorable job prior to becoming an attorney was as a third-shift nurses' aide in a nursing home while I attended college.
We hear a lot about civility. Have you noticed a change in how attorneys treat each other since you began practicing?
I am fortunate to live and work in a jurisdiction that has always demanded civility of its bar. The attorneys I see daily are not only the best and the brightest the profession has to offer, but the most civil as well. I hear of attorneys treating each other and the court disrespectfully, yet here in Allen County, an attorney's word is their bond. I treat the attorneys with respect and I am pleased to say it is mutual.
 
Is there a moment in your career you wish you could do over?
Of course there is, but I try not to dwell on it or live in the past. I have learned from that moment in my career and I've not repeated it.
What civic cause is the most important to you?
I have supported SCAN (Stop Child Abuse and Neglect) for over 20 years. Children are society's most precious and most vulnerable members, and SCAN offers them and their parents the best chance to grow up healthy.
Who is your favorite fictional lawyer?
Atticus Finch. At that time and in that place, his courage and strength were inspirational.
Please enable JavaScript to view this content.