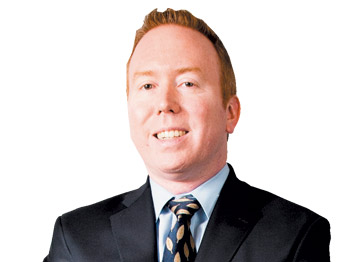 Darren A. Craig might as well remove the door from his office because he rarely has a chance to close it, thanks to the frequent visitors he receives. Colleagues – both new and seasoned attorneys – often come to Darren for advice. In fact, just five years after joining Frost Brown Todd, he was recognized as Mentor of the Year in 2010.
Darren has realized significant professional success in his first decade of practice; he's participated in drafting more than 30 appellate briefs and presented oral arguments to the Indiana and 7th Circuit courts of appeals. In 2012, Darren became an adjunct professor teaching contract drafting at IU McKinney School of Law. He also serves as board secretary for The Cheer Guild of Riley Hospital for Children and Indiana University Hospital Inc., and for the past five years has written the moot court problem for the Federal Bar Association's Thurgood Marshall Memorial Moot Court Competition.
Why do you serve as a mentor to new attorneys?
The best legal education I received was individual guidance from experienced lawyers and judges. I want to contribute to that educational tradition, which is essential in all law firms and for the legal profession.
And speaking of mentoring, what is the most important lesson you learned from your mentor?
The importance of understanding your client's business and how the legal issue you are working on affects the business as a whole.
What was the worst or most memorable job you had prior to becoming an attorney?
My most memorable job was working for the educational publisher CTB/McGraw-Hill. I worked with CTB editors and state departments of education to develop guidelines for standardized tests. It has given me some perspective on the current controversies over school rankings.
What are some tips for achieving a work/life balance?
Do first what you dread most. Letting unpleasant tasks go unfinished destroys productivity and lessens enjoyment of free time.
You've been a volunteer judge for the Indiana Mock Trial Competition for several years. Why is civic education important?
People are more likely to participate in their government and to respect the rule of law if they understand the law.
What's something about you not many people know?
I can juggle.
If you could meet and spend the day with one lawyer from history, who would it be and why?
John Marshall. His judicial opinions were essential to making the judiciary a co-equal branch of government and to validating the authority of the national government.
What class do you wish you could have skipped in law school?
Only first-year courses were forced upon me. Of those, torts was probably the most dispensable, because the content of the course bore little relation to its title.
Why practice in the area of law that you do?
I enjoy learning about how businesses work and helping to solve business problems.
What's your guilty pleasure?
Strawberry pie from Gray Brothers Cafeteria.
Why do you think people often have negative stereotypes about lawyers?
Because lawyers advocate for clients, what position a lawyer takes on a legal question depends upon who hires the lawyer. Many people believe that all issues have a right answer and a wrong answer and, therefore, believe that lawyers' ability to advocate for different answers reflects cynicism or lack of moral certainty.
Who is your favorite fictional lawyer?
Henry Drummond from "Inherit the Wind."
If you couldn't be a lawyer, what would you do for a living?
English teacher.
Please enable JavaScript to view this content.