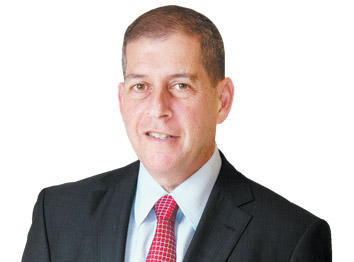 In the 16 years Alan A. Levin has served as Barnes & Thornburg LLP's managing partner, he has guided the law firm's transformation from primarily an Indiana firm to a national one. The firm has expanded from six to 12 offices throughout the country, and gross revenue has jumped by more than 400 percent during his tenure. Alan's management style focuses on building consensus and maintaining a collegial atmosphere within the law firm. He is also known as one of the state's premiere employee benefits lawyers.
Barnes & Thornburg has continued to expand in tough economic times. What are some key factors that drive growth?
In order to achieve growth in tough times, it is necessary for the firm to stay entrepreneurial and look for opportunities in our current markets as well as new markets. In addition, conservative fiscal management provides the resources that are necessary for such expansion.
How has employee benefits law changed since you started practicing?
Employee benefits laws have changed substantially since I started practicing. Congress continues to tinker with the rules, creating opportunities for lawyers, but it also makes these programs less cost effective for the employers/sponsors.
Who is your favorite fictional lawyer?
Saul Goodman from "Breaking Bad." Saul is my favorite fictional lawyer for entertainment value purposes only. He could also be used as a reason for someone not to join the profession.
What was the worst or most memorable job you had prior to becoming an attorney?
Before I attended law school, I was a teaching tennis professional and managed tennis clubs. While substantially divergent from the practice of law, there are similarities in developing communication skills and creating comfort with students and/or clients.
What's something you've learned over the years that you wish you could go back in time and tell your younger self?
In order to be successful at whatever you do, it is important that you always be a good listener and show a great deal of patience. In my earlier life, I probably could have benefited from slowing down to make sure I fully captured all the issues and considerations around me before making decisions.
What are some tips for achieving a work/life balance?
The key for a work/life balance is time management and discipline. This balance only occurs if you plan ahead and stick to the time that you are going to make yourself available for family, work and other activities.
Why do you think people often have negative stereotypes about lawyers?
The lawyers are viewed negatively by the public because they are viewed as creating barriers and additional complexity in solving problems. Hence, it is my view that a lawyer will only be successful if the lawyer is viewed as a problem solver or a guide in helping the client achieve his or her objectives.
What civic cause is the most important to you?
There are really two civic causes that are very important to me. I have been very involved in the Christel House Academies from their inception. I also have received a great deal of gratification from the work that is done by The Indianapolis Foundation and the Central Indiana Community Foundation, for which I have been fortunate enough to be a trustee for the last nine years.
What's been the biggest change in the practice of law you've seen?
Obviously, the biggest change in the practice of law since I started is the technology. While technology makes it easier to practice law, it also requires the practice of law to be at a much faster pace which, in turn, requires greater focus and concentration.
Is there a moment in your career you wish you could do over?
I have been very fortunate in my legal career and there are not many things that I would desire to do over. However, I remember clearly a client meeting that I was scheduled to attend 30 years ago in which I jotted down the wrong address and showed up to meet with a disgruntled client an hour and 15 minutes late.
What class do you wish you could have skipped in law school?
Secured transactions was probably the class I wish I could have skipped in law school. The class just was not as interesting as the cases that were read for constitutional law and criminal procedure.
What's something about you not many people know?
I do not think many people know that my father was also a lawyer and ultimately became a judge. He was my role model which led me to choose the profession.
We hear a lot about civility. Have you noticed a change in how attorneys treat each other since you began practicing?
With few exceptions, I have been fortunate that the lawyers that I have had relationships with have been good. Perhaps, my answer would be different if I was a litigator.
If you couldn't be a lawyer, what would you do for a living?
If I was not a lawyer, I would probably find myself as a teacher or a professor. Due to my love of sports, there could be some coaching involved as well.
 
Please enable JavaScript to view this content.