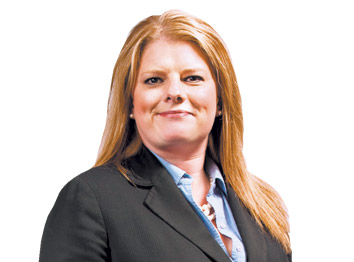 Although Samantha DeWester has been a practicing attorney for just six years, her legal career began 20 years ago. She's held management positions in the legal department at Bank One and at Feiwell & Hannoy P.C., working full time while attending law school at night. Now she holds three high-level jobs for the city of Indianapolis. She is not afraid of long hours or a daunting task; she views those as a challenge.
Active in bar associations and committees, Samantha is a sounding board for friends and associates. She is an advocate for programs that help lawyers strive to be better lawyers, and her personal and professional style is viewed as a refreshing example of civility in the legal profession.
You worked in management in the legal departments at several companies before becoming a lawyer. Did you always want to be an attorney or did working in the legal departments inspire you to pursue the law?
I think I knew I wanted to become a lawyer from a young age. My mother worked as a secretary in the Court of Appeals for nearly 20 years, so I grew up around a ton of lawyers. She, more than anything, inspired me to become an attorney.
You're job title alone sounds overwhelming! What are some tips for achieving a work/life balance?
I work hard and play hard. I decided, long ago, what is most important in my life and I try to devote time to those things and people. Otherwise, I do not feel like a complete human being.
Is there a moment in your career you wish you could do over?
When I was an intern at the Marion County Prosecutor's Office, I was able to try many cases. It would be fun to try those same cases now, with the knowledge and experience I have gained.
What is the most important lesson you learned from your mentor?
Mentoring is something I truly believe our practice is missing. In my early career, I did not really establish a mentor/mentee relationship with any one particular person. Instead, I have taken lessons from multiple lawyers by whom I am surrounded. I continually strive to help newer lawyers in their endeavors. It is our duty.
If you could meet and spend the day with one lawyer from history, who would it be and why?
My uncle, Lloyd DeWester. He passed away when I was a teenager. His granddaughter and I are the first female lawyers in our family. It would be great to hear his experiences and advice.
What civic cause is the most important to you?
Working to keep our city and neighborhoods clean and safe. I have lived here my entire life so whatever the problem, I will work relentlessly to fix it.
What's your guilty pleasure?
Life is too short for guilt.
Why practice in the area of law that you do?
I have always worked in government practice. I love what I do. Being able to help others is a fantastic feeling. I love our city and the great folks here. It is a pleasure being able to serve!
What's something about you not many people know?
I have mentored kids for most of my adult life. I was a Big Sister for many years, mentored incarcerated boys at Pendleton Juvenile Correctional Facility and have currently mentored my "little sister" for nearly a decade.
Why do you think people often have negative stereotypes about lawyers?
Because you typically only hear about lawyers when something salacious or negative is going on. The media typically only reports when good lawyers go bad or when a case is very controversial.
 
Please enable JavaScript to view this content.