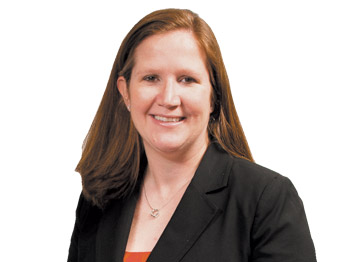 Kelly A. Doria is on a path to becoming the preeminent Indiana lawyer focused on public institutional investments. While at Indiana Public Retirement System, she has vastly expanded the role of the transactional attorney on staff, reducing the reliance on outside counsel and expanding the organization's level of legal due diligence. As part of her job with INPRS, she ensures there are legal safeguards on the state's $27 billion public retirement assets.
A longtime volunteer and advocate on youth issues, Kelly has served on the Marion County Commission on Youth board of directors in various leadership roles for the past seven years.
Since your work involves retirement funds, do friends and family ever ask for retirement planning advice?
Rarely, investment options and considerations for retail investors are vastly different than institutional investors, so my work is inapplicable unless the person is investing $50M+. … I don't have any friends or family that fit that profile.
Why practice in the area of law that you do?
Institutional transactional law tends to be more logical and predictable, less burdened by emotions and irrationality, plus I get to work with very sophisticated clients.
What are some tips for achieving a work/life balance?
I've learned to understand my life priorities (and accept that they will change) and ensure such priorities align with my employer's expectations – if they don't align, there can never be balance.
You are an alumni volunteer for your undergraduate alma mater Villanova University, working to encourage central Indiana students to attend the Philadelphia-area university. Does this mean that you are not a native of Indiana?
I'm originally from Philly, but I grew up on the east side of Indy and graduated from Warren Central (unfortunately, the lean football years!). I convinced my husband to settle in Indy because it is a great town, friendly people, ripe with opportunities and a wonderful place to raise a family.
What is the most important lesson you learned from your mentor?
Don't aspire to be the smartest person in the room, plan to be the most prepared.
What's something about you not many people know?
I've completed five marathons.
Who is your favorite fictional lawyer?
Jessica Pearson ("Suits") … minority female managing partner of BIG law!
What's your guilty pleasure?
I love the lottery. I've never won anything, but I truly believe I'm an insanely lucky person.
If you could meet and spend the day with one lawyer from history, who would it be and why?
Daniel O'Connell (b.1775) challenged Irish laws prohibiting Catholics from becoming lawyers or serving in parliament (not by violent rebellion, but by his wit and knowledge of the law). His work inspired Frederick Douglass, MLK and Gandhi.
What class do you wish you could have skipped in law school?
All of the UCC classes – sales, secured transactions and commercial paper.
Why do you think people often have negative stereotypes about lawyers?
Lawyers are called when something goes wrong and many practices have no winners (divorce, disability, custody, personal injury, estates, etc.). Even if the attorney does an amazing job and earns a great outcome for the client, the lawyer can't truly "fix" the circumstance that generated the initial call. So lawyers are held to an unreasonable expectation and guilty by association to unfortunate circumstances.
Is there a moment in your career you wish you could do over?
Shortly after I was married, senior counsel was introducing me to a prestigious board and he used my new married surname, which didn't immediately register with me, and I turned to see who he was speaking about…needless to say, it was not the most confident first impression!
What was the worst or most memorable job you had prior to becoming an attorney?
My first (and worst) job was working the front desk at a YMCA, where one of my duties was to wash and fold members' dirty workout clothes.
What civic cause is the most important to you?
Ensuring the positive development of youth in our community.
If you couldn't be a lawyer, what would you do for a living?
Pastry chef.
Please enable JavaScript to view this content.