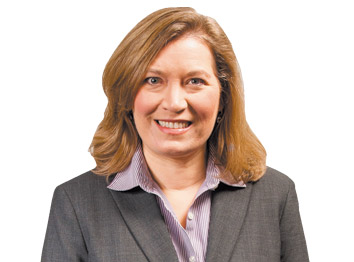 In the nearly 25 years that Constance R. Lindman has worked as an intellectual property attorney, she's built a nationwide practice and served important roles in the growth and development of firms, businesses and individual lawyers. Connie has been an integral part of SmithAmundsen's Midwest growth since joining the firm in 2013 and spearheading the development and expansion of the firm's Indianapolis office and IP practice. She is described as a "people person" who's a pleasure to work with, so much so that other attorneys routinely refer their clients to her for IP matters.
What's something about you not many people know?
I worked for TSR Inc., the publisher of Dungeons & Dragons games and books, many years ago. It was the most marvelously creative place filled with great characters (real and imagined) and truly a one-of-a-kind workplace. I didn't have enough experience with other work environments to fully appreciate it at the time, and I look back on those days very fondly now.
How has IP law changed since you started practicing?
Twenty-five years ago, only large companies were concerned with intellectual property rights. Intellectual property is (rightfully) on everyone's radar now, even start-up companies. In the last few years, I've seen an increasing trend where established companies, sometimes decades old and definitively not in the tech arena, are developing new products and services that are technology driven. For example, an insurance agency that developed a mobile app with integrated cloud services to increase sales force productivity and regulatory compliance, and that has been adopted by major insurance companies. Another change is the global nature of business generally and legal challenges regarding international intellectual property protection. A firm colleague and I will be attending the International Trademark Association Annual Meeting in Hong Kong next month where we will meet with direct clients as well as foreign associates that assist with foreign filings for our clients and send U.S. work to us for their clients. The sentence highlighted in yellow can be cut from print if the questions consumes too much space.
What do you think about the change in the U.S. to the "first-to-file" system for patents?
Although the first-to-file aspect of the America Invents Act (AIA) was implemented over a year ago, the full effect of the change won't be known for years in the future as patents filed under the new system begin to issue and face challenges. However, I'm hopeful that the elimination of costly interference proceedings between patent applicants will be worth the added burden, especially on small companies, of having to file patent applications earlier in the development cycle of new products or services.
What was the worst or most memorable job you had prior to becoming an attorney?
When I was 16, I worked for a greasy fried-chicken place in Bloomington after school. Bobby Knight was mean to me on my fourth day on the job. So it was both my worst and most memorable pre-attorney job.
If you couldn't be a lawyer, what would you do for a living?
My undergraduate degree was in applied mathematics and I considered going for a Ph.D. in physics. I love practicing intellectual property law but, as a second choice, I would combine my interest in science with my love of writing and be a journalist covering scientific advancements.
What's something you've learned over the years that you wish you could go back in time and tell your younger self?
If you are living life to the fullest, your life will be filled with one challenge after another. Enjoy the present and don't expect that things will be easier in the future. It will just get harder, but also more rewarding.
What's been the biggest change in the practice of law you've seen since you began?
My first position right out of law school was as a lowly first-year associate at a large Chicago firm. Nevertheless, I had my own secretary; my own smart, talented and extremely bored secretary. I preferred to compose on the computer, mostly made my own edits, and I only dictated short letters on an occasional basis, so she spent her days asking other secretaries for overflow work. Today, we have assistants who are smart, talented, professional and vital to the productivity of three, four or more attorneys. We couldn't serve our clients effectively without great assistants, and those assistants are anything but bored.
What are some tips for achieving a work/life balance?
I don't think there is any secret sauce for work/life balance. All I can recommend is to do the best you can, be kind to yourself and don't harbor regrets, and most of all stay in the present and try to enjoy whatever you are doing right now.
Why do you practice in the area of law that you do?
My educational background in math and physics led me to the intellectual property department of a large Chicago firm for my first job out of law school. It was a great fit for me, and I've never considered practicing in any other field. I particularly enjoy the fast pace of change in the intellectual property field, as the law struggles to keep up with advances in technology. The Internet was just an infant when I began practicing and now it affects every aspect of business and our lives.
Why do you think people often have negative stereotypes about lawyers?
Attorneys are usually associated with some type of trouble – resolving a dispute, avoiding violations of laws and regulations, reducing risk and liability. Talking to a lawyer can be like going to the principal's office. On the bright side, an attorney who learns the client's business and is responsive to the client's concerns may have the privilege of becoming a highly trusted advisor and advocate whom the client turns to when it matters most.
What civic cause is the most important to you?
It is hard to pick just one, but the advancement of women in their careers would be among the top. And I don't mean just talking about it (though that is good, too). I'm very supportive of organizations like the National Association of Women Business Owners (NAWBO) who provide a platform for women business owners to network, support each other and, critically, to do business together.
We hear a lot about civility. Have you noticed a change in how attorneys treat each other since you began practicing?
I know that the erosion of civility among the bar is a common lament. My experience is that, like any other profession, attorneys come in all stripes. The bad ones are awful to deal with and the good ones serve the client's interests well. I can't say things have gotten better or worse since I passed the bar.
Who is your favorite fictional lawyer?
Atticus Finch in "To Kill a Mockingbird." I was an avid reader growing up and I couldn't begin to list all of the books that I read. But this book is so powerful, it was unforgettable.
What class do you wish you could have skipped in law school?
Criminal law.
Please enable JavaScript to view this content.