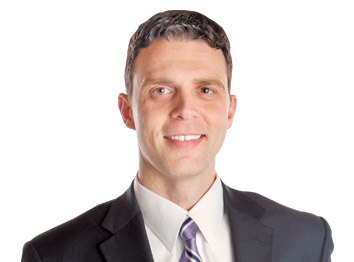 It was a bit of a gamble for Old National Bancorp to hire Scott Evernham straight out of law school as just the second in-house attorney for a rapidly growing company. But the gamble has paid off in a big way. He's grown into a true leader within the company's management team and is the "go to" attorney for all regulatory and compliance issues and merger and acquisition activity. He was honored in 2010 by the company's executive leadership team as the Larry Dunigan Leader of the Year. Scott and his late wife, Robin, founded the Robin's Nest Charitable Fund after she was diagnosed with cancer to assist those battling the disease.
Your boss described the position you were hired into directly out of law school as a "sink or swim" opportunity. Clearly, you've swam. What skills or traits helped you succeed?
There are several traits my parents encouraged that I try to utilize in everything I do, including my work at Old National. My parents instilled in me and my siblings to work hard, be unselfish, be accountable and develop a plan for your life, but be willing to adjust it and accept unforeseen opportunities.
Why practice in the area of law that you do?
I work as in-house counsel and represent a single client. As a result, I am able to become more deeply involved in the business of the company and develop a closer relationship with my business counterparts. I think it can be more rewarding to be a part of the company, its mission, strategy and success.
The Robin's Nest Charitable Fund has raised more than $100,000 to help area families in their battle against cancer. What do you hope the organization will achieve in the future?
Our mission is to ease the financial burden for cancer patients so that they can focus on the fight of their life. Our hope is to be able to shut down Robin's Nest because that will mean a cure for all cancer will have been discovered.
What are some tips for achieving a work/life balance?
Learn to say no. I believe strongly in community involvement, but it is impossible to be involved and a part of everything. I feel that you better serve your family and the community when you only say yes to initiatives you are passionate about, and more importantly, when you have sufficient time to be committed to the organization.
What is the most important lesson you learned from your mentor?
Admit it when you do not know the answer. A phrase that he taught me to use when I first started practicing (and I still use a lot today) is, "I do not know, but let me look into it and get right back to you." As lawyers, we often feel that we need to have an immediate answer to every question. One of the worst mistakes a lawyer can make is to give inaccurate advice.
What's your guilty pleasure?
Turoni's Pizza – House Special
If you couldn't be a lawyer, what would you do for a living?
I am not sure. Maybe it would be something in the medical profession. I have a lot of respect for medical professionals. In my experience, they are very passionate about their work and they make a difference in people's lives every day.
What was the worst or most memorable job you had prior to becoming an attorney?
My first paying job was in high school working as a delivery driver for a pharmacy my dad owned. That was my first and only experience witnessing him run his business. He passed away a couple years later.
Why do you think people often have negative stereotypes about lawyers?
There are numerous negative stereotypes that people have about lawyers and each stereotype has its own reason. It would take several paragraphs to analyze why that is the case. In my short career, I have been fortunate to work with many lawyers that are passionate about representing the best interests of their clients and upholding the professional and ethical responsibilities of a lawyer.
Is there a moment in your career you wish you could do over?
There are moments from every day that I would handle differently if I could do it over again. I view them all as learning opportunities, attempt to handle those moments better the next time and try not to dwell too much on the past.
What class do you wish you could have skipped in law school?
Domestic relations. There was nothing positive about the divorce cases we studied in law school.
If you could meet and spend the day with one lawyer from history, who would it be and why?
Abraham Lincoln
Who is your favorite fictional lawyer?
Lt. Daniel Kaffee – "A Few Good Men"
 
Please enable JavaScript to view this content.