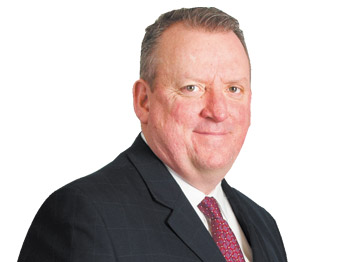 Hon. Timothy W. Oakes is known for his willingness to work on administrative matters that affect the court and find ways to improve the judicial system. He created a program whereby he and a fellow judge host and mentor law students, and as part of that program developed a curriculum that provides the students exposure to the practical aspects of the practice of law. He has worked on several successful court projects, including gaining additional funding for guardians ad litem in child in need of services cases. Tim understands the importance of being a civil servant and the responsibility that comes with it. He is driven not by accolades but by a desire to serve the judicial system.
What was the biggest surprise going from attorney to judge?
Everyone tells you and it is true: Being a judge is extremely isolating. Even my best friends and wife stopped calling me for lunch. My parents don't even drive up from Kentucky to visit me anymore, and I'm an only child with their only four grandchildren.
You created a program to provide mentoring to law students. Why is it important to work with the students?
Mentoring matters – it can define and direct careers and lives. I've benefited from truly exceptional mentors and friendships. To have just a piece of that positive influence on someone else's life and career would be exceptionally rewarding.
You're currently working to expand e-filing in the county's civil courts. What's one way technology has made it easier to be a judge and one way it's made it more difficult?
Access to files, documents, exhibits has been made easier not just for judges, but for everyone. The transition phase which we, as a legal profession, are just beginning is, and will be, the most difficult. Some folks, including me, have to adjust some old habits and comforts.
What was the worst or most memorable job you had prior to becoming an attorney?
The most painful one was working for a federal bureaucracy with some very talented people. However, despite the talent, the bureaucracy favored form over outcomes. My supervisor literally told me once during a performance evaluation that I had to stop working late. I thought I was living in a sequel to Kafka.
Why do you think people have negative stereotypes about lawyers?
Lawyers, by design, make it look easy. People don't like seeing others make significant money for something they do for free – give advice. They don't see the time and training that goes into making that lawyer's advice solid and correct, not just a hunch.
Is there a moment in your career you wish you could do over?
In life, yes; in my career, no. My career mistakes usually resulted in me learning something about life, myself or others. The experience of those mistakes can't be duplicated in a classroom or a lecture, and they can't be bought other than with time and trying.
What class do you wish you could have skipped in law school?
All of them … except legal writing and except for the classes I took with Professors Papke, Dean Harvey, Jegen and Kinney – great professors who made being in the classroom enjoyable and intellectually stimulating.
What's something you've learned over the years that you wish you could go back in time and tell your younger self?
Not much because experience is earned, not taught.  I wouldn't have listened to me anyway, except for maybe this: I would tell my younger self, "Go hangout with Grandpa Oakes even more than you do because one day he will be gone and there will no longer be 'next weekends.'"
What are some tips for achieving a work/life balance?
Imagine your funeral; imagine who you would want there and what you would want them to be saying about you. Now, work back from there, and let that be your guide for today and every day.
What's been the biggest change in the practice of law you've seen since you began?
Socialization among the lawyers has declined, which is not good, and the increase of technology as tools of the trade has changed the business model for lawyers forever.
If you couldn't be a lawyer, what would you do for a living?
Lobby the Legislature or teach adolescents probably. Insert your own joke here, but both are worthy professions that don't get the recognition, treatment or place in our society each deserve.
What civic cause is the most important to you?
Generally anything to do with abused, neglected or disadvantaged children or anything that helps military veterans.
We hear a lot about civility. Have you noticed a change in how attorneys treat each other since you began practicing?
Not really. I know there is that perception of increased incivility, but I also see a good number of quality lawyers practicing with civility every day. I suspect the ratio has always been about the same, but because there are so many more lawyers, the ill-tempered ones perhaps garner a disproportionate share of our memories.
Who is your favorite fictional lawyer?
Atticus Finch – strong, loyal, well-educated, principled, a dedicated advocate and perhaps most importantly, southern.
What's something about you not many people know?
Probably nothing – I'm such an open book. I can keep everyone's secrets but my own.
Please enable JavaScript to view this content.