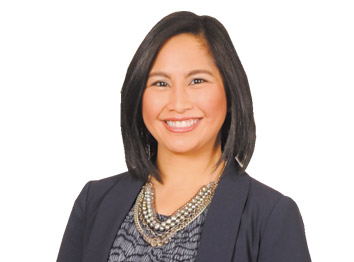 Angela G. Garcia has been practicing law in Fort Wayne for just four years, but she already has made an impact. She's earned a reputation for producing quality legal work and finding practical solutions for clients. The corporate and business law attorney has restructured Carson Boxberger's summer associate program and actively participated in creating the firm's Women's Initiative. Recognizing a responsibility to share what she is learning with others, Angie volunteers as a bench/bar mentor for law students at Indiana Tech Law School.
Angie is active in the community, working with Junior League of Fort Wayne, WOWnet and the YWCA, Northeast Indiana Inc.
Why practice in the area of law that you do?
My practice allows me to work with clients to create solutions – real, practical solutions that contribute to the success of their businesses.
What is the most important lesson you learned from your mentor?
"Always get better."
And speaking of mentors, you serve as one at the Indiana Tech Law School. What is the value of having a law school in Fort Wayne?
Establishing a law school in Fort Wayne was an ambitious, bold initiative that has been a part of a greater, citywide movement to create a more prosperous and vibrant Fort Wayne. Among the law school's faculty and students are Fort Wayne's newest talent and future leaders. Over the past year, they have shown their commitment to making an immediate, positive impact in the community, and to be a part of Fort Wayne's promising future.
What's something about you not many people know?
I was born in Liberia, Africa.
If you couldn't be a lawyer, what would you do for a living?
My response to this question changes frequently. Today, I would choose to be a screenwriter.
What civic cause is the most important to you?
Stopping violence against women.
What was the worst or most memorable job you had prior to becoming an attorney?
My most memorable job would be working in an upscale restaurant in Carmel, Ind. What I remember most fondly from this job are the people who I worked with – it was the most diverse group I have to date ever worked with, and it was wonderful to learn about their various life journeys.
What are some tips for achieving a work/life balance?
Accept that you can't do it all. Decide what your priorities are and have the courage to stay focused on those priorities and not get weighed down by everything else.
What's your guilty pleasure?
Mini corn dogs. And "Downton Abbey."
Is there a moment in your career you wish you could do over?
No. I try to live without regret and look at my "less than positive" experiences as opportunities to learn and get better.
If you could meet and spend the day with one lawyer from history, who would it be and why?
Abraham Lincoln. I respect that he was a self-taught lawyer, and I admire his passion for learning.
Who is your favorite fictional lawyer?
Atticus Finch.
What class do you wish you could have skipped in law school?
Income tax
Please enable JavaScript to view this content.