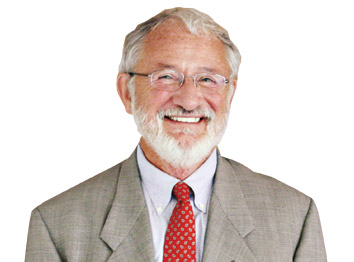 During the more than 50 years Henry J. Price has been practicing law, he has earned a reputation as one of the best and smartest trial lawyers in Indiana with a spirit and style all his own. He started his career with Barnes & Thornburg LLP, where he represented defendants for 22 years, but then decided to switch to the plaintiff's side. Henry started Price Waicukauski & Riley in 1985, where he has successfully litigated class actions and other cases in Indiana and across the nation.
Your decision to buy and renovate a building on Massachusetts Avenue in downtown Indianapolis nearly 30 years ago helped spur a renaissance of the area. What's the best thing about being in the Mass Ave area?
Having seen it change and prosper is the most rewarding. The best thing is having been involved in starting the change and being privileged to practice in an Indianapolis landmark building.
Who is your favorite fictional lawyer?
Perry Mason. His books motivated me to go to law school and specialize in trial work. My masters program at Georgetown that involved defending those accused of crime in the D.C. courts demonstrated that was not the area for me.
If you couldn't be a lawyer, what would you do for a living?
I would be an actor, stage or screen.
Is there a moment in your career you wish you could do over?
I had a scholarship to Pasadena Playhouse upon graduation from high school. I wish I could have afforded to take it instead of working at the International Harvester to make money for college. That would have been great.
What civic cause is the most important to you?
I have been part of and supported the Civil Liberties Union, state and national, for all of my time in practice. In the current climate in Washington, the need is even greater.
Is there any case or moment that stands out from your time as an attorney with the ACLU of Indiana? 
The successful challenge to the state's ban on the (Indiana Civil Liberties Union) using the Indiana War Memorial auditorium for a presentation on freedom of speech. This originated in the 1950s when the Communist witch hunt engineered by Sen. McCarthy was in full swing and resulted in the denial of the use of this tax-supported building for this event. It took us two decades to challenge it, and I argued the case where we won in the Indiana Supreme Court. We celebrated with a meeting featuring Mick Wallace, Bill Buckley and Fred Friendly, who was the producer for the Edward R. Murrow "See it Now" program which had featured this story in the 1950s. I moderated the panel. It was the exciting culmination of a long fight.
How has litigation changed since you started?
It changed from a civilized practice to one dominated by delay and lack of civility. With the help of the judiciary it is now changing back.
What are some tips for achieving a work/life balance?
Play as hard as you practice.
You've been practicing law for 50 years. What legal skills or traditions have faded away over the years that you would like to see return?
As I said, civility and honesty among adversaries faded; but it has been coming back for the last five to 10 years.
Why do you practice in the area of law that you do?
Trial work is the most challenging, exciting and rewarding practice there is.
What class do you wish you could have skipped in law school?
I always hated tax.
What's something you've learned over the years that you wish you could go back in time and tell your younger self?
Take more time with and devote more energy to your family.
What was the worst or most memorable job you had prior to becoming an attorney?
Working on the assembly line at the International Harvester plant in Fort Wayne was the worst.
 
Please enable JavaScript to view this content.