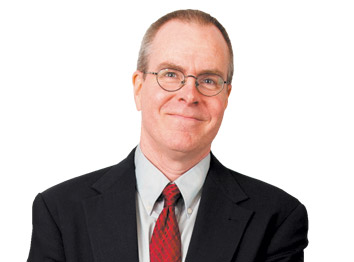 When Fran Quigley sees people in crisis, he works tirelessly to get them the help they need. In his role as a clinical professor of law, he mentors and shapes the career paths of students who have chosen his expertise: human rights. He founded the Health and Human Rights Clinic at IU McKinney School of Law in 2011, where students work with low-income clients in the community. Fran is also a co-founder of the Legal Aid Centre of Eldoret, Kenya's first human rights legal program connected to the HIV/AIDS epidemic, and is the former director of operations for the Academic Model for the Prevention and Treatment of HIV/AIDS, which cares for Kenyan patients infected with HIV.
What inspired you to establish the Legal Aid Centre of Eldoret?
I followed the lead of some terrific Kenyan advocates, led by attorney Eric Gumbo, and also Indiana Court of Appeals Judge Patricia Riley, who were the true visionaries for LACE.  They saw an opportunity to bring justice to some of the most marginalized persons on the globe: HIV-affected persons and their families in western Kenya. It was an honor to play a role in helping their vision come to life.
You worked at the law school for seven years before leaving for a period and returning in 2011. What do you enjoy about working with law students?
It is a privilege to work with law students who are fully committed to empowering low-income persons in crisis. Especially in the clinics, these students' dedication to compassionate service not only is a big boost to their clients, it inspires me to match their idealism and enthusiasm.  
What class do you wish you could have skipped in law school?
Since I am an alum of the school where I now teach, I should plead the Fifth here. …  In truth, I could have somehow gotten by with skipping any of the classes except for labor law, where I met Ellen White. A lot of my classes were very valuable, but that was the only one that resulted in three great kids and an amazing lifelong partner who I continue to learn from every day! 
Besides being a lawyer, you worked for a time as a news editor as well as a reporter and columnist. What drew you to journalism?
I find a great deal of connectivity between the work of public interest law and journalism, especially journalism that is focused on social justice issues. There are shared goals – telling a story, persuading an audience to reach a conclusion or take action – and shared techniques – analyzing a sometimes jumbled set of facts and bringing forth witnesses to explain and illustrate the truth.
What's something you've learned over the years that you wish you could go back in time and tell your younger self?
My younger self from 30 years ago and my younger self from 30 minutes ago could both benefit from being more patient, more humble and more selfless. 
Is there a moment in your career you wish you could do over?
Oh, there are many! I wish I could say that I have always been kind and compassionate to opposing counsel and challenging clients, and was never affected by the stress of a difficult case. But that would not be true. The good thing about teaching law students in a clinical setting is that the process reminds me of the need to practice what I preach. 
What are some tips for achieving a work/life balance?
My observation has been that the biggest stressors for lawyers are when we are not living our values in our work. I am very fortunate that the big-picture goals of my work synch very well with the big-picture goals of my life.
Who is your favorite fictional lawyer?
I have never found any fictional lawyer to be as admirable as the real ones I know. I have been blessed with an abundance of lawyer role models to learn from, including practicing lawyers in my family (my brother Bill, my father-in-law John White) and many inspiring public interest lawyer colleagues, especially the lawyers at Indiana Legal Services, ACLU Indiana, and in the law school clinics.
Why do you think people often have negative stereotypes about lawyers?
Many of the most selfless, kind and dedicated people I know are lawyers. But the adversarial process does not always give us lawyers the opportunity to show our most compassionate selves. On top of that, many people only deal with lawyers at the worst times of their lives, and the entire experience is one they would prefer to forget.
What civic cause is the most important to you?
I am very fortunate that part of my day job is to work on the causes that are most important to me. My work now is focused on low-wage workers' rights here in the U.S. and the struggle for human rights in Haiti. We lawyers are well-equipped to be the advocates that the poor need both here in our community and across the world.
 
If you couldn't be a lawyer, what would you do for a living?
I would probably be a social worker – wishing I could sue the people and corporations who were victimizing my clients!
 
Please enable JavaScript to view this content.