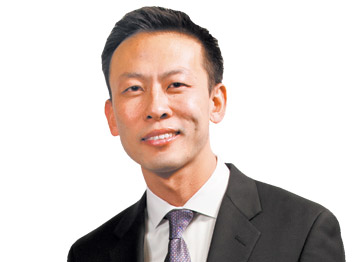 John Z. Huang joined Bose McKinney & Evans LLP in 2013 as a civil litigator after working in the public and private sector as a lawyer and educator. He began his legal career as a law clerk for Indiana Justice Frank Sullivan, who cites among John's professional attributes his intelligence, warm personality and ethical standards. Colleagues describe him as a values-driven leader.
John believes every child deserves an excellent education, and he continues to commit significant personal and professional energies to achieving that goal.
Before becoming a law clerk on the Indiana Supreme Court, you had no prior relationship to Indianapolis. What made you stay?
After my clerkship ended in 2009, I was grateful to gain significant hands-on experience handling a docket of 30 civil cases at one time as assistant corporation counsel with the City of Indianapolis Corporation Counsel. I have been fortunate to have been involved in significant cases with the city, at the Department of Education, and now at Bose McKinney & Evans. I have enjoyed the collegiality and the accessibility of the legal community in Indianapolis.
What was the worst or most memorable job you had prior to becoming an attorney?
My most memorable job was serving as a third grade teacher in inner-city Los Angeles for two years as a Teach for America corps member. It was the toughest two years of my professional career, but I learned so much about working hard, overcoming challenges, perseverance and having faith.
You also have worked for the Indiana Department of Education and Lighthouse Academies, a charter school management organization. Why have you chosen education as a place to put your efforts?
I am interested in education because I love working with and teaching children and young adults, and I believe that a well-rounded, balanced education empowers all Americans to achieve their God-given potential and strengthens who we are as a people.
What is the most important lesson you learned from your mentor?
Legal writing should be succinct and easy enough for a non-lawyer to understand.
What's something about you not many people know?
I am a fierce competitor when it comes to sports, especially basketball.
Why practice in the area of law that you do?
I practice general civil litigation because of the variety of interesting legal issues that I get to learn about and think about on a daily basis, because it allows me to utilize my interest and strength in legal research and writing, and because of the profound positive impact that civil litigation can have on individuals and on society as a whole.     
Who is your favorite fictional lawyer?
My favorite fictional lawyer is Atticus Finch because of his moral courage, integrity, and his steadfast belief that all men should be treated equally under the law.  
What civic cause is the most important to you?
For me, the most important civic cause is providing access to a quality education for all children here in Indianapolis, in Indiana and across the country.  I believe in empowering all sectors of society to contribute to this cause.  
If you couldn't be a lawyer, what would you do for a living?
If I couldn't be lawyer, I would probably be a combination of a Christian counselor, a youth basketball coach, and an adjunct law professor and legal writer/contributor to various media outlets.  
What are some tips for achieving a work/life balance?
Try to leave work at a designated time every day so that you set aside a certain amount of time each day to spend with family; spend the weekend doing things you enjoy; stay physically active.
Why do you think people often have negative stereotypes about lawyers?
I believe some of it has to do with the way lawyers are portrayed and glorified in the popular media.  In addition, having a law degree does confer a certain amount of status, power and influence, and we as lawyers have to be constantly aware of exercising our influence wisely and ethically.  
If you could meet and spend the day with one lawyer from history, who would it be and why?
I would love to spend one day with Abraham Lincoln, and ask him how his legal career helped him become the courageous and wise leader he was, and how it helped him navigate the Civil War and make so many tough decisions in such a turbulent time in our country's history.   
Is there a moment in your career you wish you could do over?
As a summer intern in law school, I turned down an assignment from the executive director of the organization I was interning for because I didn't have an interest in the topic. Bad mistake! I quickly learned my lesson.   
What class do you wish you could have skipped in law school?
Federal Income Tax, which was a graduation requirement at the time.
Please enable JavaScript to view this content.