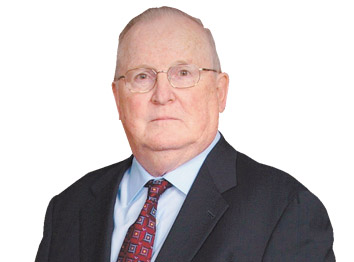 If asked to name Indiana's premiere health care attorneys, the name John C. Render is among those that top the list. John has been instrumental not only in the growth of the law firm that bears his name, but also in the development of local health care law and regulations. He spent 32 years as general counsel to the Indiana Hospital Association and was an adjunct instructor at Indiana University for more than two decades in its graduate program in health care administration. Students remember him as an influential instructor who was funny, had great stories and taught them a lot about the law. In fact, current Hall Render chairman William H. Thompson, a former student of John's, was so influenced by him that he went to law school specifically to practice health care law.
If you couldn't be a lawyer, what would you do for a living?
I probably would have taught. I started life as a high school English teacher and went to law school at night.
What was the worst or most memorable job you had prior to becoming an attorney?
I worked in the steel mills in Lake County for a time between a couple semesters of college. It reinforced in my mind that I didn't want to do manual labor for the rest of my life. I wanted to earn a living with my mind and not my back.
Why do you practice in the area of law that you do?
Happenstance. I was in law school and I was teaching. One summer a friend went to work for the Indiana Hospital Association, called me up and said, "We are looking for someone." They hired me for the summer. The next summer they called me back. I met their general counsel, and we got to know each other the second year. The president of the association and Mr. William Hall said, "We'd like you to stay here, and if you stay you can work for the Hospital Association and work with Mr. Hall in a clerkship situation." I thought about it for five seconds, so I resigned from teaching and started working for the Hospital Association. When I graduated and passed the bar we started Hall Render in 1971.
How has health care law changed since you started?
It's become an enormous industry. When I started it was a lot of hospitals, but it's become such a multibillion-dollar industry in terms of both organizational aspects and demand for service. As more people are covered by insurance and public programs, demand has escalated. That, in turn, has grown our clients enormously, and as they have grown, we have grown, too.
What's been the biggest change in the overall practice of law you've seen since you began?
One of the bigger changes is the proliferation of advertising with regard to trying to get clients. I am not convinced that it's the right way to choose legal counsel or choose a cardiovascular surgeon because he has a billboard on (Interstate) 465. Law, medicine, all professions need to do a better job of informing the public about the people who are available to do work and provide services, their professional qualifications, etc. But I don't think the professionals themselves are the best to provide that information. We all have a tendency to overstate our qualifications and talents. Me advertising on Lucas Oil Stadium does not make me the right lawyer to solve a problem.
We hear a lot about civility. Have you noticed a change in how attorneys treat each other since you began practicing?
It's changed. I'm not sure if it's a product of the profession or byproduct of society. I really think advertising has contributed to this. It has demeaned the profession in my mind, made us look like hucksters. There was a time when law and medicine were looked at as upstanding ethical professions. I think we still have those standards, but societal and other changes in the bar have caused a reduction in both civility and collegiality. I'm a believer that you can be collegial and can work with opponents and still zealously represent your clients. One thing I've learned and most lawyers will tell this, if you treat your opponents and their clients with courtesy and respect and still do the job vigorously, that client sometimes down the line will hire you. If answer is too long for print, cut highlighted section.
Why do you think people often have negative stereotypes about lawyers?
One of the major reasons is people come to lawyers mostly in situations of great trauma – personal or business distress, divorce, being sued, having criminal charge. If it doesn't go right or they don't get the right result, or think the lawyer charged too much or did too little, there can be a lot of negative feelings about that. You've got to be very effective and empathetic in dealing with people when they have legal problems. You may have seen this problem 50 times before, but it's the most important thing in their life.
What's something about you not many people know?
I like to occasionally bake things, mostly pies. One of my grandmothers, in an attempt to have me spend time with her as a little kid, taught me to bake pies.
What are some tips for achieving a work/life balance?
Whatever time you spend at the office, when you leave the office, don't take it with you. I think when you leave, leave; and when you come back, do your work there. Whatever number of hours you put into the practice of law, you can fill. There is always something to do. If you want to put in 18 hours, there's something to do.
What civic cause is the most important to you?
I admire certain charities a great deal like Salvation Army and St. Vincent DePaul and charities that minister to the poor.
Who is your favorite fictional lawyer?
Jake Brigance in "A Time to Kill."
You've written many law review articles and contributed to papers on medical-legal subjects. What do you enjoy about writing?
I think it's the component of teaching and scholarship. I've always enjoyed that kind of thing.
What's something you've learned over the years that you wish you could go back in time and tell your younger self?
I would tell my younger self in high school and early college to be much more focused on academics and so forth. I was a good student, but I was just fortunate to be smart enough.
What class do you wish you could have skipped in law school?
Trust and estates and future interests. I never enjoyed that.
Is there a moment in your career you wish you could do over?
I've really enjoyed health law. I tell young people if you can find something to do that you really enjoy and make a living out of it, like I've been fortunate to do, your life is going to largely be very happy. I kind of wish I had been academically more focused early one, both college and law school, and been able to concentrate more on my studies. I, like a lot of people in both college and law school, had to work, so I never really felt like I had the full college experience, so to speak.
Please enable JavaScript to view this content.