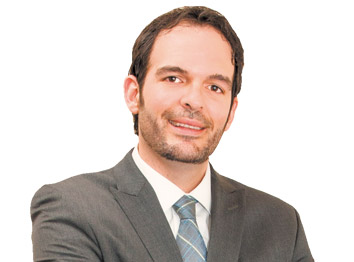 Alexander J. Limontes, a personal injury attorney, fights as hard for clients others may consider "too small" as he does for plaintiffs in million-dollar cases. He hung his own shingle at the age of 28 after working several years with the Marion County Public Defender Agency, and he serves as of counsel at Mitchell Hurst Dick & McNelis LLC. Alex is a strong supporter of solo and small practice, evidenced by his commitment to solo and small firm professional organizations.
Alex focuses much of his practice toward helping the Hispanic and Latino communities in Indianapolis. Those who regularly interact with Alex say he is a pleasure to work with and demonstrates a true desire to help his clients – his work ethic is reflected in the referrals he receives. Alex serves on the board of directors for Mental Health America of Indiana, which received a grant to provide low-cost legal advocacy for people with mental disabilities – the only such legal program in the state.
You've passed the bar in Indiana and Florida. How does Florida's test compare to Indiana's bar exam?
First, the number of people – I took a February bar exam in Florida and there were more people there than the Indiana July exam. Second, the Florida portion of the bar exam tested on many more areas of law than the Indiana exam. Third, they actually give you your scores in Florida, unlike Indiana.
Why practice in the area of law that you do?
I represent injured persons because it sure beats working for the insurance companies. I guess the simplest answer is to help people. Insurance companies have a host of resources and access to some of the top law firms in Indiana and so should the average person on the other side.  My job can be very difficult and unpredictable, however, I sleep well at night knowing that I have done everything I possibly could to help my clients.
You're not a native Hoosier. What attracted you to Indiana and why have you stayed?
The people. I remember preparing to transfer from Hanover College to University of Central Florida during my first semester in Indiana and my mother told me to just give it one more semester (great advice). I did and it was the best decision of my life.
What are some tips for achieving a work/life balance?
Learn how to turn it off when you get home and enjoy those few precious hours with your family or loved ones.
What is the most important lesson you learned from your mentor?
We are here to help these people, focus on that first, and everything else (including making money) will fall into place. Never, under any circumstance, compromise your professional integrity.
Is there a moment in your career you wish you could do over?
My first jury trial as a public defender. I would have focused more on preparing my client for cross examination rather than focusing on what I had to do for the trial. Watching my client testify was like watching the Hindenburg go down in flames.
What civic cause is the most important to you?
Immigrant rights and immigration reform, I come from a family of immigrants and this country is long overdue for an overhaul of its immigration system.
What's your guilty pleasure?
Cuban cigars, if I can ever get my hands on one.
Who is your favorite fictional lawyer?
I know this has been said before, Ben Matlock. As a young teenager during the summers, I would have to stay home with my handicapped sister taking care of her and we really had nothing to do but watch television. I watched "Matlock" every day.
What's something about you not many people know?
I learned how to speak Spanish before I learned English. Before leaving Miami, Fla., I had a serious accent.
What was the worst or most memorable job you had prior to becoming an attorney?
I was a social worker for the Devereux Foundation in Orlando, Fla. My primary job was reunification of families after the children had been removed by the state.
What class do you wish you could have skipped in law school?
International commercial arbitration
If you couldn't be a lawyer, what would you do for a living?
Teach high school history and coach high school football.
If you could meet and spend the day with one lawyer from history, who would it be and why?
Fidel Castro. Just to ask him if it turned out the way he thought it would and if he could do it over again what would he have done differently?
Why do you think people often have negative stereotypes about lawyers?
As far as personal injury lawyers, there are some that focus their practice on making money, which you must make money, but it cannot be your focus.
Please enable JavaScript to view this content.