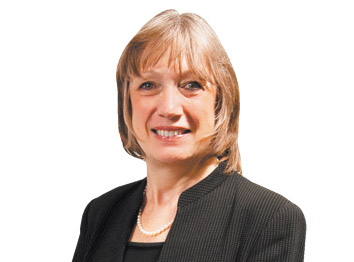 There may not be any one person who has had more influence over the development of modern environmental law in Indiana than Sue A. Shadley. She served as an attorney and administrative law judge in the Indiana Department of Natural Resources and was appointed the first chief legal counsel for the Indiana Department of Environmental Management. She moved into private practice in 1988 when she, George Plews and George Pendygraft formed Plews Shadley Racher & Braun LLP. She has been a mentor to many at the firm and a strong advocate for women in the law. Sue retired at the end of 2013.
When you began practicing, the number of female lawyers was still relatively small. In the 1970s and 1980s, you held a number of key environmental positions for the state. Did you feel like you were breaking ground at the time?
Yes. I often felt like government was the only place a woman lawyer would be hired in 1977 when I graduated. I did work in developing new programs in surface coal mining and at IDEM, and it was very rewarding to be there at the beginning.
You've been inducted into the National Solid Waste Management Association's Indiana Hall of Fame. How did you get into the practice area of solid and hazardous waste law?
My first job after 10 years working for the state in environmental programs was with Waste Management and Chemical Waste Management. The state was rewriting its solid waste rules for the first time in 12 years. I got very involved in the rule rewrite and did solid and hazardous waste law for my employer and continued to represent them when we started our law firm.
How has environmental law changed since you started practicing?
My area of solid waste has become very inactive. The companies have learned what they need to do; there are very few enforcement actions; the amount of disposal capacity has increased such that landfills are not expanding and do not need new permits.
What's been the biggest change in the overall practice of law you've seen since you began?
It is the number of women attorneys.
What class do you wish you could have skipped in law school?
I cannot think of one. Environmental law has been so interesting because it involves so many other areas of law – property law, insurance, taxes, constitutional law, oral advocacy, civil procedure, criminal law. I believe I have used all the courses I took in law school.
What's something about you not many people know?
I have traveled to Africa three times on game viewing vacations.
Is there a moment in your career you wish you could do over?
No, I am thrilled with how my law career developed. I would not change a thing.
If you couldn't be a lawyer, what would you do for a living?
Work in animal conservation.
 
Who is your favorite fictional lawyer?
Mary DiNunzio, law firm Rosato & Associates, author Lisa Scottoline.
 
What was the worst or most memorable job you had prior to becoming an attorney?
Running my own restaurant in my hometown of Hillsboro, Ind., after my first year of college.
 
What's something you've learned over the years that you wish you could go back in time and tell your younger self?
I always worked very hard and very long hours. I sort of burned out, so I might tell myself to work hard, but try to limit my hours in order to not burn out.
 
What are some tips for achieving a work/life balance?
 I am not a good example. I worked 15-18 hour days. My husband worked hard also and we did not have children.  I did not balance work and life well at all.
 
We hear a lot about civility. Have you noticed a change in how attorneys treat each other since you began practice?
Not that much. George Plews, who I started the firm with, is the nicest person and we have always emphasized being civil in our firm.
 
Why do you think people often have negative stereotypes about lawyers?
It does not seem to be as bad in the environmental law field. I have always believed people wanted and appreciated what I could do for them.
 
What civic cause is the most important to you?
Helping Native Americans, which developed from reading Tony Hillerman books and traveling in the Southwest.
Please enable JavaScript to view this content.