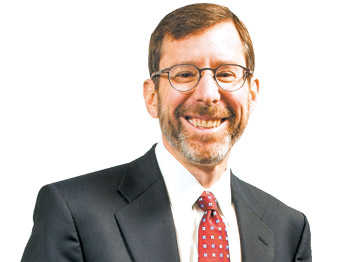 Richard E. Shevitz is a well-respected litigator known for his vigorous prosecution of complex litigation, including class actions. He recently took the lead in the litigation and settlement of a class action against the Indiana Bureau of Motor Vehicles which resulted in a $30 million recovery; he's also worked on antitrust cases here and in Iowa that resulted in multi-million dollar recoveries. Before joining Cohen & Malad, Richard was a deputy attorney general and assistant director of the Legal Affairs Department of the Anti-Defamation League. Opposing counsel calls him the "consummate lawyer," vigorously representing his clients while maintaining a professional and courteous relationship with all parties involved.
How did you get involved in the Holocaust-related class-action litigation against Swiss banks and the prosecution of lawsuits against German industrial enterprises?
When the media first reported on the scandal of Swiss banks withholding the dormant bank accounts of Holocaust victims, we were contacted by local Holocaust survivors regarding potential claims to their family's assets which had been missing since the end of World War II. We were also contacted by survivors in Indianapolis and Terre Haute who had not only been forced to work as slave laborers for German manufacturing enterprises during the war, but who also were subjected to inhumane medical experiments that Josef Mengele performed in Auschwitz working with German pharmaceutical companies. We joined together with lawyers from around the country in bringing a series of class-action lawsuits against the Swiss banks and a second series of class-action lawsuits against the German companies on behalf of these Holocaust survivors. The litigation and the settlement negotiations allowed me to work closely with some of the country's most prominent lawyers as well as top government officials to achieve historic, multibillion-dollar international legal resolutions with significant political and moral dimensions.
What's something you've learned over the years that you wish you could go back in time and tell your younger self?
Relax. Also, relax.
What are some tips for achieving a work/life balance?
Working hard and working long hours are not always the same thing. Also, see answer to preceding question.
Why do you practice in the area of law that you do?
It provides tremendous satisfaction to obtain and distribute recoveries to people on claims that they would not have been able to pursue on an individual basis.
Is there a moment in your career you wish you could do over?
Yes. No. Well, all right – it is that moment that unfortunately still occurs all too often today when someone who I am trying to persuade to accept my view says, "Slow down, you are talking way too fast."
What was the worst or most memorable job you had prior to becoming an attorney?
Summer job as an unskilled laborer on a construction site in which my duties consisted solely of hand carrying I-beams that weighed more than I did at the time.
How has the area of litigation and class actions changed since you started practicing?
The substance hasn't changed all that much but electronic discovery, e-filing and email, in particular, have revolutionized the way we do business.
What's something about you not many people know?
I drink massive quantities of coffee each day in a regular water glass.
What civic cause is the most important to you?
Like many people, I am involved in various civic and community causes that matter to me personally. The most important cause, however, is simply to become engaged with the civic life of the community. Becoming engaged with causes that matter to us individually enriches our society and enriches us personally as well.
Why do you think people often have negative stereotypes about lawyers?
Although in theory the adversarial process is designed to yield the truth, in practice it often means that someone is trying to hide the truth…
We hear a lot about civility. Have you noticed a change in how attorneys treat each other since you began practicing?
The increased emphasis on civility has certainly heightened our awareness of this issue, but we all have a long way to go, especially now that our communications so often take place faster and less personally via email.
If you couldn't be a lawyer, what would you do for a living?
High school teacher
Who is your favorite fictional lawyer?
Atticus Finch
What class do you wish you could have skipped in law school?
Tax
Please enable JavaScript to view this content.