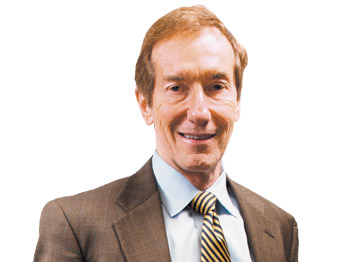 David L. Swider is on the "short list" of top management labor and employment law attorneys in Indiana. While he is a nationally recognized speaker in his practice area, clients point to his responsiveness and business sense in their dealings, noting his willingness to provide alternative solutions to their problems and a compassion for them as people. David authored the Indiana Chamber of Commerce's "Model Employee Policies Manual," which is now in its sixth edition. He is an advocate for young attorneys, often mentoring recent graduates.
If you couldn't be a lawyer, what would you do for a living?
Write children's books. I don't know that I could actually make a living from the endeavor, but I know I would enjoy the ride.
What civic cause is the most important to you?
Because of my core beliefs, I would have to say my work on behalf of Truth @ Work is the most significant to me. Lawfully integrating a private sector business owner's or executive's faith into the workplace is intensely satisfying and rewarding to me.
How has the law in labor and employment changed since you started?
I think it has become less business- and more employee-friendly over time, enabling many to use the laws as a sword rather than a shield. Employment-at-will has become all but swallowed up by its exceptions.
You were able to meet President George W. Bush while your son was a White House intern. What was it like meeting the president of the United States?
Having my arms around the president of the United States and my family while we prayed together with him in the privacy of the Oval Office was a once-in-a-lifetime experience that we will never forget.
Why do you practice in the area of law that you do?
It packs a lot of my passions and strengths into one substantive area. I like solving people's problems and negotiating business solutions; I enjoy the competition of litigation and appellate advocacy; and I have a knack for making complicated issues understandable to those not well versed in my area of the law. I also have a passion for public speaking.
What's been the biggest change in the overall practice of law you've seen since you began?
It has become a much more competitive field. Having a law degree does not provide the same sense of assured employment and financial well-being as it once did.
What's something you've learned over the years that you wish you could go back in time and tell your younger self?
Don't worry about those things over which you have no control. Shakespeare put it this way: "Things without all remedy should be without regard."  
What are some tips for achieving a work/life balance?
No matter how busy I am, I always try to make time each day for faith, family and fitness.  When I can, I add a fourth "F," friends.
What's something about you not many people know?
One of my favorite television shows of all time is "The Simpsons."
You're very involved with the Actors Theatre of Indiana. Do you act?
While I did a few plays in high school, I have done no serious acting (except in client advocacy roles) since then. Nonetheless, I really enjoy the theatre, especially Broadway musicals. ATI brings that quality of entertainment to Central Indiana.
Is there a moment in your career you wish you could do over?
I once lost a very good client because I took the relationship for granted. That mistake was a good lesson that I have never repeated.
What was the worst or most memorable job you had prior to becoming an attorney?
Working on an auto parts assembly line in high school. It made me appreciate at a young age the value of education.
What class do you wish you could have skipped in law school?
Conflicts of law. Coming from an accounting undergraduate background, I was frustrated by the lack of certainty and predictability in the subject matter.
Why do you think people often have negative stereotypes about lawyers?
On an individual level, the public's trust in lawyers and the legal system can be shattered if they come away from the experience believing, rightly or wrongly, that the lawyer's self-interests dominated the results. Often a lack of client communication and responsiveness underlies this problem.  
We hear a lot about civility. Have you noticed a change in how attorneys treat each other since you began practicing?
I am happy to say that I have not. One of the things I have consistently enjoyed throughout my career is how the labor and employment law bar in this state, with very few exceptions, treats each other with professionalism, courtesy and respect.
Who is your favorite fictional lawyer?
Jake Brigance from Grisham's "A Time to Kill." Grisham's southern law school background gives all of his fictional lawyers a realistic, thought-provoking and mildly instructive spin.
Please enable JavaScript to view this content.