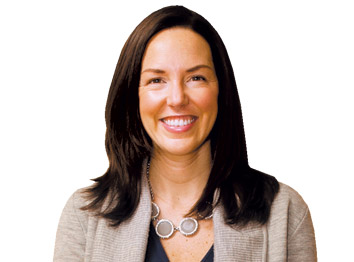 When Lesley A. Pfleging joined Lewis Wagner's transportation practice group, it was a new area of law to her. But Lesley has worked to increase her knowledge of the area's unique issues by attending and speaking at seminars and preparing materials for transportation industry representatives. Clients appreciate her no-nonsense approach in helping them resolve complex issues, and she has proven that she can successfully handle transportation cases from start to finish. Her hard work has helped the firm expand its transportation practice group.
How does a young female attorney break into the male-dominated transportation industry? Have you felt any push back from people in that area because you are a woman?
Commercial carriers employ many women in many roles – from drivers to safety directors. As the commercial industry employs more women, the need for female attorneys has also grown. I have not experienced push back; instead, I've been told by women clients that they are encouraged by the growing number of female attorneys that are able to service their legal needs.
If you couldn't be a lawyer, what would you do for a living?
A TripAdvisor editor/travel consultant!
Is there a moment in your career you wish you could do over?
As a young lawyer, there are many times when we face unchartered waters. Out of fear, I recall times when I did not trust my instincts and failed to speak up in situations or even seek help from my superiors. In hindsight, I wish I would have offered my opinion or reached out for assistance. These are the situations that teach you to better yourself.
You recently had your first child. What are some tips you've received for achieving a work/life balance?
I'll let you know once I get back to work! Right now, I'm learning what it is like to operate on three hours of sleep, so I'm not sure my brain cells are operating properly to offer sound legal advice at this time!
What civic cause is the most important to you?
Adult illiteracy. If a parent cannot read to a child, the child's literacy also suffers. In addition to teaching children how to read, we also owe the same obligation to adults.
What's something about you not many people know?
I don't eat anything green – salad, green vegetables, etc. Yuck.
What is the most important lesson you learned from your mentor?
Listen to your client – do not assume you know what they need.
Who is your favorite fictional lawyer?
Matthew McConaughey in "The Lincoln Lawyer," or Saul Goodman from "Breaking Bad." Pure entertainment.
If you could meet and spend the day with one lawyer from history, who would it be and why?
John Grisham – he is the reason I began looking at law school while attending IU.
What was the worst or most memorable job you had prior to becoming an attorney?
Teaching t-ball for the Parks & Recreation Department – sun, fun and kids.
What class do you wish you could have skipped in law school?
Tax – I'm sure I'm not the only one that feels this way; however, it's a practical course that is necessary, and some might say a right of passage.
Why do you think people often have negative stereotypes about lawyers?
Because many lawyers fail to listen; instead, they are thinking about what to say next. In such situations, lawyers may come across as "know it all" types.
What's your guilty pleasure?
Ice cream.
 
Please enable JavaScript to view this content.