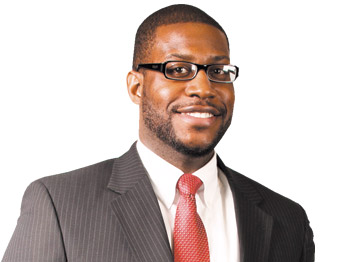 Although still in the early stages of his career, Rubin Pusha is growing and developing into one of the best and brightest in the legal profession. Rubin has demonstrated leadership at Barnes & Thornburg LLP and in the Indianapolis community at large that will leave a lasting positive impact. As a member of the firm's finance, insolvency and restructuring department, Rubin is emerging as an attorney ready to take a lead role in cases, develop strategy and bring matters to resolution.
Rubin has created and participated in numerous panels designed to educate Indiana high school and law students. In addition, he's been a driving force for bringing young African-American lawyers together to support one another in attaining their career goals. His commitment to diversity in the legal field allows him to be a trailblazer within the community.
You are a member of the Indianapolis Zoo's Associate Council, which works to advance animal conservation. Which animal/exhibit is your favorite at the zoo?
The dolphin exhibit is my favorite. If only I could teach my dog a few of the tricks the dolphins have learned.
If you couldn't be a lawyer, what would you do for a living?
A chef. It would be awesome to mesh my passion for food in a way that brings other people joy.  
You serve on the firm's recruiting and diversity committees. Why is it important that firms recruit talented attorneys with diverse backgrounds?
Diversity is important from both a moral and financial perspective. I think our profession more than others should take great care to hire talented lawyers that look like or can relate to the clients we serve.
If you could meet and spend the day with one lawyer from history, who would it be and why?
Thurgood Marshall, because he is one of the most prolific and accomplished African-American lawyers in history. Not to mention we share membership in the same fraternity.
What are some tips for achieving a work/life balance?
Balancing work and life is more like a juggling act. Create rituals and stick to them. 
What is the most important lesson you learned from your mentor?
When clients make an issue a priority, you are best served by making it your priority as well.
What was the worst or most memorable job you had prior to becoming an attorney?
My most memorable job was working at the YMCA as a sports camp coordinator. Young people are awesome and interesting.
What civic cause is the most important to you?
Helping African Americans and members of other minority groups gain access to higher education and narrow the achievement gap. Minorities are still largely underrepresented in most of the upper-echelon professions and need more mentoring from members of said professions.
Who is your favorite fictional lawyer?
Joe Miller from the film "Philadelphia."
What's something about you not many people know?
I am a descendant of the Gullah people.
Why practice in the area of law that you do?
The creditors' rights department at B&T affords me the unique opportunity to develop both litigation and transactional skill sets.
Is there a moment in your career you wish you could do over?
Not really. I have enjoyed every good and bad moment of my short career. I have learned to appreciate the bad moments as they are great teachable moments.
What class do you wish you could have skipped in law school?
Property. No offense to the professor, but the rule against perpetuities is something I could have lived without.
What's your guilty pleasure?
Amazing food. I love trying new restaurants.
Why do you think people often have negative stereotypes about lawyers?
Misinformation or an awful personal experience. It is our job to educate non-lawyers and maintain the integrity of the profession.
Please enable JavaScript to view this content.