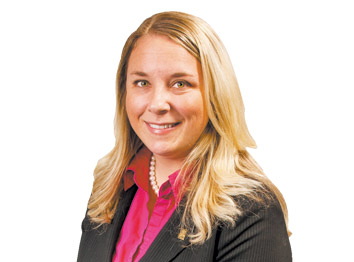 Brianna J. Schroeder is a self-described farm girl whose put those skills to use in her practice, which includes agricultural and environmental law. She did the heavy lifting on a Right to Farm Act case that has become the leading Indiana decision on the subject. She also currently serves as secretary-treasurer for the Indiana State Bar Association's Agricultural Law Section. Brianna remains active with her alma mater, serving as the vice-president of the Central Indiana Valparaiso Law School Alumni Council, in which she hopes to bring alumni and current law students closer socially and professionally.
You've worked in Peru, visited Israel while in law school, and have traveled to many other countries. How many stamps are in your passport, and what is it that you love about traveling?
Funny thing is that right now, the only stamp in my passport is a Russian visa from a trip to Moscow and Saint Petersburg this winter with my fiancé. I had to renew my passport and start over on stamps. I love going to new places, especially places that are very different from my everyday life. Russia definitely qualified – I recommend visiting!
You'd like to eventually teach, possibly high school civics classes. Why is civics education important?
I think students need a basic understanding of our governmental structure. It teaches why voting is important, how our leaders are chosen, what roles are played by each part of the government, and so many other fundamentals. Civics likely seems elementary to lawyers, but many high school students have a hard time explaining the difference between the branches of government.
Who is your favorite fictional lawyer?
Elle Woods – you don't have to change who you are to be an effective lawyer.
What was the worst or most memorable job you had prior to becoming an attorney?
I worked as a bookie for a (legal) greyhound racing track in college. It is no longer in business.
What are some tips for achieving a work/life balance?
Don't give up your pre-law hobbies or friends. Take time out from your practice to develop your other interests. I love the time I spend playing sand volleyball, reading and traveling.
Why practice in the area of law that you do?
Environmental law is constantly changing. That and the interplay of federal, state and local laws keeps me on my toes. I also love my agricultural work, because I grew up on a family farm.
If you could meet and spend the day with one lawyer from history, who would it be and why?
John Adams. His defense of the British soldiers after the Boston Massacre while the city was on edge was such a courageous move and showed the importance of legal counsel for the accused.
What's your guilty pleasure?
Turning my cell phone off and getting lost in a historical biography with a glass or two of red wine.
Why do you think people often have negative stereotypes about lawyers?
So many people don't actually know any lawyers except those in movies and television. Crazy lawyers make for good entertainment but don't accurately depict the vast majority of attorneys I know.
What class do you wish you could have skipped in law school?
I don't know what class I wish I could have skipped, but I wish I had taken an environmental law class.
What is the most important lesson you learned from your mentor?
Be ready and willing to embrace new opportunities. Even if it isn't what you thought your next step would be, be ready for whatever comes next! Take chances and try new things. You're more likely to regret passing up an opportunity than you are to regret seizing the chance to do something new.
What's something about you not many people know?
I twirled baton for about 10 years. It was not my best look.
 
Please enable JavaScript to view this content.