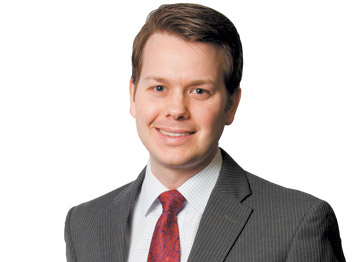 Clifford R. Whitehead has been with Bowers Harrison for less than two years, but he has already helped the firm grow. The commercial litigator is active in the Evansville Bar Association, serving in several capacities including the employment law and young lawyers sections and with the diversity outreach committee. Before joining the firm, Cliff was a deputy prosecutor in Marion County and worked in the Office of Corporation Counsel in Indianapolis. Cliff believes it's important for young attorneys to recognize they don't know everything, so they must ask the right questions at the right time – and then absorb those answers.
You grew up wanting to be a doctor, but now you're a lawyer. What made you enter the law?
Being a lawyer gives me the freedom to work on a wide variety of topics, and as a doctor, it seems that you are encouraged to specialize in just one area in the world of medicine.
When you were in law school, you were honored for performing more than 250 hours of pro bono work. How did you find time as a law student – and now as an attorney – to volunteer so many hours?
Lots of late nights at Starbucks.
On a related note, what are some tips for achieving a work/life balance?
Prioritizing what really matters in life.
If you could meet and spend the day with one lawyer from history, who would it be and why?
Thomas Jefferson. I would want to pick his brain on what did not make it into the Declaration of Independence and Constitution, and why.
Why practice in the area of law that you do?
Commercial litigation allows me to do all the legal writing I could ever want, which I like, and still presents some in-court opportunities, which I enjoy.
What civic cause is the most important to you?
Ark Child Care Center in Evansville. It recognizes that life can be stressful, and during those times, it is important that families have a place to go for support.
Is there a moment in your career you wish you could do over?
Just one? In my first closing argument as an intern for the prosecutor's office, I completely lost my train of thought in the middle of speaking and simply sat down. Thankfully, my co-counsel picked up where I left off and finished the argument.
What is the most important lesson you learned from your mentor?
Slow down, although I am still working on it.
Who is your favorite fictional lawyer?
In the words of the great Denny Crane, "Denny Crane."
If you couldn't be a lawyer, what would you do for a living?
Teach history and coach tennis at a high school.
What's something about you not many people know?
I'd rather listen than talk.
Why do you think people often have negative stereotypes about lawyers?
Because lawyers quibble with every word people say.
What class do you wish you could have skipped in law school?
Family law.
What was the worst or most memorable job you had prior to becoming an attorney?
Cleaning mobile homes for my dad after people had lived in them.
What's your guilty pleasure?
Watching Harvey Specter on the TV show "Suits."
 
Please enable JavaScript to view this content.