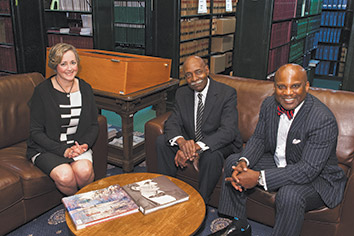 Reflecting on a prestigious recognition he had just received, Indiana Supreme Court Justice Robert Rucker sat in the court's conference room and talked about what might have been.
As a young man at Indiana University Northwest, he had plans to become a physician. He was studying pre-med and regularly traveling to Chicago to sit in on a few osteopathic medicine classes.
But a minor legal issue arose that sent him seeking advice. He did not know any attorneys personally so he drove around his hometown of Gary, randomly stopped at a law office, went in and asked to speak to a lawyer.
"To make a long story short, I ran into this lawyer who just seemed to know everything about everything," Rucker remembered. "He was active in the community and he seemed to be on top of every compelling issue of the time. … I just said, 'My god, when I grow up I want to be just like you.'"
The next day, Rucker began his legal career. He went to the registrar's office, changed his major and figured out how soon he could graduate because he was anxious to get to law school.
"He was just that impressive," Rucker said of that attorney, Alton Gill Jr., who became a good friend and mentor.
Rucker went on to build an impressive career of his own, working his way up from private practice to the Supreme Court. His latest accomplishment has put him in the company of prestigious scholars, jurists and attorneys and will allow him to use his experience and knowledge to influence legal thinking.
The former pre-med student has just been elected to the American Law Institute. Rucker joins Alan Mills, partner at Barnes & Thornburg LLP, and Kathleen DeLaney, managing partner at DeLaney & DeLaney LLC, as the newest members from Indiana.
Research, writing and Restatements
The three in the Hoosier delegation are a part of the most recent ALI class of 61 professionals hailing from 26 states. Rucker, DeLaney and Mills say they are honored to have been elected to the organization and look forward to making a contribution.
A primary way they may participate is by helping to research and write the Restatements of the Law. These documents are compiled by members of the institute and regularly used by judges and attorneys to gain insight into laws and how those laws are applied around the country.
Retired Justice Frank Sullivan highlighted the importance of the Restatements in a 2013 lecture he gave at Valparaiso Law School. In particular, the Restatements can provide guidance when the bench is considering overruling precedent.
"But mindful of our separation of powers constraints, the fact that precedent may be legitimately overruled does not give a judge license to adopt a personal political or policy preference instead," Sullivan said. "This is why Restatements are so helpful, presenting to the court a legal rule based on the careful study by lawyers, judges and professors of the law as it presently stands."
However, the Restatements have been criticized over the years. They have been deemed too insular and failing to call upon other disciplines for input; too mired in old ways of legal thought and not reflecting the contemporary thinking and approaches of today's practicing attorneys.
Indiana Court of Appeals Judge Margret Robb acknowledged the criticism but said the Restatements are still valuable. They try to give a summary of where the law is and point out different aspects that have been established by caselaw.
"It's a starting point, it's a help," Robb said.
Like many lawyers, DeLaney was introduced to the Restatements as a law student. She continued to draw upon their experience when she was drafting jury instructions as a clerk for Judge David Hamilton when he served on the U.S. District Court for the Southern District of Indiana.
Since then she has continued that work through her appointment to a 7th Circuit Court of Appeals subcommittee on pattern jury instructions. DeLaney sees her work, along with her experience as a practitioner, as good preparation for what she is hoping to do at ALI.
In particular, she believes the institute can provide a benefit to the general public by making the law easier to comprehend and more approachable.
"Clear and concise opinion writing from judges can benefit that process," DeLaney said. "Similarly, if we can make the Restatements an accessible resource so that people can understand them when they read them and they're not full of arcane legalese, I think those are good aspirational goals to have which could have the added benefit of making the legal process more accessible and understandable."
Mills, too, sees the ALI as in a position to give people the feeling the law is there to protect their interests.
"Some people are skeptical about lawyers and the law," Mills said. "This is one area where we can tramp down on that skepticism and do things that are exceptional."
The son of a military officer, Mills considered a career in academia but chose to be a practicing lawyer instead. He exhibits a scholar's interest in the law, watching it develop and change to meet the current challenges of society, and he applauds ALI bringing together academics and practitioners to get different perspectives on the topics being discussed.
Practical applications
The Restatements can give an overview of current law, point out the trends and provide guidance – especially to judges. Restatements are extremely helpful, Rucker said, but they do not have to be adopted by the courts.
Indiana judges have used the Restatements to gain insight when considering an issue of first impression or when revisiting settled law. Rucker pointed to opinions by the Supreme Court which accepted the ideas put forth in a particular Restatement, including Burrell v. Meads, which adopted Restatement (Second) of Torts Section 332.
He pointed to his 2013 opinion for Santelli v. Rahmatullah as an example in which the court rejected the Restatement (Third) of Tort Section 14.
"It's not so much that it's a standard that we have to adopt because everybody else does or a standard that is the most popular, but at least it gives us an idea of what are people thinking, what are we missing," Rucker explained. "Maybe we are not missing anything, maybe we have the better view … ."
Even within the ALI, the Restatements can spark dissent. Carmel attorney and ALI life member John Vargo has stood up at the institute's meetings and has written letters to offer his advice – and sometimes an opposing view.
"I'm the perfect example of someone who says, 'You didn't do that right,'" Vargo said. "They allow that."
His opposition to a provision in the third edition of the Restatement on torts prompted him to spend nights and weekends for more than two years writing what may be the longest law review article (462 pages) expressing his thoughts on product liability.
Vargo emphasized he just disagreed with one section of the Restatement and overall he still supports the ALI.
"It is a great institution," he said.
Mirroring society
One recent rainy morning, DeLaney, Mills and Rucker gathered in the Indiana Supreme Court library to have their photo taken. They happily greeted one another and easily conversed as if they were old friends. And as they smiled for the camera, they represented diversity in backgrounds, legal careers, race and gender.
The trio shied away from reading too much into their diversity, but others see their differences as having a positive benefit for the institute and for Indiana.
"I think it's important in everything we do," Robb said of diversity. "People say we believe in a justice system that looks like them. If the Restatements are trying to say what the law is, or to some extent be the bellwether of where the law is moving, then we need old white men, minorities and women."•
 
Please enable JavaScript to view this content.