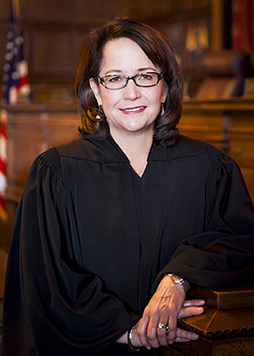 Loretta Rush was selected the next chief justice of the Indiana Supreme Court Wednesday by the seven-member Judicial Nominating Commission, which deliberated about an hour before naming her the first female chief justice in the state's history.
"I appreciate the vote of confidence the JNC has given me," Rush said after her unanimous selection. On being the first woman chief, she said, "I look forward to the day it's unremarkable."
Rush will succeed outgoing Chief Justice Brent Dickson, who announced earlier this year he will step down from the leadership position by Sept. 1, but will remain on the court. Dickson, who as chief justice also chairs the JNC, must retire from the court when he turns 75 in July 2016.
Dickson repeated the comment of commission member Tom Rose who said the seven-member panel had "an embarrassment of riches" in selecting a chief-designee from among Rush and Justices Steven David, Mark Massa and Robert Rucker.
After the commission interviewed the four justices, members adjourned to executive session, where Dickson said he didn't have to make his preference known before Rush was selected. "I had colleagues that made that decision for me," he said.
Nevertheless, Dickson said it was a close choice. Commission members, he said, "left today feeling extremely fulfilled. … The court is going to be very well-led by Chief Justice Rush."
Former Justice Frank Sullivan, whom Rush succeeded on the court, said she has a deep appreciation for the chief justice's many responsibilities. "Chief Justice Rush will embrace those responsibilities with skill, energy, enthusiasm, and a real sense of mission," Sullivan said in a statement.
Rush said tomorrow will be like any other day – she'll show up for work around 9 a.m., though she'll soon have to get used to sitting in a different chair.
She said she'll look forward to learning from Dickson and Rucker, the two senior-most justices, before pronouncing her vision for the court. She said she'll also look to what she called a strong group of judicial leaders around the state to help.
"A strategic plan will be developed," she said, "with a lot of input. But it will take time."
Governor Mike Pence was among state leaders who endorsed the JNC's selection.
"I offer my sincerest congratulations to Justice Loretta Rush on being unanimously selected to be the new Chief Justice of Indiana. With this selection, the Judicial Nominating Commission has made history and ensured that Indiana's Supreme Court will continue to have outstanding leadership in the years ahead. With her extensive legal experience, proven character and commitment to public service, I am confident that Chief Justice Rush will serve our judiciary and our state with distinction," Pence said in a statement.
Read more about the selection in the Aug. 13 print edition of Indiana Lawyer.
Please enable JavaScript to view this content.