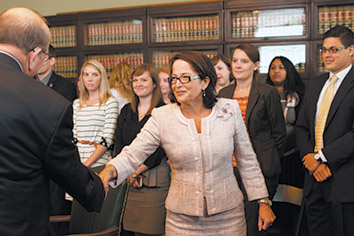 Loretta Rush had dinner with friends awhile back in her hometown of Lafayette, but the upcoming chief justice selection didn't come up. Robert Reiling recalls a nice time talking about family.
"I'm sure in Indianapolis she's Chief Justice Rush," Reiling said. "In Lafayette, she's Loretta to everyone."
 
So it wasn't too unusual that friends and members of the local bar had festooned Rush's home with red, white and blue balloons when she arrived the evening of Aug. 6 after being named Indiana's first female chief justice. "We just sat and enjoyed each other," Rush said.
Being the first female chief justice is a distinction she hopes one day might not be remarkable, she said after her selection by the Indiana Judicial Nominating Commission.
"It was thrilling," Rush said of her selection. "I have such respect for the court as an institution."
For folks back in Lafayette, the choice came as no surprise. They said Rush's personality and professionalism make her a natural choice.
"I'm sure she made a good impression," said Reiling, a partner in Reiling Teder & Schrier LLC. He speaks from experience, having been involved in hiring Rush for her first legal job in 1982 at the firm where current Chief Justice Brent Dickson practiced at the time.
Reiling recalled that as a young lawyer, Rush quickly established herself and earned the respect of colleagues and judges for her skills in the courtroom. "As lawyers, sometimes you get put on the spot, and she was always able to respond effectively.
"She's a very critical thinker, and she's never been indecisive about things, and I think that's one of the strengths she will bring to the position."
William Emerick, an attorney at Stuart & Branigin LLP in Lafayette, has known Rush more than 25 years. "We knew she had the background, training, experience and good judgment to fill the shoes of Chief Justice Dickson," he said.
"We were all excited for her when she got appointed to the Supreme Court and we're even more excited that she's been appointed chief justice," said Emerick, who is also vice president of the Tippecanoe County Bar Association.
"She was always a great advocate for her clients and was always very easy to work with" as an attorney, he said, recalling cases he tried against her. As a judge, Emerick believes Rush's sincere interest in solving problems is clear.
"I think it's her genuineness that truly comes across. She's just a real person," he said.
Rush said it sunk in for her that she would be the next chief when the justices gathered the morning after her selection for their weekly Thursday conference. She realized she'd soon be sitting where Dickson sits. Dickson plans to resign as chief but remain on the court, but no official date had been set at IL deadline.
Convincing the commission
By virtue of reverse tenure on the court, Rush was the first candidate the commission interviewed, and she promptly talked about the need for a chief justice to lead by example as "the face of the court."
The chief justice needs to "sort of be the role model and the pillar of collegiality and civility," she said, and trial courts and attorneys around the state "look to the Supreme Court and particularly the chief for the standard."
She said, "It's important that we look at the chief as sort of a chairman of the board," though she would make sure in that role to surround herself with a strong managerial team. "The chief needs to be willing to listen and to delegate responsibilities."
Rush told the commission members the court could make improvements by looking at best practices nationally and doing more to improve and expedite the handling of civil dockets, which she said have increasingly languished, not just in Indiana but nationwide. Meanwhile, she said courts will continue to be challenged by fiscal restraints.
The aspect of serving as chief that Rush said she would find most satisfying would be the people she works with, including the trial courts and bar. She said that when she ran for the bench in Tippecanoe County, she spent time getting to know the bench and bar.
"I closed my practice down three months early to travel the state and find out what was working," she said.
Commission member John Ulmer asked Rush about maintaining a home-life balance when raising young children – a question that wasn't asked of male justices. "I just really became a really good time manager," she said. The balance is made easier because of her family, she explained. "They believe in the mission of what we do."
The verdict
Deliberating behind closed doors, the commission took about an hour to choose Rush.
"I think there was a leaning toward her, but there also were some leanings toward some others," said non-attorney commission member Jean Northenor of Warsaw. "It took some time to talk it through."
But those talks didn't need to involve the opinion of Dickson, who said after Rush's selection, "I had colleagues that made that decision for me."
"I think her qualifications were overwhelming," Northenor said of Rush. "It just seemed to me that everyone on the commission, all six of us, felt very strongly about her qualifications and her demeanor.
"She has a presence about her that when she walked in that room, you know she's there. Personally, I thought that was important for a chief justice, and that's not taking anything away from any of the others," she said. "We could have chosen any one of those four and it wouldn't have been a mistake. She just came out on top."
Northenor, who with Ulmer were the only commission members remaining from the group that chose Rush as a justice in 2012, said she believes Rush will continue what she called a magnificent tenure by Dickson.
"When I left, I felt good about the decision," Northenor said. "The way (the justices) all get along so wonderfully I'm sure will continue under her leadership."
The choice was praised by Gov. Mike Pence, Attorney General Greg Zoeller and former Justice Frank Sullivan, Rush's predecessor on the court, among others. Pence noted the history-making nature of the decision and said, "With her extensive legal experience, proven character and commitment to public service, I am confident that Chief Justice Rush will serve our judiciary and our state with distinction."
Rush told the commission Dickson had set a standard for inclusiveness during his time as chief, one she hopes to foster. "There's more institutional integrity when you have consensus."
That was a theme each of the justices stressed during their interviews before the commission, with several noting the court's reputation of collegiality cultivated under Dickson and before him, Chief Justice Randall Shepard, whose 27-year tenure is the longest in Indiana history.
What's ahead
Rush said after her selection that she would be taking some time to better learn the job before laying out some of her visions for the future. She'll also look to what she called a strong group of judicial leaders around the state to help, and to the leadership and institutional knowledge of Dickson and longtime justice Robert Rucker for guidance.
"A strategic plan will be developed," she said, "with a lot of input. But it will take time."
Shepard, now a visiting professor at Indiana University Robert H. McKinney School of Law, said Rush has "proven in short order a very able contributor in the court's casework," and as important, she's shown the leadership capabilities to carry out functions of the court that the public and even sometimes lawyers don't see, such as guiding improvements in trial court operations.
"She was, as a trial court judge, very committed to improvements in the trial court processes and to upgrading educational opportunities and collaborating," Shepard said. "I think there's room for great optimism about her leadership in this growing part of the Supreme Court's work."
Another aspect of the job Shepard said can be tricky is serving as first among equals.
"One of the chief's roles is to build the right atmosphere in which this group of very independent-minded five members can work effectively with each other," he said. "We notice it immediately when they aren't.
"A very positive feature of the last decade or two has been the high level of respect and working relationships" on the court, Shepard said.
"There's every bit of reason to be confident that's something she'll build on," he said. "It's easy to overlook, but it makes a tremendous difference.
What the other justices said
Mark Massa
Massa
In his interview with the Judicial Nominating Commission, Justice Mark Massa said he believes humility is the most important attribute for a chief justice, and that's a trait he looked for as counsel to former Gov. Mitch Daniels in vetting appointees for judges from small claims courts to the Court of Appeals.
"I think judges with humility are less likely to overreach," Massa said, which may provoke attacks and threats on judicial independence.
"I would say the next chief justice will have enormous shoes to fill," he said, praising Brent Dickson's tenure as well as that of former Chief Justice Randall Shepard, for whom he served as a law clerk.
Massa said Dickson is more inclusive during conferences with the justices than was Shepard. "That's been a worthy model and certainly one I would emulate."
"Over the last 30 years not only has this court significantly increased the quality of work, decision making and coherence of its jurisprudence," Massa said, justices "also spent a considerable amount of time and energy on things that make the court system work better."
Massa also said chief justice is a diplomatic and ceremonial position that requires "collaboration with and sometimes persuasion of the other branches of government."
Acknowledging that his judicial philosophy skews conservative, Massa referred to the wisdom of the Founding Fathers who designed a system that ensured no one had too much power.
"I believe in the separation of powers the way I believe in gravity."
Steven David
David
Justice Steven David mixed a bit of self-deprecating humor with an appeal to the JNC that he would bring passion and vision to the job if selected chief.
As he concluded answering a question about the qualities a chief needs, he got a laugh when he looked across the table at Dickson and said, "The chief knows I could go on and on."
"What you are doing is selecting more than just a chief justice," he told the commission. "I think you are selecting someone to serve as the chief trustee for justice in Indiana, and that's significant."
David said the role calls for someone who possesses the ability to bring people together, leadership skills, a good body of work to refer to, and someone who is trustworthy. "I think the person has to have patience, and they also have to have tenacity."
At the same time, he acknowledged the justices were looking forward to the conclusion of the succession process that had been tough. "They're my brothers and my sister," he said.
Asked about possible improvements he would make as chief, David said he would do a better job of listening to trial courts and lawyers, taking their input on how to provide a more effective and efficient court system. He said the court is on that path, looking at reforms and new ideas.
"I will do my best to make sure the atmosphere is one of openness."
Robert Rucker
Rucker
The final justice to appear before the commission, Robert Rucker said three qualities are needed in a chief justice – the ability to be a collaborator, a consensus-builder and a good communicator.
He commended Dickson for sharing responsibilities that are given by statute to the chief justice. "We have buy-in, and we have acceptance for those things," Rucker said. "This is an institution, it's not a one-man show, and I would treat it that way."
Rucker said it's also important the chief be able to communicate the mission of the court and inspire respect and confidence for the bench. "The chief justice is the public face of this third branch of government."
He said part of Dickson's legacy is likely to be insistence on civility in the courtroom and access to justice for unrepresented litigants. Rucker told the commission that if selected chief, he would pursue a legacy of ensuring non-English speakers and those of limited proficiency as well as those who are deaf or cannot be heard, have access to justice and qualified interpreters.
Rucker also said his life story helps him maintain a common touch. His father worked in the steel mills and factories of Lake County while his mother worked at home raising a family. Rucker went to public schools and served his country in Vietnam before he pursued a legal career.
"Nobody's going to accuse Bob Rucker of living in an ivory tower," he said. "I think I've got a life that allows me to cross paths with lots of different people and lots of different circumstances."
Please enable JavaScript to view this content.