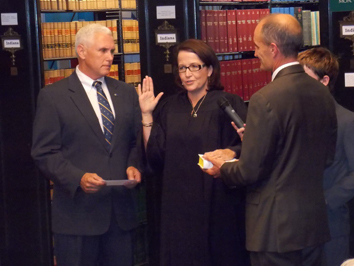 Choosing an intimate but profound setting in the Indiana Supreme Court Law Library to take the oath Monday as the state's first female chief justice, Loretta Rush said the history in the tomes spoke volumes to her.
"I consider it to be a jewel of our Indiana Statehouse," Rush said. "I love these law books," representative of more than two centuries of the rule of law in the state.
Rush noted that when she told Chief Justice Brent Dickson that she'd like her swearing in to be "small, soon and in the law library, he said 'fine.'" She also suggested the speed at which the event was arranged was a good sign for government efficiency.
The Judicial Nominating Commission on Aug. 6 selected Rush to be the next chief justice, succeeding Dickson, who will remain on the court as a justice until he faces mandatory retirement in July 2016.   
Alongside her husband, Jim, and youngest son, Luke, Rush took the oath administered by Gov. Mike Pence. Saying it was proper to note the historic occasion, Pence also referred to her selection by the Judicial Nominating Commission, whose members said she was "quite simply, the best choice to lead the best state Supreme Court as its chief justice."
Rush expressed gratitude to Dickson and longtime Justice Robert Rucker and also vowed to continue the collegial and collaborative atmosphere with justices Steven David and Mark Massa.
"I look forward to many, many, many more years together," Rush said to her colleagues.
The swearing-in ceremony lasted only about 45 minutes, including remarks from Dickson, Pence and Rush. Current and former justices along with judges of the Court of Appeals and Tax Court, Attorney General Greg Zoeller, Lt. Gov. Sue Ellspermann and other dignitaries attended.
"I haven't been this nervous in a law library since my first year at law school across the street," Pence quipped in marking a "new and historic chapter in Indiana's highest court."
Pence also saluted Dickson, who he said had been a mentor and friend to him for years before he was elected governor. Pence called Dickson's tenure as chief short but substantive, and said it was marked by a commitment to the "longstanding tradition of excellence for this court."
Dickson said, "I am really looking forward to having Chief Justice Rush at our helm," saying she is "remarkably well-equipped to serve."
He also noted Rush's background – growing up in Lake County and Richmond before attending undergrad at Purdue University and graduating from the Indiana University Maurer School of Law in Bloomington, after which she served in private practice and on the bench in Tippecanoe County.
"Loretta Rush is Hoosier, through and through," Dickson said. He said she's also an innovator – "She can be a dynamo in leadership."
Rush singled out a part of the Indiana Constitution highlighted in the law library – Article 1, Section 12 – that she said was inspiring to her. She read it aloud:
"All courts shall be open; and every person, for injury done to him in his person, property, or reputation, shall have remedy by due course of law. Justice shall be administered freely, and without purchase; completely, and without denial; speedily, and without delay."
Rush said her time to date on the court has been nothing less than inspiring.
"I guess there's only one thing left to be said," she concluded. "Let's get back to work."
Please enable JavaScript to view this content.