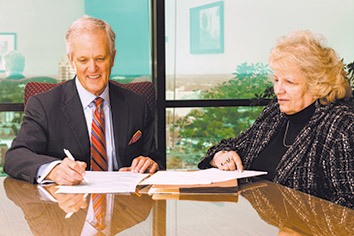 The crush of work and strict deadlines coupled with the clamor from clients to keep legal costs low may leave some attorneys wishing they could clone themselves to handle all the demands.
Indianapolis attorney Michael Hebenstreit can understand that sentiment. After he and his wife – Robyn Moberly, now chief judge of the U.S. Bankruptcy Court for the Southern District of Indiana – founded their law firm Hebenstreit and Moberly in the early 1980s, their workload created an all-hands-on-deck atmosphere in the office.
The pair hired Edna Wallace as a legal secretary. However, Wallace worked under the simple philosophy that she would take any work she could do off the attorneys' plates and pile it onto hers.
Eventually Wallace's job changed from legal secretary to paralegal, and 23 years later she is still assisting Hebenstreit, now partner at Whitham Hebenstreit & Zubek LLP.
Without Wallace and Arlene Morris, who divides her time in the office between paralegal and secretarial duties, Hebenstreit doubts the attorneys at the firm would have enough time for everything they need to do. The paralegals perform key tasks that keep the cases moving forward and provide the work at a lower cost than a licensed lawyer.
"You don't need a lawyer to do it," Hebenstreit said of the work paralegals perform. "You need a lawyer to look it over."
During the Indiana State Bar Association annual meeting, Hebenstreit will participate in a panel discussion examining ways attorneys can better use paralegals. He will be joined by Vicki Bruce Hansen, chief operations officer at Bose McKinney & Evans LLP, and Gregory Schrage, associate at Church Church Hittle & Antrim.
Schuster
The discussion, "Maximizing & Leveraging the Use of Non-Lawyer Assistants," will focus on how delegating work to paralegals can help a firm be competitive in efficiency and profitability.
Throughout her career, Wallace has seen many paralegals who can do a lot more than they are assigned. Rather than handing the attorneys a folder and reminding them of the deadline, paralegals have the ability to draft the document, allowing the lawyers to focus on the substantive legal matters.
Figuring out what the paralegals in a firm can do, Wallace said, begins with communication. Attorneys should talk about what they need, what they expect and find out where additional training may be needed.
"It's up to the attorneys to maximize (their paralegals') role and get their money's worth," she said.
Changing duties
At Bose, Hansen considers certification to be an essential component of a paralegal's résumé. Specialized training elevates their level of expertise which, she said, translates into a win-win for the paralegals as well as the law firm.
Hansen supports Rule 9, the proposed addition to the Indiana Rules of Professional Conduct which would allow for non-mandatory certification of paralegals.
The proposed rule is touted as giving law firms assurance that the non-lawyers will act in a way that is compatible with the professional conduct standards. To qualify as an Indiana Registered Paralegal, individuals would have to pay a registration fee plus meet education and work experience requirements. Once registered, the paralegals would have to complete at least six hours of continuing legal education each year.
While she sees the rule as being good for paralegals and bringing consistency to the profession, she acknowledged implementing the rule will not be easy.
"I believe the more you know and the more certification and education you have, the better you are at your job," Hansen said. "I think it's going to be a good thing, but change is always difficult."
Completing the paralegal certification program at Indiana University-Purdue University Indianapolis enabled Katie Schuster to move from secretarial work to paralegal work. She is currently the paralegal for Bose's employment litigation group where her duties range from drafting complaints, motions and responses to handling discovery and managing the caseload to ensure the attorneys meet their deadlines.
In addition, she will also prepare the exhibits for a trial and pull those exhibits at the appropriate time during the trial.
Schuster's duties are not unusual in regard to the level of work most paralegals provide.
Hansen
Wallace works closely with Hebenstreit, who is a Chapter 7 Bankruptcy Panel trustee for the Southern District of Indiana. She drafts pleadings as well as wills and trusts, prepares financial declarations, reviews discovery, prepares exhibits and monitors cases as they proceed through the court.
Wallace conceded paralegals walk a fine line and must be careful not to slip into the unauthorized practice of law. She maintains her distance from that line by being careful when talking to clients and directing all inquiries to the attorney.
Hebenstreit speculated that firms might have to hire more attorneys if paralegals were not available. However, he noted, the nature of the work might not give these new hires the increases in salary and responsibility they would expect.
The question of whether paralegals are encroaching on work previously done by newly hired associates is tough to answer, Schrage said, but using paralegals to do tasks like drafting routine documents is not necessarily bad.
Law firms are businesses, Schrage said, and they have to watch their bottom line. Paralegals are cheaper than attorneys, which helps lower the bill for the client. As long as the supervising attorneys feel confident in the paralegal's ability and as long as all comply with the Rules of Professional Conduct, he said enlisting a paralegal to help is not unfair to new lawyers entering the job market.
Billable hours
As Wallace took on more and more paralegal work, she suggested to Hebenstreit that her hours be billed to clients. He agreed and none of the clients complained, so Wallace has done so ever since.
Hansen established billable hour goals for the paralegals at Bose. Not only do clients pay less for paralegals than for attorneys, she said, but billing for their work changes the paralegals from being part of the firm's overhead to being a source of revenue.
Moreover, the billable hour ties into leveraging the most from paralegals. Hansen said the first question she asks her paralegals is what type of work they are doing. If some of those tasks are not billable, she sees if the duties could be shifted to a secretary, which then frees the paralegal to do more substantial legal work.
Schrage said billing for paralegals' time would not be applicable to all circumstances. Whether it was appropriate would depend on the area of law they work in as well as the reaction of the clients.
At his firm, giving the paralegals billable hour goals would be a "sea change," he said. Many of the paralegals carry both paralegal and secretarial duties, and he worried the administrative work might be pushed to the back since the paralegals would want to make sure they reached their goals.
"I think the way we operate and the role paralegals play at our firm, I don't think it would be a viable thing to give them a billable hour requirement because of their hybrid status," he said.•
Please enable JavaScript to view this content.