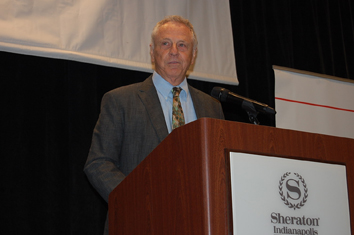 A hero of the civil rights movement urged Indiana lawyers Thursday to fight "the tyrants among us" who he said lurk not only in hate groups, but also prey on the poor and disenfranchised from boardrooms and legislatures.
Morris Dees, co-founder and chief trial counsel for the Southern Poverty Law Center, was the keynote speaker at the annual meeting of the Indiana State Bar Association in Indianapolis. He said this year's 50th anniversary of the Civil Rights Act "is a great time in our nation to think about the rule of law … and the least among us."
Dees made a national name for himself and became the target of death threats for fighting and winning crippling judgments against hate groups such as the Ku Klux Klan and Aryan Nations. Security was tight for Dees' appearance.
The SPLC tracks hate groups nationwide, monitoring 26 Indiana organizations ranging from KKK and racist skinhead groups to Nation of Islam chapters.
Dees told Indiana Lawyer that America has made great strides in overcoming discrimination and prejudice, but he noted hate group activity surged after the election of President Barack Obama. The nature of intolerance also has changed.
"Most hate crimes aren't committed by hate groups," he said. "They're committed by the neighbor who doesn't like the LGBT couple moving in next door."
As lesser-known parts of its mission, Dees said the SPLC also provides free tolerance education materials to more than 90,000 schools nationwide and has worked to combat the school-to-prison pipeline.
In his address, Dees said lawyers "hold the keys to the gates of justice. … That's not a light obligation." He urged attorneys to pursue pro bono work and similar professional endeavors to represent those least able to fight for their rights in an era when he said "the courthouse door is being closed" to the poor and disenfranchised.
Dees asserted America's legacy of discrimination against minorities continues today with widespread hostility toward and legislation aimed at Hispanic immigrants. He said the atmosphere is no different than institutional discrimination that in prior generations targeted Irish, Chinese, Jewish and others, and the antipathy is similarly rooted in jealousy.
"If they all quit working one day," Dees said of Hispanic immigrants, "this country would come to a screeching halt in so many ways. … Before this century is out, we will have a Latino president of the United States, and it'll be accepted."
Dees, 77, said his life's work was informed by growing up poor in rural Alabama and working the fields alongside blacks in the era of segregation and Jim Crow. Family members talked about how the treatment of those who toiled with them wasn't right, but felt there was little they could do.
"When I started out to be a lawyer, I guess I had seen some of that lack of justice," Dees said. His desire was to "help my friends in that community and have a better life for my friends and myself."
The SPLC has won millions in judgments that bankrupted various hate groups on behalf of their victims. Dees talked about a particular case against the Ku Klux Klan – which he called "the world's oldest continuing terrorist organization" – on behalf of Vietnamese immigrants who settled on the Texas Gulf Coast after the Vietnam War.
Following the classic American immigrant saga, he said the Vietnamese succeeded by working long, hard hours. In this case, they found a calling shrimping the waters off Kemah, Texas, gaining the contempt of local fishermen who felt their livelihoods were threatened.
The KKK burned a cross at the docks and torched the immigrants' boats, Dees recalled. He convinced the immigrants to sue, but on the eve of trial he had to use his power of persuasion to overcome their fear of retribution. The immigrants wanted to drop the suit, saying if they let the KKK have fishing, they could find other work. Dees told them it wouldn't work that way. If they didn't fight for their rights, the KKK would continue to persecute them no matter what line of work they chose.
Dees said he reassured them America is a nation of laws and the rule of law protects the rights of the minority when the majority violates the law. The immigrants agreed to pursue the case resulting in a landmark victory and a sweeping injunction against the KKK.
Visiting a blessing of the boats at the beginning of shrimping season after the victory, Dees said, "I could see enormous pride as their friends found a place at America's table.
"I not only was proud to be their lawyer, I was proud to be an American."
Lawyers should take such unpopular cases and those their colleagues advise them to steer clear of, Dees said, noting that's a tradition that predates the nation. He cited John Adams' successful defense of British Capt. Thomas Preston and other Red Coats who fired on protesting colonists in what became known as the Boston Massacre.
Adams "made sure the rule of law and juries, and not the mob, would rule in the colonies," Dees said.
Dees said these days it's getting harder to get some cases to a jury. He worries Americans are surrendering their rights and noted two major settlements in the news Thursday by AT&T and Wells Fargo. Corporations increasingly insist consumers sign arbitration agreements even for transactions such as cell phone contracts, and businesses such as payday lenders are "sucking the blood out of poor people" and also requiring arbitration of disputes.
Arbitration isn't necessarily bad, but when poor people are required to submit without choice, he said, "then it's wrong. … It violates the rule of law."
Judges also are dismissing too many cases on summary judgment, Dees said, tilting the scales against plaintiffs. "You gotta try your case before you try your case, without discovery," he said, just to overcome the summary judgment bar.
Indiana Supreme Court Justice Steven David introduced Dees by recalling Dr. Martin Luther King Jr.'s historic letters from a Birmingham jail in which he wrote, "injustice anywhere is a threat to justice everywhere." David said Dees is a giant in promoting justice and the rule of law.
Using a baseball analogy, David said, "I feel like a minor league player introducing a Major League Hall of Famer."
 
Please enable JavaScript to view this content.