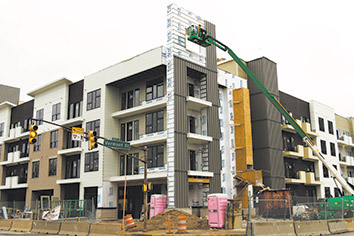 In an era of tight lending for construction, public-private partnerships are a solution to get desired projects funded and under way. Attorneys who represent parties in such deals say nuanced negotiations hold the key for deals with a shared vision but sometimes competing interests.
Jeff Abrams, partner-in-charge at Benesch Friedlander Coplan & Aronoff LLP in Indianapolis, said the so-called P3s are widely appealing.
"Fishers, Carmel, Westfield, Noblesville – they're all getting into it if they haven't already," he said.
"Since the real estate crash of 2009, the lenders have been less aggressive in the amount the developers are able to borrow," he said. "A second problem evolves from the shrinking liquidity of all the developers out there."
Benesch has represented financial institutions that backed multi-use developments in Indianapolis and Carmel that employed public-private partnerships. A recent example is Flaherty & Collins' Axis project in downtown Indianapolis that includes a new Marsh grocery store and luxury apartments.
Benesch also is representing investors in Flaherty's planned Market Square Tower development, in which Indianapolis will chip in $23 million toward the projected $81 million cost of a 28-story apartment tower on the former site of Market Square Arena.
Abrams expects these kinds of projects will continue to be popular and gain wider appeal around the state. Cities, he said, "have dirt sitting around vacant, and they want to create a tax base and some building whether it's multi-family or office."
Because developers don't have the working capital or credit they did during flush times, government money attached to deals can be an alluring incentive and the difference in whether projects get built. But even with public money, risk remains a factor.
"Sometimes you end up having to negotiate between the municipality as well as the lending institution to be sure that in the unforeseen and undesired event of a default of a loan, all of the pieces can stay intact," Abrams said. Lenders usually have the most money at stake, but municipalities also have interests driving the development.
In the event of a default, Abrams said lawyers have to anticipate such questions as, "Who gets to step in and finish the project?"
And because public money is involved, laws to protect the public investment also are part of the process.
Public-private partnerships can take any number of forms, but a recent Indiana Supreme Court decision serves as guidance to lawyers, said A.J. Manion of Manion Stigger LLP in Evansville. While the opinion dealt with a public-private partnership for a strictly public use, he said the takeaway from the case is attorneys who get too clever in structuring deals to skirt public disclosure and public bidding laws are taking a big risk.
Manion represented contractors who sued Evansville-Vanderburgh School Corp. over a contract to renovate a school-owned warehouse to serve as administration offices. The contract was given to Industrial Contractors Inc. after a school official asked if the company could do the work for $7 million. The school corporation had transferred ownership briefly to a foundation and therefore claimed public procurement laws didn't apply.
Contractors were not keen to challenge a government entity that was potentially a source of future work, Manion said.
"None of them wanted to get in the case if they didn't all get in the case," Manion said of his clients that sued in Alva Electric, Inc., et al. v. Evansville-Vanderburgh School Corporation and EVSC Foundation, Inc., 82S01-1307-PL-473.  
They lost at the trial court, but won on appeal, which was affirmed by the Indiana Supreme Court. The high court found the school corporation violated the public bidding statute and the Indiana Public Works Statute.
Because the school corporation had created a process by which it claimed that the public bidding statute and lease-purchase statutes no longer applied, Manion said it was important for the courts to rule.
"I didn't care how this case turned out, I just wanted it turned out," Manion said at a recent CLE presentation on the case. "I wanted it decided."
Manion said P3s allow cash-strapped government units to avoid the debt limitation of Article 13 of the Indiana Constitution, which limits indebtedness to 2 percent of assessed valuation. But they needn't invent elaborate schemes, he said, because the lease-purchase statute allows governments a means to get needed facilities without large initial cash outlays.
Faegre Baker Daniels LLP partner Jon Laramore, who also served as counsel for the contractors on appeal, said the school system had taken multiple votes over several meetings to facilitate the deal, but the Court of Appeals found that the mechanisms provided by statute were the only ways to fund public-use projects.
"(The schools) really did believe they had found a new way to do financing," Laramore said.
Manion said the lasting effect of the Supreme Court's Alva ruling is that creative schemes to avoid public procurement laws are susceptible to a totality of the circumstances analysis. All of the individual votes taken together didn't change the fact that end users were public entities.
Ice Miller LLP partner Brenda Horn said P3s for public works typically score bidders on technical requirements and financial capacity so "the project goes to the developers that deliver the best value for the money."
Those P3 projects designed for economic development often are negotiated after a city selects the developer it considers best for the project, Horn said. Ice Miller typically represents government units in public works projects, but it also represented the developer of the CityWay project in Indianapolis.
Ice Miller partner Gary Dankert said the Alva case demonstrated "a symptom of the appetite for public entities to find ways to do things economically" because public budgets are strained.
"They're struggling out there to do more with less," Horn said of units of government that turn to public-private partnerships.
Cities that subsidize P3s for mixed uses or economic development aren't subject to the same procurement statutes, though traditionally they go through a request-for-qualifications process to winnow bidders.
Abrams said a fairly small number of lawyers are working on multi-use P3 projects. "It continues to make it a little easier to get these deals done," he said.
More attorneys likely will see P3 projects in the future, according to Manion. He noted the Michigan Department of Natural Resources recently sought a public-private partnership for redevelopment of a former warehouse building in Detroit as a free entertainment venue primarily for children.
"If this is a P3," he said, "there's no limit."•
Please enable JavaScript to view this content.