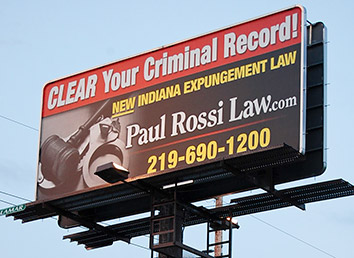 As a young attorney establishing a small law firm, Tarek Mercho saw an opportunity to build a niche practice around the state's new expungement law.
He posted billboards along major interstates and notices online advertising the services of his firm, Mercho Delay, to help ex-offenders get their records cleared. Since then, he estimated his office has received "tons of phone calls and tons of Web contacts," but gray areas in the law and differing interpretations by the courts are adding to his workload in ways he had not anticipated.
Indiana enacted a sweeping expungement law in 2013 which allowed individuals who had either been arrested and not convicted, or arrested and convicted to wipe their criminal records. The goal of the statute was to give ex-offenders who had not committed another crime a second chance.
"I honestly believe in the statute," Mercho said. "I honestly believe in the relief it's giving people. I honestly believe that at least 60 percent of my clients are getting tangible relief and it is helping."
Other attorneys agreed with Mercho's assessment.
"I think it has a good purpose," Marion County Deputy Prosecutor Andrew Fogle said of the expungement law. "I think it really helps, especially people who are trying to get their lives back together."
Mostly low-level offenders have filed petitions, and many are people who want their record erased because they are embarrassed by something they did years ago. Marion Superior Judge Mark Stoner has the petitioners appear in his court, even those who by law have to have their petitions granted.
Prosecutors have the right to object to any petition. Fogle also notifies the victims. Often, he said, the victims respond that they have either forgotten about the crime or are willing to let the individual have a second chance.
The law is absolutely needed, Stoner said. Individuals who have paid their debt to society are having an extremely difficult time getting jobs. If they cannot find work, they will either have to go on public assistance or return to a life of crime.
During the 2014 session, the Legislature revisited the expungement law, Indiana Code 35-38-9. Rep. Jud McMillin, R-Brookville, authored the 2013 expungement bill and was a co-author on the 2014 update.
The 2014 rewrite was necessary, he said, because the first version was not quite right. Although the 2013 bill had some glitches, McMillin still ushered the legislation through because it was a step forward, and he was "not willing to let it die in the sausage-making process of the General Assembly."
Relief for the most deserving
In the 2014 version, the Legislature repealed the state's original expungement law, I.C. 35-38-5, which called for the criminal records to be destroyed if individuals were later found to be truly innocent.
However, attorneys say the statute is not explicitly giving relief to those individuals who are most deserving.
Under Section 1 of the law, people who have been arrested but not convicted can have their records sealed. Missing are provisions for expunging the records of individuals who are given a summons and a court date but are not taken to jail.
Judges in Monroe County sent a letter to the Monroe County Bar Association earlier this year, saying they were going to take a stricter reading of the statute and no longer grant expungements for petitioners who had only a summons or citation.
"Why would the Legislature want to treat people who were never convicted worse than people who have been convicted?" questioned Bloomington attorney Katharine Liell of Liell & McNeil Attorneys P.C. "I think they should read the statute in the spirit it was intended."
Calls to Monroe Circuit Judges Teresa Harper and Kenneth Todd were not returned.
For Bloomington and other college towns, the strict interpretation is impacting students who are often ticketed for misdeeds like underage drinking and possession of marijuana. They are typically put into a diversion program where they have to do community service and pay a fine, but the offense remains on their record.
In north central Indiana, criminal defense attorney Brett Gibson has gotten calls from graduates of Indiana colleges who cannot get a job because of a summons. The job market is so competitive, he said, that even a citation for drinking will get an applicant tossed from the candidate pool.
Echoing Liell, Gibson said with a strict interpretation the least culpable and most deserving people are getting the least relief. Someone who has a Class D felony conviction can get an expungement, but someone with a citation for public intoxication cannot get their record sealed.
"It's better to get convicted," Gibson said.
The way to address this problem, attorneys say, is through the Legislature.
An appellate review could settle the issue, Liell said, but the more practical method is for the Legislature to correct the language. Trying to fix it through the courts would take an enormous amount of time and judicial resources, but the General Assembly could do a correction in half a day, she said.
McMillin said he is familiar with the differing interpretations and wants to make sure there is the opportunity to change the language.
Even before the Legislature convenes, Bargersville attorney Stacy Uliana is hoping the Monroe County judges will change their minds. She has filed a motion to correct errors in the Circuit Court because her client was denied expungement. Charges of Class A misdemeanors possession of marijuana and possession of paraphernalia were ultimately dropped, but the court would not seal the record since the individual had been issued a summons rather than being physically arrested.
Uliana argued in her motion, "The record of criminal proceedings following a summons is no less stigmatizing than a record following an arrest. …Thus distinguishing between an arrest and a summons is not only inconsistent with the purpose of the statute to remove the stigma of a criminal record, but also punishes those who are least deserving of such stigma."
Brewing battles
Indiana's statute, attorneys note, is not a "true expungement law." The records of individuals granted an expungement are not destroyed. Instead, for misdemeanors and Class D felonies the records are sealed and access is limited to parties like the courts, law enforcement, prosecutors and defense attorneys. Higher-class felony records are only marked "expunged" and remain in the public domain.
Carlton Martin, staff attorney for the Project Grace program at the Neighborhood Christian Legal Clinic, said people convicted of Class A, B or C felonies are not getting the same benefit of the law as lower-level offenders. They are not able to shake the stigma of their past because their criminal history continues to be public.
Employers are supposed to heed the marking and treat any prospective worker as not having a record. The statute specifically bars discrimination against anyone who has had his or her criminal record sealed or expunged.
Bradley Keffer, partner at Keffer Barnhart LLP, believes employment discrimination will be the next chapter in the expungement law story. At some point, he expects employment attorneys will file complaints against businesses for violating the law by ignoring the expungement and not hiring qualified individuals because they have records.
Yet, he admitted, proving discrimination would be difficult unless the employer was forthright that the applicant's criminal past was why he or she was not being offered a job.
Consequently, Keffer is seeing mixed results from the expungement law. Those who are only getting their records marked "expunged" are getting just a marginal benefit.
Mercho's clients have to wait several months before the Indiana State Police expunges their records. They have had to tangle with the Indiana Bureau of Motor Vehicles to get both the conviction and suspension removed from their driving records.
Now, one of his clients who holds a commercial driver's license and was granted an expungement of an operating while intoxicated conviction has another unexpected hurdle to clear. About three weeks ago, Mercho said Indiana Attorney General Greg Zoeller's office filed a motion on behalf of the BMV to intervene, saying the expungement of a driving record for a CDL is prohibited by federal law, 49 CFR 384.226, which has been adopted by Indiana under I.C. 9-24-6-2(d).
Liell
"The BMV has made it very difficult to remove expunged suspension information," Mercho said. "They don't like (the expungement law). They're pushing back."
Tears and smiles
The Neighborhood Christian Legal Clinic's Project Grace runs a legal help desk solely for individuals wanting to expunge their criminal records. When people get their records expunged, Martin said, they often have an emotional reaction with tears and smiles.
Quiana Glenn, 34, is trying to get her record expunged. Nine years ago she was convicted of perjury and forgery, and after violating the terms of her probation, she served two years in the Indiana Department of Correction.
Only able to find retail jobs paying minimum wage, Glenn has since enrolled in Martin University and wants to become an insurance broker. However, she has to get her record expunged so she can get bonded and obtain the professional license she needs.
"I wanted to let them know that the people who go to prison, some of us do get out and learn our lesson and don't want to repeat the cycle," Glenn said.•
Please enable JavaScript to view this content.