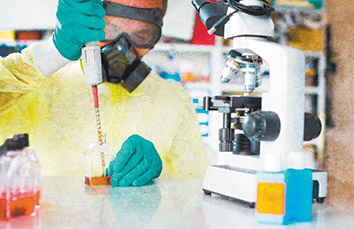 The first Ebola cases in the United States caused panic that Indiana legal and medical experts say has receded somewhat as public health systems contained the virus and educated people about the risks of the disease and the perils of overreacting.
Hospitals, health care workers, emergency responders and even sanitation workers have a role in containing Ebola. Putting the disease in perspective also has become a public health mission.
"It's a very deadly disease if you happen to be exposed to it, and it's hard to be exposed to it," said Ross D. Silverman, a professor at the Indiana University Robert H. McKinney School of Law and the IU Richard M. Fairbanks School of Public Health.
Silverman was among presenters at a recent IU McKinney forum, "Ebola: 'Over There' … Now 'Over Here' – an Urgent Conversation About Ethics, Law, Public Health, and Practice." He used the first U.S. Ebola case as illustration of a response that, despite mistakes, is instructive about the ability to control the virus in more developed nations as compared with West African nations ravaged by outbreak.
First US case
Liberian national Thomas Duncan reported to a Dallas hospital with fever and early symptoms of Ebola, but he wasn't asked about his recent travel or potential contact with infected people. He was discharged from the hospital, his illness worsened, and he returned a few days later. He tested positive for Ebola, was readmitted, and subsequently died. To date, Duncan is one of only two fatalities in the U.S. Dr. Martin Salia died Nov. 17, two days after arriving in the U.S. from Sierra Leone.
Silverman said that during the time Duncan was symptomatic, he shared an apartment with four people. At Texas Health Presbyterian Hospital, more than 70 people were involved in Duncan's care.
"Of all the people who interacted with him while he was symptomatic, two ended up getting infected, and those were the health care providers who were intimately involved in his isolation when he was in the final throes of the disease, when he was hemorrhaging blood, when he was vomiting, when he was receiving constant intravenous fluids," Silverman said. The two health care workers recovered, and there are no other cases in the U.S. as of Nov. 17.
Ebola can be spread only through direct contact with bodily fluids of an infected person showing symptoms of the disease, Silverman said. That's why he said fears were largely unfounded after news surfaced that a doctor who'd returned from treating Ebola patients rode a New York City subway, went bowling and rode in a cab.
Silverman's advice to the IU McKinney forum to quell those sorts of fears: "Don't lick the subway or the bowling ball or the inside of a taxi," he said. "You might get sick, but it's not going to be from Ebola."
Public health, personal liberty
American health care workers who've been on the front lines fighting Ebola in Guinea, Liberia and Sierra Leone have come home to varied quarantines enacted after the first U.S. cases occurred. Several states announced any health care workers returning from treating people in Ebola hotspots would be quarantined for the 21-day disease incubation period.
Nurse Kaci Hickox caused a media firestorm when she defied state quarantines that exceeded federal standards after she returned from treating Ebola patients in Sierra Leone. She said she posed no risk, was monitoring her symptoms, and that restricting her to her home was a scientifically dubious deprivation of her constitutional rights. A Maine judge agreed.
Indiana University Maurer School of Law Professor David P. Fidler said the Duncan case rocked government officials' confidence in public health experts. "It spooked people enough so political leaders thought they had to do something," he said. "When that happens, we usually end up in a bad place, and that's what we're starting to see with these quarantine measures."
Fidler, who has lent his international legal expertise to the World Health Organization, Centers for Disease Control and Prevention, and other organizations, said he's troubled by such responses, as well as travel bans from West African countries imposed by nations such as Australia and Canada. The bans are disheartening, he said, because those countries helped build a global framework to address public health threats but chose to move away from what he calls disciplined measures.
"For me, that's what's unraveled here at the national and global level," he said. "I don't have much hair loss, but I've been doing a lot of hair-pulling. This is not the way this was supposed to operate."
Fidler
Nicolas Terry, director of the Hall Center for Law and Health at IU McKinney, also sees problems in the U.S. response he called uncertain and fragmented among local, state and federal agencies. Who's in charge frequently is unclear.
"We seem to be very slow learners," he said. "Many of the so-called Ebola issues we're looking at today are not about Ebola … they're about our health care system.
"You know you have fragmentation and indeterminacy when someone says you need a czar," Terry said, referring to the recent appointment of Indianapolis native Ron Klain to lead President Barack Obama's Ebola response.
Closer to home
Indiana hasn't had an Ebola case nor has it quarantined anyone, but it has exceeded CDC recommendations of only monitoring people who have been to the West African region and are symptomatic. On Oct. 16, the Indiana Department of Health enacted a policy under which anyone returning from Guinea, Liberia or Sierra Leone is monitored twice daily for fever and symptoms over the course of 21 days. As of Nov. 17, five people were being monitored; two others had been cleared.
Dr. Joan Duwve, chief medical consultant for the state Department of Health, told the IU McKinney forum that the state faces systemic choices such as whether a single hospital should be identified as the facility to provide long-term treatment for Ebola patients.
During the initial days of U.S. cases, even some health care workers were terrified of a potential Ebola case walking through the doors, said Debra Fawcett, manager of infection prevention and control at Eskenazi Health in Indianapolis.
"We're seeing fear begin to subside," she said at the forum. "Better questions are being asked."
Nevertheless, the protocols for Ebola can be sobering. Besides making special accommodations for waste from Ebola patients, Fawcett said, any machines used to test the blood of someone with the disease must be thrown away.
Hall Render Killian Heath & Lyman P.C. attorney Jonathan Bumgarner has counseled health care clients regarding Ebola and the myriad privacy, worker protection and other federal laws implicated. The firm's advice to health care clients stresses planning, preparation and training, he said.
"I know firsthand from speaking with them how concerned and committed they are to providing a safe workplace for their employees," he said.
"The key to avoiding litigation for hospital employers," Bumgarner said, "is to make sure they're informed about and following all of the most recently suggested protocols, and that they're open and up front about these efforts with employees."
Over there
Fidler said confidence in public health organizations also took a hit when the current Ebola outbreak reemerged in West Africa. Confidence had been bruised by prior responses to swine flu, SARS and other outbreaks.
It's vital, though, that political leaders and public health officials cooperate on a comprehensive plan to attack Ebola at its source, he said.
Terry
IU McKinney professor and medical doctor David Orentlicher agreed. He said there also needs to be an understanding that poverty is at the root of Ebola.
"Even if we view this as just a health problem, we won't be very successful," Orentlicher said. "The reason Ebola's a problem is we've got a region of the world that's been ravaged by civil war and that's had its ecosystem disrupted.
"We have to be willing to deal with the conditions in countries like Sierra Leone and Liberia and Guinea that make an Ebola outbreak possible."
That might include rethinking quarantines for American health care workers who treat Ebola patients, Silverman said.
"We have an inadequate number of people available in West Africa to fight this," he said. He noted health care employers might be dissuaded from permitting doctors and nurses to travel to treat patients if they then would be subject to a three-week quarantine upon their return.•
Please enable JavaScript to view this content.