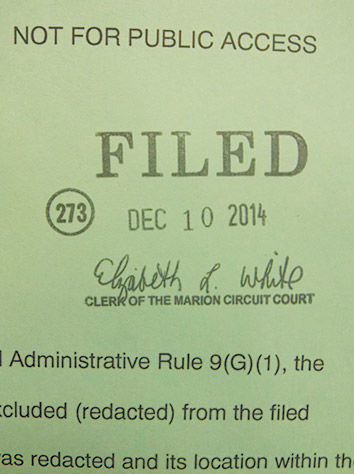 Come Jan. 1, lawyers better make certain they're on firm ground before asking a judge to file court pleadings under seal. Attorneys also may face new liability if confidential information is mistakenly entered in a public case file.
State and federal courts have rewritten rules for when and how court pleadings can be filed out of public view, reaffirming they should be open to inspection with limited exceptions.
"The federal and state courts are attempting to make a greater statement that if you file something in a public court, the presumption is it's going to be public," said Frost Brown Todd LLC member Maggie Smith, who serves on the Indiana Supreme Court Committee on Rules of Practice and Procedure. "There is an overall sense courts should be open, and both the federal courts and the state courts are going to be enforcing that even more restrictively."
 
The rules committee redrafted Indiana Administrative Rule 9(G), which deals with filing under seal. Smith and others said the former rule was so widely misunderstood that lawyers and judges alike were perplexed about how to follow and enforce it. "The Supreme Court was
concerned about what honestly could be characterized as a systematic non-adherence to Administrative Rule 9(G)," Smith said. It was common for judges to seal information filed on green paper without making findings that the information should be sealed, attorneys said.
"The rule is very long and very complex and very hard to follow," said Indiana University Robert H. McKinney School of Law Professor Jeffrey Cooper, who also is a member of the rules committee. "My first time through the rule a number of years ago, I couldn't make heads or tails of it."
As a result, information that should have been filed under seal sometimes was admitted in public case files. In other instances, attorneys were "putting information on green paper when there was no right to do so," Smith said. Rule revisions aim to clarify when those green-paper filings designating confidential pleadings are permitted.
"The rule's brand new and we went to great efforts to get it rewritten and not necessarily change the substance of the rule, but to make it easier to follow for the practitioners and the judges who are going to be applying it on a daily basis," said Court of Appeals Judge L. Mark Bailey, a member of the committee.
The new rule removes a laundry list of references to statutes and regulations that indicated some component of confidentiality. "It just made the rule itself laborious," he said. "We streamlined it by taking that laundry list out."
The new rule specifies the classes of cases that must be entirely sealed by statute or court order, as well as individual records that must be excluded, such as Social Security numbers and other personal identifiers. But it also sets out a four-step process under Rule 9(G)(4) for excluding records that otherwise would be open to public access. The process requires a verified written request to seal; notice and right to respond; a public hearing; and a written order from the court.
For information to be sealed under the new Rule 9(G)(4), a judge must issue an order stating a reason for doing so, that a basis for sealing the document has been demonstrated, and that the grounds for sealing the information is balanced against the public access interest.
 
Slaughter
"The great challenge in writing these rules is to balance those competing interests," said Taft Stettinius & Hollister LLP partner Geoffrey Slaughter, noting the clarified rules are welcomed. He is familiar with the new state court rule but didn't serve on the committee that drafted it.
"It's been a challenge to deal with," Slaughter said of the current rule. "My guess is if you randomly asked 10 lawyers on the street, at least seven wouldn't get it right."
Rules committee chairwoman Jessie Cook, a Terre Haute solo practitioner, said feedback from lawyers indicated such confusion. "Our goal was to require the parties to identify specifically the grounds for excluding something from public access so the burden falls on the practitioners and not the trial court.
"I think that the rule has been simplified and I hope we were successful in … giving it better clarity," she said. "I do think it's going to be easier for practitioners to comply with."
Federal rules also have been problematic. Barnes & Thornburg LLP partner John Maley serves as chair of the Southern District of Indiana's Local Rules Advisory Committee. "Filings under seal have been an issue for the bench and bar," he said. "Federal courts are public, and the Seventh Circuit has demanded that District courts be vigilant in limiting unnecessary sealed filings."
Maley said amendments to S.D. Ind. Local Rule 5-11 provide detailed guidance for practitioners on how to address sealing or redacting confidential information in court filings.
He added that the advisory committee's comments to the amendment are informative.
"The 2014 revision includes a more detailed procedure for obtaining permission from the court to maintain filed documents under seal in civil matters. The parties are encouraged to consider and confer regarding redaction whenever practical and possible to avoid multiple filings of the same document and unnecessary motion practice. Parties should note that a protective order does not authorize a party to file or maintain a document under seal," Maley said in an email. "In addition, the parties should follow Seventh Circuit guidance on the legal parameters for maintaining documents under seal enunciated in cases such as City of Greenville, Illinois v. Syngenta Crop Protection, LLC, 764 F.3d 695 (7th Cir. 2014); Bond v. Utreas, 585 F.3d 1061 (7th Cir. 2009); and Baxter International, Inc. v. Abbott Laboratories, 297 F.3d 544 (7th Cir. 2002)."
Slaughter said that in some instances, the expiring state rule required overkill on the part of counsel seeking to seal filings. For example, Social Security numbers required filing the number on green paper with a separate filing on white paper for public view, with the number redacted.
"To have to go through that chore, that rigmarole, is really a pain," he said, in cases where the number isn't germane to the case. "The new rule happily addresses that."
In addition to making the state rule more user-friendly, Smith said the changes also incorporate caselaw and court orders regarding sealed filings since the rule took effect about a decade ago. Lawyers said appeals courts have often called out counsel when information was wrongly excluded from or included in the record.
"The pages of the North Eastern Reporter are replete with those kinds of examples," Slaughter said.
The new rule puts a duty on attorneys to correct a record when they discover information in public case files that should be confidential under revised Rule 9(G)(6)(b), Smith said. Further, new rule 9(G)(6)(c) covers information improperly excluded from public view and carries a hammer: Filings found to be wrongly sealed will be opened to public view within seven days, unless the documents can be properly sealed under the new rule. Sanctions are permitted for violations of these and other provisions of Rule 9(G).
Because the rule in the past has been so troublesome, Smith expects a few attorneys who haven't familiarized themselves with the changes may run into problems if they rely on past practices.
The bench and bar have been trumpeting the changes with continuing legal education and other means to try to spread the word about the amendments. She suspects, though, "unfortunately, it's probably going to come down to a series of decisions where parties get publicly spanked for doing it the wrong way."•
Please enable JavaScript to view this content.