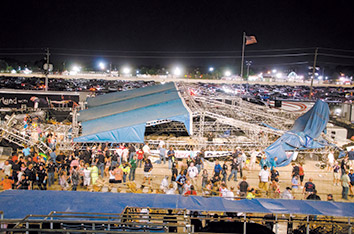 While the lone victim of the Indiana State Fair stage collapse who declined to settle with the state aims to prove caps on its liability are unconstitutional, judges who heard the appeal focused on why she was denied her day in court.
Jordyn Polet of Cincinnati was injured when a stage set and rigging collapsed under high winds at the fair in 2011, killing seven and injuring scores of spectators waiting for a concert by the country music duo Sugarland. The state ultimately distributed $11 million to victims to settle claims, but Polet, now 13, held out and sued. A Marion Superior Court granted summary judgment to the state, which argued it had reached its limit of liability.
Indiana Solicitor General Thomas Fisher argued Dec. 15 in J.P., et al. v. Mid-America Sound, et al., 49A04-1405-CT-207, that the state simply was administering the money it had available – $5 million under the Indiana Tort Claims Act, plus $6 million the Legislature approved as a one-time supplement for State Fair victims. Once the state reached its liability limit under a settlement pool with other victims, "It's not a matter of denying access to the courts at that point," Fisher argued.
"Sure it's denying access," Chief Judge Nancy Vaidik replied, noting the state argued for summary judgment on the basis of sovereign immunity and on the argument that a plaintiff under the Tort Claims Act could not be compensated once the limit of liability is reached. The ITCA caps the state's liability at $5 million per event or $700,000 per individual claim.
The panel of Vaidik and Judges Ezra Friedlander and Melissa May also had questions about the way the state chose to distribute funds. Friedlander and Vaidik hypothesized that the state could have simply chosen to provide the maximum distribution to the first few claimants and then deny coverage to anyone else.
But that wouldn't have been fair, Fisher said, and the state "did its best to offer compensation based on equitable terms." The Office of the Indiana Attorney General tapped renowned victim compensation pool expert Kenneth Feinberg to administer the settlement. "We stepped back and came up with a way to allocate money based on the level of injury," Fisher said.
Friedlander also pressed Fisher on whether Polet was being denied access to pursue a claim in court. "We are saying that perhaps someone has a right (to sue), and no remedy, right? Isn't that what you're saying, really?"
"That's one way to look at it, I suppose," Fisher said. "… The idea of limiting common law claims, it's a matter of how much the state is willing to absorb."
Attorney Robert S. Peck of the Washington, D.C.-based Center for Constitutional Litigation P.C. argued the caps are unconstitutional on their face and as applied to Polet. He said Polet declined the state's settlement offer of $1,600 after she opted out of the settlement pool. He argued Polet's case was worth at least $100,000. Her mother and sister were seriously injured in the disaster and each received a settlement from the pool of $400,000.
"What the state has said is basically they could continue to administer (the settlement fund) in a way that continues to allow them to deny access to the court to individuals who have an accrued, valid and, in this case, filed cause of action, and then divest them of that," Peck said.
"There must be a practical means to vindicate the right that you have to go to court. Jordyn Polet went to court when she turned down the settlement. That shouldn't oust her from being able to have her day in court and be able to prove her injuries," Peck continued.
But Vaidik suggested the state has an interest in its fiscal health that led to enactment of the caps. She pressed Peck on how that interest can be served if the caps were found unconstitutional.
"We submit there are ways to insure yourself and protect yourself … that make sense," Peck said. "Many states actually purchase insurance." But he argued economic and policy concerns shouldn't outweigh equal consideration of similar claims arising from the same event.
While it hasn't sought an amicus status in this case, the Indiana Trial Lawyers Association has long argued caps in the ITCA are unconstitutional. An event such as the State Fair stage collapse shows, "you cannot cap injury claims," said ITLA President Steve Langer. "You cannot predict the extent or amount of injury."
Langer noted that while Indiana limits damages that may be awarded to people, the state does not cap property damage awards.
In a statement after oral arguments in the case, Attorney General Greg Zoeller defended the caps and the process under which the state administered available settlement proceeds.
"It's important to remember any settlement the State pays is taxpayers' money, so if you intend to sue the State, then you must follow certain rules set by the people's elected representatives in the Legislature, as this sovereign immunity fundamentally separates a state government from a private company," Zoeller said.
"My office worked extremely hard with the help of a nationally renowned expert to design a compensation process that fairly, equitably and compassionately distributed all the available dollars to victims of the State Fair tragedy, and nearly all eligible claimants accepted the settlement offer and the process was constitutional," he said.
In a separate case involving the State Fair stage collapse, the Associated Press reported Dec. 19 that a $39 million settlement had been reached. Sugarland, concert promoter Live Nation and 16 other private defendants agreed to compensate all victims, attorney Kenneth J. Allen announced.
Allen said he could not discuss how those funds will be distributed due to a confidentiality clause, but the settlement was joined by all defendants except one, ESG Security. A suit against ESG could go to trial next year, barring settlement.
Allen told AP the settlement was significant because it provides compensation to a woman whose lesbian partner, Christina Santiago, was killed in the stage collapse.
Alisha Brennon and Santiago were one of the first same-sex couples to enter into a civil union in Illinois, before gay marriage was legalized this year, according to AP. Brennon, the executor of Santiago's estate, will be compensated as the surviving spouse and for her own injuries from the stage collapse, Allen said.•
Please enable JavaScript to view this content.