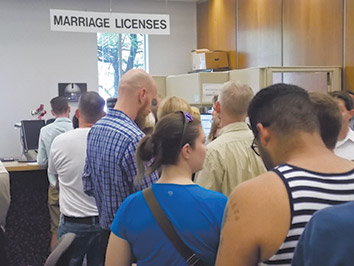 On June 25, Chief Judge Richard Young in the U.S. District Court for the Southern District of Indiana found the state's ban on same-sex marriage unconstitutional, sending a rush of couples to clerk's offices around the state to apply for marriage licenses and get married.
But the euphoria gays and lesbians felt quickly subsided. Some county clerks refused to issue licenses, and the 7th Circuit Court of Appeals imposed a stay June 27 preventing gay marriage until it ruled on the matter. In September, the federal appeals court agreed with Young and affirmed the law is unconstitutional.
Young
"The challenged laws discriminate against a minority defined by an immutable characteristic, and the only rationale that the states put forth with any conviction – that same-sex couples and their children don't need marriage because same-sex couples can't produce children, intended or unintended – is so full of holes that it cannot be taken seriously," Judge Richard Posner wrote for the Circuit Court.
Posner
But again, same-sex couples had to wait until the Supreme Court of the United States weighed in on the matter after the 7th Circuit issued another stay.
When the U.S. justices declined to take the same-sex marriage cases before them on Oct. 6, it meant that gay marriage became legal again in Indiana and several other states.
Please enable JavaScript to view this content.