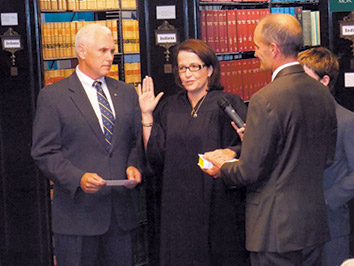 Loretta Rush, the state's second female justice, was selected Aug. 6 to replace Justice Brent Dickson as chief justice of the Indiana Supreme Court. She is the first woman to serve in the position. Her ascent to the top of the state courts came less than two years after she joined the high court.
Her interview by the Judicial Nominating Commission caught some people's attention when commission member John Ulmer asked Rush about maintaining a home-life balance when raising young children – a question that wasn't asked of the male justices. Rush answered that throughout her career she has became a really good time manager and her family provides help because they believe in the mission of what the courts do.
Her selection was praised by many, including Gov. Mike Pence, Indiana Attorney General Greg Zoeller and lawyers from her hometown of Lafayette.
William Emerick, an attorney at Stuart & Branigin LLP in Lafayette, has known Rush more than 25 years. "We knew she had the background, training, experience and good judgment to fill the shoes of Chief Justice Dickson," he said.
"She was always a great advocate for her clients and was always very easy to work with" as an attorney, he said, recalling cases he tried against her. As a judge, Emerick believes Rush's sincere interest in solving problems is clear.
"I think it's her genuineness that truly comes across. She's just a real person," he said.
Unlike Dickson's selection as chief justice in 2012 when Randall T. Shepard retired, the four remaining justices interviewed by the commission did not unite behind one person for the position. Dickson told Indiana Lawyer in July that he believed consensus among the justices on who should be the next chief justice was unlikely. Justices Rush, Steven David, Mark Massa and Robert Rucker each told the commission members what he or she would do if chief justice.
Rush took her oath as chief justice Aug. 18 in the Indiana Supreme Court Law Library.
 
Please enable JavaScript to view this content.