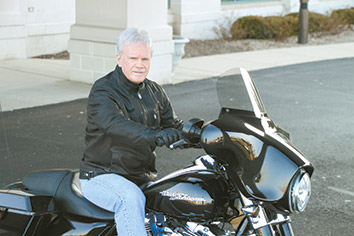 A Crown Point attorney's discipline in April made headlines, with some fearful the ruling would have a chilling effect on lawyers everywhere. Tim Kelly received a private reprimand for testimonials that appeared on the Law Tigers website, over which he had no content control.
"The grievances that formed the basis for the disciplinary action came from my competitors," Kelly said. "The primary purpose of the commission is to protect the public, and the public wasn't complaining."
Kelly's rule violation arose from testimonials on the Law Tigers site that provided examples of previous results. Offending statements included: "Law Tigers changed my life in a big way and my family received our fair share of justice," and "Law Tigers went above and beyond! The settlement was more than expected!" None of the statements were attributed to Kelly or his firm, and his firm's site contained a disclaimer that comported with Rules of Professional Conduct.
Law Tigers is a network of the American Association of Motorcycle Injury Lawyers which Kelly subscribed to as a lead-generating service.
Indiana Disciplinary Commission staff attorney Frederick Rice said the judicial opinion makes clear that lawyers should consider themselves responsible for any affiliated Internet communication that appears to benefit them, even if they didn't publish it themselves.
Kelly's attorney, Karl Mulvaney with Bingham Greenebaum Doll LLP, argued that the commission was using Kelly's case as a test case, which is "a due process violation because the Rules of Professional Conduct certainly do not make it clear that participation in (Law Tigers') group advertising is a violation" of the Rules of Professional Conduct.
This reprimand is the only blemish on Kelly's otherwise clean record dating to 1972.
A Marion attorney made headlines this summer after he was admonished by a judge for not wearing socks in court. Todd Glickfield's response to Blackford Circuit Judge Dean Young's question as to why he wasn't wearing socks in the courtroom – he "hates socks" – didn't sit well with Young. Young issued an order that Glickfield show up to court dressed appropriately – which includes socks – or else he may find himself in trouble. This order provided a lot of fodder for blogs and news outlets, with one Chicago law professor referring to Glickford as the "Matthew McConaughey" of the Indiana bar. The Marion Chronicle-Tribune reported in October that a sock company donated several pairs of socks to Glickfield.
Ogden
And in another strange case from 2014, Indianapolis attorney Paul Ogden claimed he was quitting the profession because he did not want to pay a $10,000 fine imposed as a result of his discipline case. Ogden was suspended in June for 30 days with automatic reinstatement after justices found he violated Rule of Professional Conduct 8.2(a) for false statements criticizing Hendricks Superior Judge David Coleman's handling of an estate case in which Ogden was involved.  
That was the lone rule violation the Supreme Court found, determining other comments Ogden made fell under the broad protection of his First Amendment right to free speech.
Ogden posted on his blog, Disbarring the Critics, an analysis asserting that the commission spent more than $20,000 pursuing his disciplinary case, a sum Ogden claims is greater than any other disciplinary matter decided in the past two years.
"It strikes me as being outrageous that we have attorneys in this state who are stealing money from clients, taking money out of their trust accounts and using it for personal use and instead (the Disciplinary Commission) made me the highest priority," Ogden said.
Please enable JavaScript to view this content.