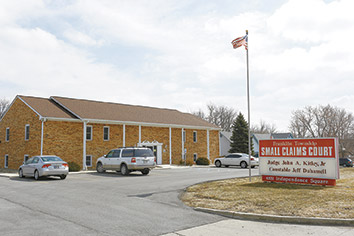 In September, the Indiana Supreme Court recommended abolishing the current system used for Marion County Small Claims Courts and unifying them with the Superior Court's Civil Division effective Jan. 1, 2016. The system is unique in the state, with the nine townships in Marion County each having a court.
The recommendation comes on the heels of a report from the National Center for State Courts that also recommended moving the small claims courts to Marion Superior Court, as well as a July ruling by the full 7th Circuit Court of Appeals that each township court is a judicial district. Under the Fair Debt Collection Practices Act, that means people can be sued only in the townships where they live or where the transaction took place.
For years, the township courts have been accused of catering to large-volume filers, with allegations of forum shopping by debt-collection filers.
The Indiana Supreme Court amended the small claims rules on Jan. 1, 2014, to require proper venue for collections cases filed in the courts.
The Supreme Court's recommendation to lawmakers includes a table of 14 statutes that would need to be amended or repealed to abolish the township courts, along with the relevant statutory amendments to establish small claims venues in Marion Superior Court.
The court advocates for an additional eight Marion Superior judges to hear small claims cases. The Marion Superior Executive Committee would determine staffing for the new small claims division. 
"After years of studies and deliberation, it is time to implement reforms to ensure that small claims cases in Marion County are treated like small claims cases in other counties," the court's recommendation states.
"The changes proposed here seek to achieve an end to the controversies associated with the Marion County township courts; to enhance the quality of fair, impartial, and efficient justice provided in small claims cases, and to strengthen the public's confidence in Marion County's management of small claims matters."
Please enable JavaScript to view this content.