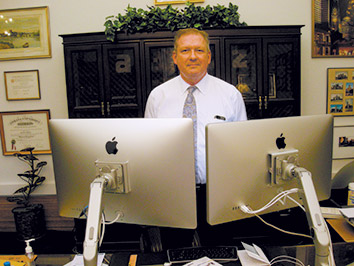 The Indiana Supreme Court issued an order in May for state courts to begin the transition to e-filing in 2015. Indiana has some experience with e-filing. Marion and Lake counties, the state's two most populous, have had pilot projects in place for years since the Supreme Court authorized them in 2006. Those pilots will continue.
"Nearly every aspect of our lives includes electronic documents — stores send receipts via email, banks allow check deposits through a smart phone," Chief Justice Brent Dickson said after the announcement. "Now lawyers and litigants will be able to file court documents electronically. Using this technology, our courts will be more efficient and better able to administer justice without delay."
The Division of State Court Administration plans to begin implementing e-filing in phases next year. Court of Appeals Judge Paul Mathias is taking a lead role in the effort and said paper filing likely will be phased out so clerks won't be burdened with overseeing two filing methods.
The initiative coincides with a planned conversion of appellate courts to the state-supported Odyssey case management system now in use in courts in 48 counties. Robert Rath, director of appellate court technology, said the conversion will allow attorneys and the public to view trial and appellate case dockets on the same site.
In September, the justices approved the requirement for attorneys to report their pro bono hours, beginning Jan. 1, 2015. The requirement has been amended into Rule 6.7 of the Rules of Professional Conduct.
Attorneys will have to report, as part of their annual registration, the number of hours of pro bono service provided. However, their hours will not be publicized. The Supreme Court followed a recommendation made by a special task force formed by the Indiana Pro Bono Commission that the hours worked not be identified publicly or on either an individual or firm basis. Attorneys will also be able to report any financial contributions they have made to a legal service organization or pro bono district.
Any member of the judiciary or judicial staff, government lawyer, or attorney who is retired or of inactive status will be exempted from the reporting requirement.
The Supreme Court is defining pro bono service as free legal services given directly to or for the benefit of individuals whose incomes do not exceed 200 percent of the federal poverty level. Pro bono, according to the court, does not include forgiving a client's unpaid bill or providing services meant to improve the law, the legal system or the legal profession.  
Please enable JavaScript to view this content.