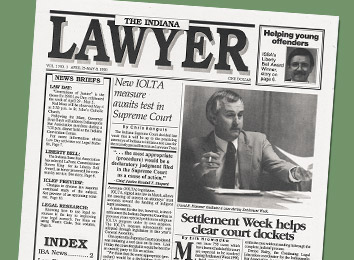 A lot can change in 25 years. The advent of new technology, law firm mergers, demands for alternative fee arrangements, and waves in the economy, among other things, have had a significant impact on the practice of law. We understand how those changes can affect your business because, during the past quarter century, the media industry has experienced seismic change of its own.
 
Since 1990, the Indiana Lawyer has endeavored to keep a finger on the pulse of Indiana's legal community and report on the issues that matter to you. As digital news expanded, we expanded with it, evolving from a biweekly newspaper to a media outlet that provides news in print, on the Web, or via our IL Daily email and e-blasts. Your news, your way.
In 2015, Indiana Lawyer turns 25, and we'd like to take this opportunity to say thank you to our readers as well as those who have served as news sources, partners and supporters along the way. We plan to spend the year taking a look back at some of the stories and people we've covered and hope that you will enjoy the flashback. We've discovered that while some of the topics addressed in the early days of this newspaper have been resolved and archived, others remain actively on the radar screens of today's lawyers.
To kick off our silver anniversary year, Indiana Lawyer will revisit the stories that ran on page 1 of our first issue, published in April 1990. As the year progresses, please send us your thoughts and memories of news covered and notable moments over the past 25 years. Click here to read 25th anniversary stories.
Kelly Lucas, Editor & Publisher
Please enable JavaScript to view this content.