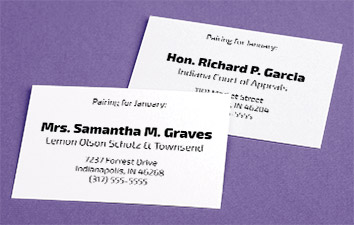 Some are good at networking, others not so good. With the development of the Indianapolis Bar Association's Indy Attorneys Network Section, lawyers old and new, those skilled at networking and those not as adept, have found there are always opportunities to meet and connect with colleagues and that doing so builds camaraderie and strengthens the local legal community.
Get together
Charles Schmal and Elizabeth Shuster, both patent attorneys at Woodard Emhardt Moriarty McNett & Henry LLP, wanted to meet more area lawyers. Their practice didn't give them the chance to develop many relationships beyond their specialty, and they thought that if there was a vehicle to help attorneys meet others across practice areas one-on-one in an informal setting, it would be much easier to do so.
Shuster
Their networking idea was simple: using a database, a participating attorney would be randomly matched with another participant. The two would schedule to meet informally for lunch or coffee. The following month each would be matched with a different attorney participating in the program. And the next month, another match would be made.
Members of the Indy Attorneys Network Section are notified of their pairings through Monthly Matchup emails, demonstrated here using fictitious attorney names and contact information.
Although Schmal and Shuster thought such a program had merit, they called other lawyers and even did an online survey to find out if their fellow attorneys felt the same way. The response was positive, so the two created a business plan and presented their idea to the IndyBar.
"When we presented our idea to the board, many said, 'Why didn't we think of this before?'" Shuster said.
Once given the go-ahead, the real work began. Schmal and Shuster had to create a computer program that would manage the random matches and send out the monthly emails. Other lawyers volunteered to help, including Jeremy Gustrowsky, a Woodward Emhardt attorney, who used Microsoft Access software to develop the program, and Bob Jalaie, a senior attorney at the Purdue Research Foundation Office of Technology Commercialization, who handled front-end interface and query issues. In the meantime, a board was assembled to brainstorm additional ideas for the section and spread the word to other lawyers about the Attorneys Network Section.
Win me over
Not all lawyers who heard about the Indy Attorneys Network thought it had merit. John Trimble, the incoming IndyBar president, thought it was needless and didn't believe that members would join a section to do something they were already doing on their own. He changed his mind after he enlisted about a year ago.
Trimble
"You get to network with people you don't know at all – more than 80 percent of the people I meet I didn't know before," he said. "When I joined I was bowled over by how much I immediately enjoyed being a member."
Trimble has met law students from Bloomington and Indianapolis and had lunch with at least one Indiana Supreme Court justice and a state trial court judge. He's also met two or three solo practitioners who have given him insight into how their practices work, and he has made referrals to those he's met through the program.
Other participants have had similar experiences. Reynold Berry, an attorney at Rubin & Levin P.C., has met attorneys from a cross-section of practice areas and sees value in the camaraderie that is fostered as a result of these connections.
"Besides just getting to know other attorneys, a goal of the program is fostering better relations between attorneys in the entire Indianapolis legal community and to promote civility in the profession," Berry said. "I saw real value in this mission."
Berry
As the Indy Attorneys Network took off, the section's board began to plan events that would provide ways for section members to network in a group setting.
"We wanted to have a variety of networking opportunities and were willing to experiment to see what worked and what didn't," Schmal said. "We have the one-on-one matches, medium-size events and big events. Members can invite non-members to these events to meet other people who will hopefully get actively involved."
One is "At the Bar with the Bench," an event where lawyers can network with local, state and federal judges. Last fall's event, which was held at The Tomlinson Tap Room in the City Market, drew 75 lawyers and 25 judges.
"There were judges from every single court on nearly every level," said Edward Mulligan, an attorney at Cohen & Malad LLP, who planned the event. "It was a cool cross-section of judges. One of the selling features of the Attorneys Network is the social events beyond just the monthly match."
Another group event had an educational component and featured a speaker from the marketing department at Cohen & Malad.
"(The speaker) gave a great presentation on elevator speeches," said Amanda Mulroony, an attorney at Hoover Hull LLP, who has been a board member and participates in the network. "She gave coaching and tips on how to develop an elevator speech and how to brand and market yourself and explain your practice."
We're all busy
One of the most common reasons attorneys don't participate in Indy Attorneys Network Section is because they don't think they have time. Those who do participate say the short amount of time they invest is time well spent.
Joseph Hankins, an attorney in private practice and the section's board chair for 2015, considers investing an hour a month in the Attorneys Network a small price to pay for activities that will strengthen the legal community in the long run.
"People who come to events and meet others for lunch or coffee gain something from that small amount of time," he said. "We all have just 24 hours in a day and the way we marshal those hours is important. It's all about how the section provides value to the bar and to the members, so people say, 'Hey, this section is worth my time and money.' We want people to try and gain something, not just for their bottom line but for the profession."
Alternately, some established lawyers think they don't need to network anymore – that they know all the attorneys they want or need to know.
"When lawyers say that to me, I say, 'Has the thought occurred to you that people would want to network with you, and as a senior lawyer others have heard about you and want to meet you, and that's one of the reasons they join a networking section?'" Trimble said. "I want them to realize that as a senior lawyer they have something to impart to younger lawyers. Maybe they (senior lawyers) don't need it, but a lot of people would just love to meet them."
New plans, new members
The Indy Attorneys Network Section board and participating members are brainstorming ideas for events and ways to increase membership. Word of mouth has been the section's main marketing tool, and all members are encouraged to invite a fellow lawyer to an event or just spread the word in conversation. Those interested in joining the network can consult www.indybar.org for further information.•
Please enable JavaScript to view this content.