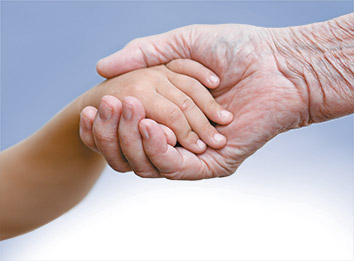 The sometimes-bitter litigation between a child's adoptive parent and her grandparents who raised her from a young age yielded a decision from the state's highest court that family law experts believe may represent a significant shift in adoption cases.
The Indiana Supreme Court vacated an adoption granted in 2011 and overturned trial court and Court of Appeals decisions against the maternal grandparents who kept and cared for the child until she was almost 4 years old, and who challenged her adoption. Justices ruled the grandparents were wrongly denied notice of an adoption petition by the girl's stepfather and that as "lawful custodians," the grandparents should have had the opportunity to consent to or contest the adoption.
The unanimous court remanded In Re the Adoption of B.C.H., 41S04-1408-AD-515, to Johnson Superior Court to conduct a hearing on B.C.H.'s best interests.
"Framed in terms of lawful custody, it really is taking a child-centered view," Indiana University Maurer School of Law Professor Aviva Orenstein said of the Supreme Court's Dec. 23 decision. "It's saying, 'What's going to happen to the 3-year-old when you take away the only two people she's relied on her whole life?'"
Often in adoption cases, Orenstein said, "There's this basic tension between what's in the best interests of the child and the 'biological ownership model'" that confers great deference to the rights of natural parents until they are deemed unfit. "This strikes me as yet another in a series of cases where the adults are behaving badly and the kid suffers."
Ciyou
Indianapolis attorneys Bryan L. Ciyou and Lori Schmeltzer argued for the grandparents before the Supreme Court. They said the decision represents more than just a victory for the rights of grandparents.
"This case more or less stands for third-party custodians" who are raising children with the consent of natural parents, Schmeltzer said. The court addressed a gray area and clearly defined the difference between "lawful custody" – caring for the child with the consent of the child's parents – and "legal custody" – an established parental or custodial right, she said.
Experts say problems often arise because those caring for a child are doing what they can to help the parents and are loath to go to court to establish some sort of formal custody.
As the traditional nuclear family model evolves, Ciyou said more cases like these are likely to come before courts. "The law is a very poor fit to deal with these issues, but it's a default. They're the terrible cases to decide."
Middle ground
The B.C.H. ruling appears to give new standing to grandparents, relatives and friends who have played a significant role in raising a child, Ciyou said. "There's going to be a way for third parties to get custody," he said, whether that's enabled by legislators or through the courts. "There ought to be something in the middle, and I think that's what de facto custody is and ought to be."
Ryznar
Indiana University Robert H. McKinney School of Law Professor Margaret Ryznar said the court found that middle ground in B.C.H.
"In acknowledging the dispositive nature of the child's best interests in adoption decisions, In Re the Adoption of B.C.H. is consistent with adoption law," Ryznar said. "Yet, this is a noteworthy decision because the court is recognizing the changing demographics of the family and the increasing role of grandparents. Specifically, the court notes that millions of children in the United States live with a grandparent."
Justice Steven David devoted a significant portion of the opinion's discussion to these sociological trends, making clear that courts have an obligation to look beyond those who have legal custody of children when it comes to standing in adoption cases.
"In a society where children are cared for and parented by adults without court-ordered custody rights, trial judges conducting adoption proceedings must hear from every party with a significant and substantial connection to the child(ren) in order to gain as much relevant information as possible about the child(ren)'s best interests," David wrote.
Grossberg
Family law historian and IU Maurer Professor Michael Grossberg sees the ruling in keeping with the broad discretion judges are given in custody and adoption cases.
"It seems to me that rulings like this suggest why trial judges play a kind of Solomonic role in child custody disputes," Grossberg said. "It's a role the Supreme Court defers to in this case by stressing that the ultimate decision is up to the trial court even with the additional information and opinions of the grandparents, who now have a voice in the proceedings but, the court stresses, not a veto. That deference is also evident in the court's emphasis on the need for case-by-case determinations in all such cases."
Toughest cases
Orenstein
Orenstein does some pro bono family law work, and she said adoption cases are among the hardest that family law attorneys may encounter emotionally and procedurally. "Each one is like a little mini-drama," she said, adding that cases involving third-party custodians are a pretty common template.
"I find these cases immensely frustrating," Orenstein said, noting that in B.C.H., the girl's mother had only occasional visits with the child during her first three to four years. Ultimately, though, the grandparents who raised her were stripped even of visitation rights after the adoption. The grandparents are appealing in a separate lawsuit in a bid to restore visitation.
Orenstein believes people who are raising a child but aren't the legal parents should seek a guardianship even at the risk of upsetting family harmony. Without legal custody, she said, those raising a child might be unable to enroll her in school or take her to a doctor, for example.
Going to court to seek legal custody can be tough, particularly for grandparents, Orenstein acknowledged. She said grandparents who are raising children typically just want their grandkids to be well-cared for and safe. "They constantly try to placate difficult, sometimes selfish parents," she said. Even when grandparents and other third-party custodians are doing all the work of raising a child, they may fear alienating the child's biological mother or father.
The child in B.C.H. is now 7 years old, and the grandparents will have something to say about what's in her best interest now that the Supreme Court has kicked the adoption petition back to be heard again at the courthouse in Franklin.
Orenstein wonders whether there ought to be, in deference to a child's best interests, some way to fast-track cases like this. "When you get around to giving grandparents their voice, three years have passed," she said.
Ciyou thinks all the parties in this case have a sense of loss because of the acrimony that's resulted from protracted litigation involving the child's custody and adoption. Nevertheless, he said, the laws are unsettled from state to state, and these sorts of disputes are unlikely to decline.
"The day will come in our lifetime of practices where this very type of case will have to work its way to the U.S. Supreme Court," Ciyou said. "An enormous number of third parties are raising other people's children."•
 
Please enable JavaScript to view this content.