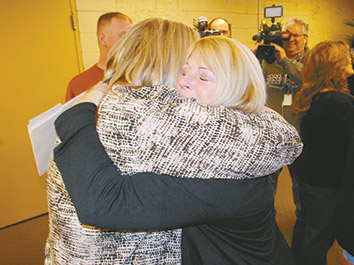 Indiana has nothing to fear from abandoning long-established practice and following the lead of numerous states in order to allow some 350,000 adopted Hoosiers access to their birth records, a leading national advocate said.
"In 14 states, Pandora's Box has been opened, and the only thing that's flown out has been butterflies and healing," said Rich Uhrlaub, legislative chairman of the Washington, D.C.-based American Adoption Congress.
"This is really about truth and transparency in adoption, but it's also about removing the stigma of shame and insecurity" for adoptees, he said.
States are changing laws to catch up to adopted children and their birth parents who increasingly are finding each other through online searches. Uhrlaub said the movement in states around the country was sparked by court cases in Oregon and Tennessee that established birth parents have no fundamental right to have a child adopted in a process that ensures anonymity.
The movement in Indiana arose with polished momentum and compelling stories from adoptees that convinced many lawmakers, but still concerned some.
Advocates have won emotional early victories at the Indiana Statehouse. A Senate panel on Jan. 14 advanced Senate Bill 352 that, for the first time, would open birth records of hundreds of thousands of Hoosiers, and the full Senate passed the bill 46-3 on third reading Jan. 22.
 
"Stripping away the emotion of it, it was the right thing to do," said bill author and Senate Judiciary Committee Chairman Brent Steele, R-Bedford. "People were emotional on both sides of it, but especially the people who've been fighting for it for a long time."
"With the continued support of the House and the governor, we will be able to achieve our dream of being able to find out the most basic parts of our identity — our birth name, where we were born, who our parents were," said Pam Kroskie, president of Hoosiers for Equal Access to Records and the Indiana Adoption Network. "We believe we shouldn't have to give up those civil rights just because we are adopted."
The bill would repeal laws that prohibit the release of identifying information for adoptions finalized before 1994. The law doesn't apply to records after that date.
Steele championed the bill and testified on its behalf before advocates shared their stories with the Judiciary Committee.
Kroskie testified that she was reunited with her biological mother in 2011. Tearfully, she said her birth mother died of breast cancer a year later. "It's given me a chance to make sure I had early detection," she said.
Indiana's laws prohibiting access to adoptees' birth records are outdated, Kroskie said, and changing the law would open the records for Hoosiers who currently cannot access them without going to court and securing the services of a confidential intermediary between them and birth parents, sometimes at considerable cost.
Marcie Keithley-Roth, who placed her child for adoption in 1978, testified current laws reflect "a society that no longer exists," in which pregnancy outside marriage was often seen as a shameful secret. She said the laws should change with the times instead of only protecting birth parents.
Adoptee Jon Casebere of Auburn testified that when he turned 18, he went to the courthouse to try to get his birth records, but he was denied. Years later, he found his birth mother through the services of a confidential intermediary, but it cost him $500.
It turned out he'd been working alongside his biological mom in the same factory for years, and they had known each other through work before realizing they were mother and son.
Casebere also learned his biological father had died of prostate cancer at 28, and his father's siblings had died of cancer in their 40s. Now in his early 40s himself, he knows he may have a genetic predisposition.
"We deserve to know the first chapters of our lives," he testified.
But Indianapolis adoption attorney Steven Kirsh opposed the bill. He testified at the committee hearing that adopted children already have a means to access records as long as the birth mother consents. "Our adoption laws are among the best in the country," he said.
Kirsh and his sister, Jill Freeman, who provides services as a confidential intermediary in his office, testified that the bill would break an implicit promise of confidentiality granted to mothers who made that difficult decision more than 20 years ago to place their child for adoption.
"The risk of doing this could be horrific to those mothers who don't want to be contacted," Kirsh testified.
Senate Bill 352 would allow a mother who placed a child for adoption to file a no-contact form that would continue to keep the records sealed. Advocates of the bill say that in states that have opened adoption records, only about 0.1 percent of mothers have done so.
But Kirsh contested those figures based on cases in his practice working with mothers on adoption plans. He said about 10 percent of birth mothers either want no contact with the child or would allow release of records only through an intermediary.
Asked by Sen. Mike Delph, R-Carmel, if he believes adopted children have a right to know who their biological parents are, Kirsh said, "No. … The adoptee's need to know is not greater than the birth mother's right to privacy."
But Steele said the only potential harm to Kirsh's 10 percent of birth mothers who don't want contact is emotional harm, whereas adopted children may not know of possibly serious genetic health conditions.
 "I do see a difference," he said.
Steele noted after the hearing that he'd voted against similar measures in the past, but his mind was changed after a personal health challenge. He developed a tumor that could have become cancerous, he said, followed by skin cancer that doctors told him was genetic. He said his three sons got genetic tests afterward.
"Our world has changed," Steele said. "I'm weighing emotional harm (for a birth mother) versus physical harm."
But Sens. Joseph Zakas, R-Granger, and Sen. Susan Glick, R-LaGrange, said they were concerned about the implicit promise of confidentiality to birth mothers. Glick nevertheless voted to advance the bill to the full Senate, and Zakas expressed hope that if the legislation passed, its effective date may be delayed to provide mothers adequate notice to file no-contact orders. As currently written, the bill's effective date is July 1, 2016. Glick voted for the bill on the Senate floor; Zakas voted no.
Uhrlaub said the notion that birth mothers don't want contact with the children they place for adoption may itself be outdated. Practices such as sending single pregnant teens to maternity homes and creating fictitious names for birth mothers were common in earlier decades, he said, and societal norms in those times gave rise to the presumption that birth mothers didn't want contact.
Now that networks of birth mothers and adopted children are looking for and finding each other online, he said, "It's really confirming that secrecy was not so much promised (to birth mothers) as it was imposed on them.
"I don't think anybody was trying to be mean to anybody, it was just the theory of the time," he said. "It was just short-sighted law."
After SB 352 advanced from committee, Kroskie said that she believed advocates of opening adoption records have momentum on their side, after similar efforts in prior years stalled.
"It's like a weight has been lifted, for sure," she said.•
Please enable JavaScript to view this content.