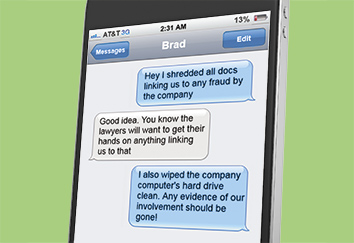 Of the billions of text messages sent daily in the world, a few will wind up as evidence in litigation. A few that should will not, and that could mean trouble for lawyers.
"The first lesson to every client is, if you don't think text messages are important, you should ask Chris Christie, the Miami Dolphins and Anthony Weiner," quipped Bingham Greenebaum Doll LLP partner Greg Neibarger. Respectively, the New Jersey governor's "Bridgegate" scandal, the NFL team's alleged locker room hazing, and the ex-New York congressman's salacious selfies each became ignominious because of texts.
But some lawyers say the legal community hasn't kept up to the litigation-related challenges created by the rise of fleeting communication by text message. A vast majority of Americans say they text dozens of times a day. Problem is, many cellphone users delete messages as soon as they send or receive them, or they set their phones to scrub them after a short time.
If you ring up AT&T, Verizon or other carriers to try to obtain messages, it might be too late. "By the time you realize you have to go to the provider to get the data, odds are pretty good it will be gone," Neibarger said. You might get a record of a text sent from one phone to another at a certain time and date, but likely not the contents. Some providers store the actual text messages just days before deleting them.
Even time and date information, though, could be useful in situations such as an accident involving alleged texting while driving.
While text messaging is relatively new, advice to clients is age-old if the texts might be subject to litigation.
Mappes
"It's definitely important to address this early when you go through litigation hold," said Harmony Mappes, an associate at Faegre Baker Daniels LLP. "Take steps to preserve those messages like you would any other documents."
Mappes said at a basic level, taking a screenshot of text messages or photocopying the texts displayed on the phone might be sufficient. In other cases, the data might need to be retrieved from the phone and stored electronically to prove messages are authentic.
Attorneys say deciding how best to preserve texts depends largely on their significance to the matter and the scale of litigation to which they pertain.
Text messages often are introduced in domestic relations cases, for example, on the strength of an admission from the sender or receiver that the text is authentic. But lawyers say even in more complex litigation, texts may be useful, even if only to show a person's state of mind.
Papageorge
"Generally, I think a lot of lawyers are overlooking text messages," said John Papageorge, a partner in the litigation group at Taft Stettinius & Hollister LLP. "If they have something they think could be relevant to the lawsuit, they have a duty to go get them."
Attorneys from several large firms say they typically rely on vendors who specialize in collecting electronically stored information as the gold standard among a range of options to preserve texts that might be subject to discovery.
James M. Hinshaw, co-chair of Bingham's litigation group, said using vendors specializing in e-discovery provides a reliable, expert "chain of custody" to authenticate texts.
Vendors can image entire phones and extract text messages, said Krieg DeVault LLP partner Marc Quigley. This option offers the most pristine preservation available, but it can cost around $500 per phone. Some firms also use in-house IT pros to preserve or retrieve texts.
At a lower cost, but somewhat less reliable, are a variety of software programs such as iExplorer, iMazing (formerly DiskAid), EnCase and TouchCopy. Numerous apps also are available for iPhones and Android devices that may be able to recover deleted texts.
Terrell
Camby solo practitioner Stephen Terrell has presented continuing legal education programs on preserving electronic evidence and will do so Feb. 27 at the Indiana State Bar Association Women's Bench Bar Retreat in Culver.
"There are no special rules of evidence for electronic evidence," Terrell said. "It all gets back to you have to satisfy the basic foundation of relevancy, and the document being offered is what it's purported to be." Indiana Evidence Rule 901(a) governs the authentication of evidence and applies to text messages just as it does to a host of other types of communications from letters to voice-mail messages.
Text messages may pose a greater risk of objection as hearsay, though. Terrell noted that's an issue in the murder trial of former New England Patriots tight end Aaron Hernandez, where text messages purportedly sent by a victim have been excluded.
Closer to home, Terrell points to a murder conviction affirmed by the Indiana Court of Appeals as one of the best discussions of laying a foundation for admission of text messages. In Ryan Worline v. State, 49A02-1312-CR-1041, a police officer retrieved photos, videos and texts from Ryan Worline's cellphone to establish motive. The officer testified about the data on the phone, along with his training and experience with different means of extracting data. This testimony was sufficient to establish that the evidence was from Worline's phone, the appeals court affirmed.
Quigley offered another means to introduce texts.
"I have witnessed and been involved in depositions where someone asks someone else to take a cellphone out and read a series of messages," he said. "What it did was ultimately preserve the fact that there were these communications."
Where texts have not been preserved, lawyers and their clients sometimes have paid a heavy price.
Neibarger points to a case decided last summer in the U.S. District Court for the District of Nevada, Small v. University Medical Center of Southern Nevada, 2:13-CV-00298. In a 78-page order, the court heavily sanctioned the defense in a class-action lawsuit alleging the medical center deprived employees of appropriate wages and overtime compensation.
The court analyzed records from Sprint, which provided BlackBerry devices some employees used for work. "Taking the 26,374 text messages identified by Sprint as having been sent or received since November 19, 2012 and subtracting the 64 text messages UMC produced, one finds that approximately 26,310 messages were lost or deleted by UMC" before discovery, the court wrote.
"Defendant UMC's extraordinary misconduct and substantial and willful spoliation of relevant (electronically stored information) in this case resulted in substantial prejudice to Plaintiffs and the classes, and misled Plaintiffs, the Court, and the Special Master on numerous discovery issues," the court ruled.
This breach and others resulted in the court recommending certification of the class and sanctions that included presumptions in the plaintiffs' favor on a range of issues. Plaintiffs also received fees including costs in bringing a motion to compel discovery.
The issue of texts used for work purposes itself is a thorny issue, several attorneys said, particularly in "bring your own device" workplaces. "It typically is a nightmare," Neibarger said. "You don't have any real reliable way of maintaining those messages."
He suggested in such cases the best advice might go something like this: "Go ahead and preserve the information now, and direct all employees to no longer use text messages for business purposes."•
Please enable JavaScript to view this content.