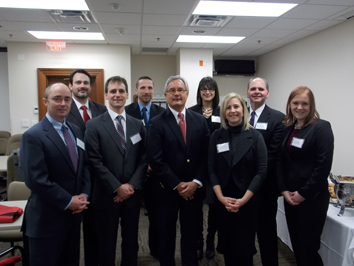 Billy Ray Collins, an inmate at the U.S. penitentiary in Terre Haute, filed a handwritten complaint in July 2010 in federal court, claiming he did not receive proper medical care for his broken hand.
His was one of the many complaints from inmates that fill the docket of the U.S. District Court for the Southern District of Indiana. However, when he survived the summary judgment phase and was headed to trial, Collins got some help from Christopher Cody and Mark Holdridge, partners at Hume Smith Geddes Green & Simmons LLP.
The pair volunteered to be his counsel as part of the Southern District Court's Civil Trial Assistance Panel, which appoints lawyers to represent plaintiffs in federal court who might otherwise have been pro se.
Collins' had his case, Collins v. Webster, et al., 2:10-CV-00172, presented to a jury in February 2014.
"Unfortunately, we did not prevail for Mr. Collins," Cody said, recalling the trial. "But (Collins) had his day in court, had his chance to tell his story, and I think Mark and I made a new friend as well."
 
Cody and Holdridge were among the attorneys who received special recognition during the Southern District's second annual Pro Bono Appreciation Breakfast. The judges, magistrates and staff attorneys of the Southern District held the event to thank all the attorneys who donated their time and expertise to help unrepresented litigants last year.
Chief Judge Richard Young presided over the recognition ceremony held at the Birch Bayh Federal Building and U.S. Courthouse in Indianapolis.
Making impromptu remarks, chief federal defender Monica Foster told the attorneys regardless of the outcome of the litigation, their work means a lot to the plaintiffs and does makes a difference.
"Even when you lose your cases, you're giving these (litigants) something that they don't ever, ever get and that is dignity and respect," Foster said. "Allowing them to have their time in the courtroom, allowing them to have their cases heard, means more to them than you can ever possibly imagine."
In 2014, a total of 61 attorneys accepted appointments to either the Mediation Assistance Program or the Civil Trial Assistance Panel.
Judge Jane Magnus-Stinson and Magistrate Judge Tim Baker described the programs as providing a win-win for all the parties involved. The litigants, many of whom are inmates in federal or state prisons, get representation. The courts and U.S. attorneys are able to work with legal professionals who understand the process better than pro se litigants, and the attorney volunteers are given the opportunity to get into the courtroom.
"It's really terrific for the (volunteers) to get that experience and it's great for the inmates to have an advocate," Magnus-Stinson said. "Everybody benefits from the program and we're grateful for their time."
In addition to Cody and Holdridge, the other attorneys given special recognition were:
* Barnes & Thornburg attorneys John Maley and Todd Dixon, who represented Jurijus Kadamovas in Kadamovas v. Lockett, et al., 2:11-CV-00015. Kadamovas, currently on federal death row in Terre Haute, filed a lawsuit against federal prison officials for denying him a certified religious diet in violation of his First and Eighth Amendment rights.
Maley said although the defense prevailed, the plaintiff was able to catch officials in a few inaccuracies which caused the penitentiary to make a few changes.
* Solo practitioner Portland Schnitzius, who assisted Jeffrey Allen Rowe with the preparation of his testimony and exhibits for his trial in Rowe v. Indiana Department of Correction, 1:11-CV-524.
Schnitzius said initially she was unsure she could handle the case since she is a family law attorney and had taken time off to raise a family. She started helping Rowe, a white supremacist, after he had survived summary judgment and was scheduled for a bench trial in front of Magnus-Stinson.
The night before his trial, Schnitzius went to see Rowe in prison and discovered he had been moved and his exhibits shoved into boxes that were placed in storage to which he did not have access.
"Child advocacy, little family law attorney that I am, I found myself going head-to-head with the Department of Correction over his needs and his rights to continue preparing for his trial and having access to his materials which we did …," Schnitzius said. "I even had to fight for the right for him to have a pencil in there so he could continue his work."
* Larissa Koshatka and Michael Rogers, associates at Quarles & Brady LLP, who represented Dylan Reed Sinn in a mediation that settled his lawsuit, Sinn v. Moye, et al., 1:11-CV-01401.
Judge Tanya Walton Pratt credited the pair with doing excellent work on a very difficult case and getting Sinn a "very substantial sum" at settlement.
At the conclusion of the breakfast, Senior Judge Larry McKinney drew a parallel between the naturalization ceremony that is held every month at the federal court and the volunteer work the attorneys have done for the court.
He pointed out the people who take the oath of allegiance to the United States come from countries that have constitutions almost identical to the U.S. Constitution. The difference, McKinney said, is the Constitution in the United States works.
"It works because you folks will make it work," McKinney told the attorneys. "You are the ones that actually put the flesh on the bone of the Constitution."
Please enable JavaScript to view this content.