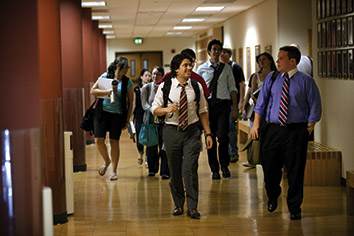 When printed in black and white, the numbers are startling.
 
At public law schools, the average tuition and fees across the country for in-state residents skyrocketed 123 percent between 2003 and 2013. Private law schools were marginally better, logging an increase of 64 percent, according to a 2014 analysis by Robert Kuehn, professor at Washington University School of Law in St. Louis.
And, as the class of 2013 accepted their law degrees and entered the job market, they carried more than $4 billion in debt.
Questions swirl as to why there has been a substantial price increase and whom to blame for it. The consequence has been linked to the decline in applications to law schools – a 38 percent drop from 2010 to 2014 – and the acceptance, some say, of lesser-credentialed students.
Hubbard
American Bar Association President William Hubbard sees the situation as potentially eroding the public's perception of the legal system. As cost becomes a barrier, he said, diversity within the practicing bar will suffer and since courtrooms and law firms will not look like the country as a whole, a significant number of people will doubt the fairness of the entire system.
"We have to be smarter about how we allocate resources in our colleges and universities," Hubbard said. "(We need) to determine ways we can cut costs and lower costs."
In the spring of 2014, the American Bar Association turned its attention to the price concerns by forming the ABA Task Force on Financing of Legal Education. The group was convened on the recommendation of the ABA Task Force on the Future of Legal Education, lead by former Indiana Chief Justice Randall Shepard.
Dennis Archer, chair of the financing task force, declined to disclose what the members have found or discussed, but he said the committee was trying to solicit the views of many individuals and sources so the findings will be well-rounded and fair.
The task force is anticipated to issue in May a report and recommendations which the ABA House of Delegates can debate during the bar association's annual meeting in August.
Law schools are grappling with declining revenues. New England Law School cut 14 full-time faculty positions and upped the teaching loads of those remaining. Widener University School of Law and University of Dayton School of Law offered early retirement and buyouts while Vermont Law School restructured some faculty contracts.
Changes and choices
When Archer graduated from the Detroit College of Law in January of 1970, he was unlike many law school graduates today – he did not have any debt. He attended classes at night while continuing to teach special education students in the Detroit public school system.
Archer isn't surprised by the current cost of law school. Not only has the cost of living gone up in general but, he said, the legal education students receive now is so different and so much better than when he matriculated.
Law schools are different. Kuehn, who analyzed law school tuition over the years, found the forces driving up tuition include an increase in the size and salaries of faculty, the allocation law schools have to make to their parent universities, and the expansion in costs of administrators and student services.
An oft-repeated reason for rising tuition is the growth of experiential learning options for the students. Providing clinics where students can get practical, hands-on training is expensive, many law school deans say.
However, Kuehn found no correlation between the increase in clinical courses and the rise in tuition. In his research, he speculated the cost of the clinics is not more than the cost of non-clinical classes. If clinics do have a higher cost, it is small compared to other expenditures.
Moreover, Kuehn contends if law schools were not spending money on clinical education, they would spend the funds on something else.

He estimated that a law school could offer a quality legal education that meets ABA standards for well under $30,000 a year in tuition and fees. Everything above that cost, he said, is a choice, whether it's adding faculty, giving more financial aid or building bigger facilities.
Law schools might be setting tuition to enhance their prestige, Kuehn speculated in his research. Applicants may be more drawn to higher-priced institutions so law schools may be determining tuition based on that criteria rather than on the actual cost of providing the education.
Scholarships
Indiana University Maurer School of Law has channeled additional millions of dollars into its pool of scholarship money and now is giving more than 90 percent of its students some type of financial assistance, according to Dean Austen Parrish.
Parrish
The scholarships, which are essentially discounts on the school's tuition, are based on a student's credentials. Many schools have been shifting from need-based assistance to merit-based aid, but the practice has drawn some rebuke.
Shepard and his task force criticized merit-based scholarships as forcing the lesser-credentialed students to incur more debt in order to subsidize the more-qualified students and shore up the school's budget. Also, Hubbard tied the decline in need-based aid to potentially decreasing the diversity of the legal profession.
Parrish pointed to IU Maurer's efforts to form partnerships with undergraduate colleges as a way of recruiting students from minority and lower socioeconomic communities. Recently, the school entered into agreements with the Asian and Pacific Islander American Scholarship Fund and with five liberal arts colleges for women which, Parrish said, will help increase the school's and profession's diversity.
As for the move toward merit-based aid, Parrish made two observations. First, assessing need is very difficult since every applicant needs financial assistance as tuition increases. Second, to compete for the students with high LSAT scores and strong academic skills, law schools have to offer financial incentives.
Overcorrection
The pressure on the bottom line in many law schools is being ramped up by the decline in applications. Data from the Law School Admission Council shows applications declined by double-digit percentages in 2011, 2012 and 2013. In addition, the number of people applying to law schools is at its lowest point in more than a decade.
Kuehn views the problem with cost as resulting from the combination of a decline in applications and a decrease in jobs. He noted the price of law schools may be proportional to other professional schools, but the cost is more of a concern because of the employment outcomes.
 
Indiana University Maurer School of Law has awarded scholarships to more than 90 percent of its students in an effort to help them handle the growing expense of legal education. (Photo submitted/IU Maurer School of Law)
Hubbard maintains the issue is more complex and not parallel to the strength of the job market. The economy has improved, yet law school enrollment is still slumping.
"I think lawyers will always be needed and I'm optimistic about the future of the legal profession," he said, noting the increase in regulations along with baby boomer attorneys retiring in the next five years will create employment opportunities.
Parrish, too, does not think the drop in people getting a legal education can be fully explained by the jobs picture. Instead, he believes the market has overcorrected. Students who would excel in studying law and would likely have successful legal careers are being dissuaded by all the negativity surrounding law schools.
The law, Parrish said, is still a pathway to a good job.•
Please enable JavaScript to view this content.