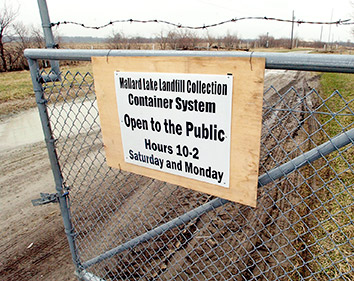 A 37-year fight over a planned solid waste landfill in Anderson ended recently, concluding one of the longest environmental battles in state history. Only a few loads of trash were ever dumped at the Mallard Lake Landfill, but fortunes were spent litigating it.
Lawyers and people who advocated for and against the landfill said legal fees on both sides almost certainly reached millions of dollars in a battle marked by seemingly endless regulatory and court hearings and appeals.
Michigan-based Bex Farms Inc. purchased the site about two years ago from former landfill developer J.M. Corp. On Feb. 16, the new owner informed the Indiana Department of Environmental Management that it would not renew a permit for a landfill on 13 acres within a 250-acre site. The announcement, for practical purposes, voids a permit for a landfill first proposed in 1978 and granted initial local approval in 1979.
Andy Drummond, a Bex Farms manager in Anderson, said the company "decided we had obtained our objective and there wasn't any need to hang on to the permit anymore." The couple hundred rural acres on Anderson's northeast edge would be returned to farmland and likely sold. Bex Farms owns Best Way Disposal of Anderson and also is affiliated with the South Side Landfill in Indianapolis.
"I don't think after this many years anything surprises me," said Indianapolis attorney Larry Whitham, who represented an Anderson landfill opposition group, the Killbuck Concerned Citizens Association. Whitham has been involved in matters involving the landfill since the 1990s, including a case argued before the Indiana Supreme Court.
Shadley
Indianapolis lawyer Sue Shadley advocated for J.M. Corp., including successfully arguing to the Supreme Court in 2010 that a statute adopted by the General Assembly that would have invalidated the landfill permit did not apply to Mallard Lake.
The court ruled that because the site collected trash in a collection container system much like oversized dumpsters from March 29-31, 2008, a statute that would have stripped its permit did not apply. The statute aimed to invalidate landfill permits issued before 1985 to facilities "that did not accept waste before April 1, 2008."
"It was quite a bit of opposition," Shadley recalled. "So often people's opposition were things that were not in IDEM's jurisdiction. … You had to just work hard to point out the errors."
At the same time, she said, "You couldn't help but feel sorry for the people who were so worried about groundwater protection and air quality, and I think people hadn't gotten used to the fact that the new requirements for landfills have a lot more protection."
IDEM public information officer Barry Sneed said it's unlikely a permit would ever be reissued for the site. "Technically, somebody could try again, but they would have to purchase land or work with the existing owners," Sneed said.
He said any permit would be limited to 13 acres, and "Most people aren't going to go to the cost of (opening) a landfill and only use 13 acres."
Opponents organized
KCCA President Bill Kutschera has been involved with the group for about nine years and said generations of residents before him rallied and paid for hundreds of thousands of dollars of legal work with fundraisers, car shows, tag sales and other events.
"I've not met a citizen yet who felt it was a good idea," Kutschera said of the landfill. Residents worried about pollution from the site trickling into nearby Killbuck Creek and the groundwater aquifers that supply Anderson's drinking water. The location of two schools within a mile of the site also was a rallying point for opponents.
"Our organization is thrilled that finally the citizens of Madison County in support of our organization have been able to defy a 37-year effort by known and probably unknown developers," he said. A common fear among opponents was that once established, the landfill would have expanded to cover much more of the 250-acre site. He said industry sources estimated a revenue stream in excess of $100 million for a site on that scale.
Kutschera said with few exceptions, local government in Madison County did more to facilitate landfill developers than to support opponents concerned about air and water quality. Multiple studies since the 1980s detailed significant problems with a landfill on the site.
Whitham said there also were problems at the local zoning level. He said the county Board of Zoning Appeals issued a permit for a trench-style underground landfill, but IDEM permitted an above-ground landfill many stories high.
"We always felt like that was the place local government needed to step in and say, 'We no longer approve this,'" Whitham said.
Members of the BZA who approved the permit provided affidavits saying they would not have approved the project as it was permitted by IDEM, he said. Despite this, the local zoning board refused to reconsider its approval.
Whitham
"I believed in what the citizens were doing, and I believed in the legal issues really being on their side," Whitham said. "In the end, their fight, I think, brought them success. Had they not been fighting tooth and nail, there would be a landfill operating there."
Changing times
Shadley said the kind of opposition the landfill proposal produced was more common a few decades back, but it would be less likely today for a few reasons.
"I think that now they're not nearly as controversial as they used to be," she said, because of improvements in technology, pollution control, and stricter standards at IDEM. "It seems to have really quieted down."
But that's also in part because landfills aren't expanding as much as they did in the past.
Shadley and Whitham said their involvement with the Mallard Lake case is among the longest continuous representations of their careers, and they were preceded by counsel who also invested decades in a dispute that settled in an unusually quiet way.
Drummond said concern about potential legal entanglements wasn't a factor in Bex Farms' decision not to renew the permit. He noted the company's intent is evident in the 50 acres of the site that so far have been returned to farmland.
"To take the potential of the landfill out of this area was our objective, and we accomplished it," he said. "That's really all there is to the story for us."
While Whitham said he and his KCCA clients are pleased with the resolution, it's disheartening that local officials didn't act sooner in what he believes was the public interest.
"When you look at the facts and the circumstances," he said, "it's somewhat frustrating it took three going on four decades to win the battle ultimately."•
Please enable JavaScript to view this content.