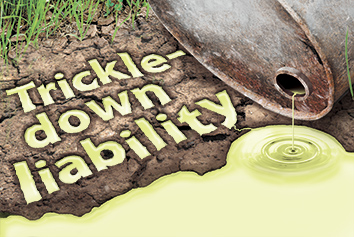 Lawyers say an appeals court ruling last year means landowners who learn of contamination on their property may be held liable for damages even if they did nothing to directly contribute to the pollution.
In JDN Properties, LLC v. VanMeter Enterprises, Inc., 43A05-1312-PL-586, the Indiana Court of Appeals ruled that summary judgment granted to VanMeter Enterprises was improper. VanMeter Enterprises sold property in Warsaw to JDN Properties after an underground tank leaked petroleum, and the appeals panel ruled that because VanMeter Enterprises knew about the leak before selling the property, JDN could pursue a claim against VanMeter Enterprises under the Environmental Liability Act.
 
"I think it's fair to say that prior to this ruling, landlords generally would not have understood that they could be held liable under the Environmental Liability Act for contamination that was caused solely by their tenants' operations, even if they had some knowledge there might be contamination," said Tom Barnard, a partner at Taft Stettinius & Hollister LLP in Indianapolis who chairs the firm's litigation section.
"The typical standard for liability under federal law and many state laws centers on the terms 'cause' or 'contribute'" to contamination, Barnard said. "That's really the heart of this case, and it's an example where unique facts can lead to a potential shift in the law."
For Judge Michael Barnes, who wrote for the Court of Appeals panel in JDN on Sept. 19, 2014, the fact that VanMeter Enterprises as a corporate entity had knowledge of the leak before the property was sold was persuasive.
"We conclude that a landlord who has knowledge that a tenant's use of land is causing environmental contamination, but does nothing to halt or remediate such contamination and goes on to sell that property to a third party without disclosing the property's condition, may fairly be said to 'share responsibility' for or contribute to such contamination," Barnes wrote.
Fecht
In this case, JDN paid more than $67,000 to remediate petroleum-contaminated soil after buying the property, but it's unclear how a court may apportion blame to an owner who only had knowledge of the pollution, said Jeff Fecht, a partner at Riley Bennett & Egloff LLP.
"The Environmental Liability Act does provide guidance on how to allocate costs to potentially liable parties, but this ruling adds a wrench to it a little bit," Fecht said. Because an owner didn't actively contribute to the contamination, he said, courts "have to read that into the guidance in the statute" on fault allocation.
"It's still very open-ended in terms of how a court would apportion fault," he said. "It makes, I think, a difficult analysis even more difficult now."
VanMeter Enterprises did not petition for transfer to the Indiana Supreme Court, so the Court of Appeals ruling stands as precedent. The case was remanded for proceedings on JDN's claim against VanMeter Enterprises under the ELA. The docket in Kosciusko Superior Court shows pre-trial hearings scheduled in May.
Huber
Brent Huber, a partner at Ice Miller LLP, sees the decision as a reflection of courts interpreting a broad causation standard under the ELA. "It illustrates the difficulty of drawing bright lines in fact-sensitive cases like this."
Huber noted that VanMeter Enterprises was a father-son operation. Evidence before the trial court showed that the father, who died years before the property was sold, was aware of the contamination. The son, though, who inherited the corporation, claimed he was unaware of his father's knowledge. The Court of Appeals imputed the father's knowledge to the corporation, thus creating liability under the ELA.
"It illustrates how you can become responsible in a later lawsuit if you don't take reasonable measures to address a problem if you know about it," Huber said.
He suggested the outcome might have been different if the claim had been against an organization with many shareholders.
"In a lot of these cases, the court does consider, or at least is influenced by, who was in the best position to stop the contamination," Huber said. "The buyer had nothing to do with the contamination, but when they were forced to pay for it, they stepped up and did the right thing."
From a pragmatic standpoint, courts have an interest in ensuring a polluted property is remediated. "You have courts balancing a whole host of factors, and that's one of them," he said.
Barnard said the decision should give pause to a wide range of property owners who now may face potential liability exposure if they have knowledge of contamination on their property. Dry cleaning businesses, for instance, often are associated with hazardous chemical storage that can lead to contamination.
Owners of land that housed businesses from gas stations to tenants in light industrial parks may be open to liability under the ruling, he said.
"I think given this case, those landlords would be wise to take some affirmative action with those tenants," Barnard said.
But Barnard also noted that the court observed a mistake the buyers made in failing to obtain a phase I environmental survey that might have identified any known contamination. The appeals court, though, did not address whether a disclosure of the contamination prior to the sale might have mitigated VanMeter Enterprises' liability.
Fecht said the case "certainly opens up the door for what you would think to be a previously faultless owner to now be on the hook," but he also sees the possibility that the ruling could in some ways provide a disincentive to owners to investigate possible contamination by their tenants, since knowledge is the basis for potential liability.
But the facts of the JDN case also might be sufficiently unique to limit the application of the ruling, he said. It might be in rare cases, for instance, where the extent of an owner's knowledge can be proven.
The case clearly provides a new potential route of recovery for those who purchase property they later discover to be contaminated.
"Essentially, if you know about contamination and let it stay there 10 years and don't clean it up, the argument could be raised against your failure to remediate," Fecht said •
 
Please enable JavaScript to view this content.