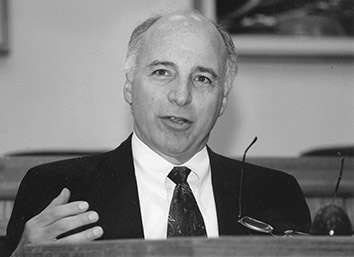 By Mickey Maurer
The Indiana Lawyer was launched 25 years ago with a quest to have a prestigious publication that would be educational and enjoyable, and have a positive impact on the legal community. In the organization discussions, the team examined templates from other markets but were not satisfied. They thought the Indiana Lawyer could be unique – better. Today, our pride in what we have created is constantly confirmed as we discuss our publication with those of you in the practice, on the bench, and in academia. Mission accomplished.
Of course, financial viability was also a concern. When I purchased the Indianapolis Business Journal company about six months after the Indiana Lawyer launch, the Indiana Lawyer was awash in red ink.
I assembled our management team and took a straw poll – Do we shut this paper down? The driving force behind the Indiana Lawyer, Glenda Russell, did not vote. Everyone voted for a mercy killing but Jeff Basch, our CFO. He was as raw as I was in this business but he sensed that Glenda could pull it off. I sided with Jeff, "Let's give Glenda a chance." She delivered.
Are we profitable today? Always since year one. We make money – a little.
In the early days, the Indiana State Bar Association was not pleased with the new paper in town. They published Res Gestae and were a bit nervous. They need not have been. Res Gestae had articles on legal topics of interest but did not wish to thoroughly cover the community aspects of our profession – the comings and goings of lawyers and the human interest stories that are an important element of our publication. I do not believe we have had an adverse effect on Res Gestae.
Within a few years of our launch, we established a continuing legal education program. We are pleased with our efforts to serve the bar with CLE – limited in number but powerful in impact. In that regard, our recent partnership offerings with Indiana University and Valparaiso University law schools are much appreciated.
Twenty-fifth anniversaries are good times to take stock. We like where we are today and our future prospects. With the support of our contributors, subscribers, bar associations – and advertisers – we hope to be a solid read when our sons and daughters and even their progeny are admitted to the Indiana bar.•
Please enable JavaScript to view this content.